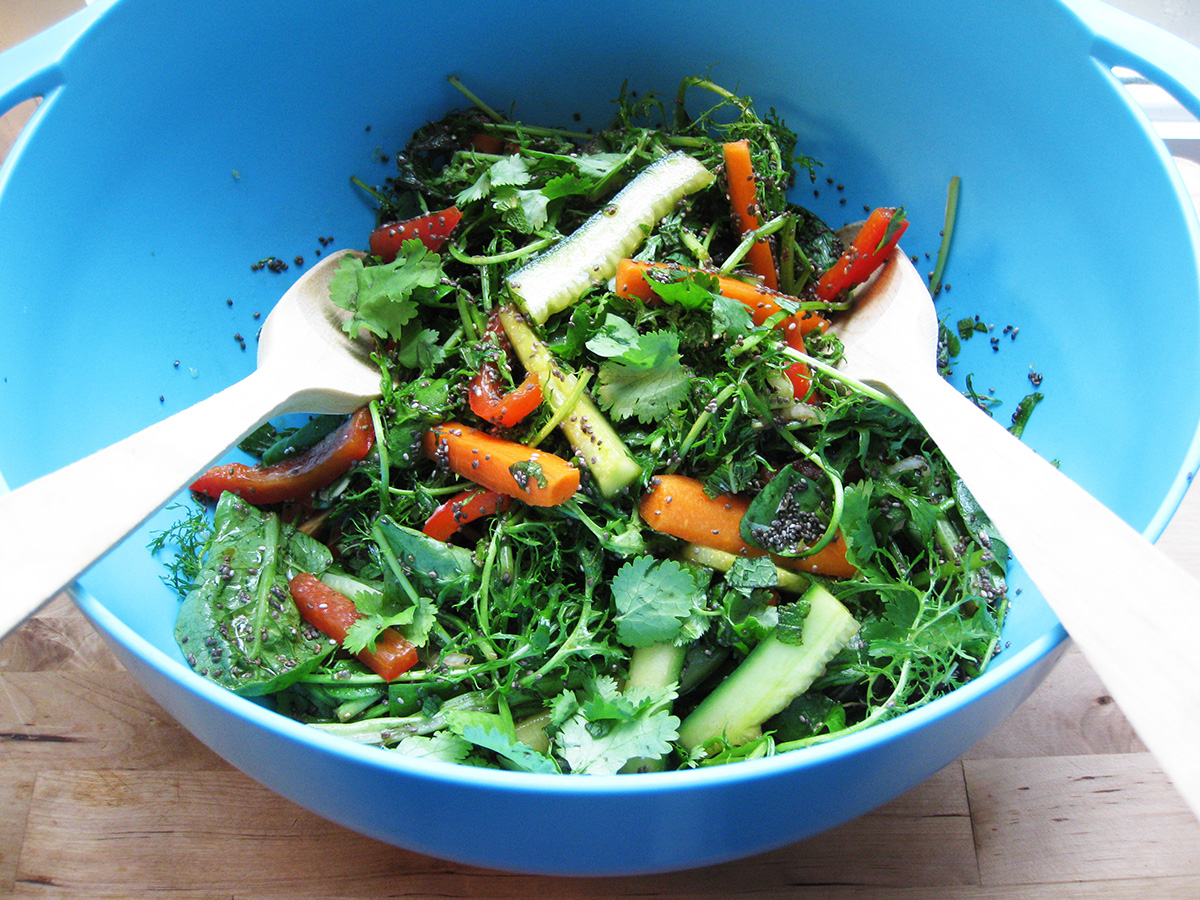 The sun is streaming into the kitchen and it feels great to be making hot-weather food. Step forward salads – with zingy, fresh ingredients and clean, clear tastes. Making food in this heat becomes as simple as putting some ingredients in a bowl. And when it's this simple, it's supereasy to make healthy, nutrient-packed meals.
This salad is full of antioxidant-rich veggies. But the stars of the bowl are the chia seeds. They are literally bursting with vitamins, minerals and the highest amount of omega-3 in any fruit or vegetable. You can use chia seeds to thicken stews, soups, juices and smoothies, to bind flour mixtures together as a substitute for eggs when baking, but also very simply to sprinkle into stir-frys and salads. Ahhh, sunshine and superfoods – a wonderful combination!
* gluten-free, dairy-free, yeast-free, egg-free, nut-free

Gluten-free & Dairy-Free Chia Seed Super Salad
Ingredients
150g/5½oz mixed salad leaves
½ cucumber, peeled and halved lengthways
2 carrots, cut into thin matchsticks
½ red, orange or yellow pepper, deseeded and sliced into thin matchsticks
2 spring onions, white part finely sliced
1 small handful of mint leaves, finely chopped
1 handful of coriander leaves, finely chopped
2 tbsp chia seeds
Dressing:
juice of 1 lime
1 tbsp tamari soy sauce
2 tbsp sesame oil
1 tbsp olive oil
Method
To make the dressing, mix together the ingredients in a small jug.
Using a teaspoon, deseed the cucumber by running the spoon down the centre of the cucumber. Discard the seeds and cut the cucumber into thin matchsticks. Put the cucumber and the remaining vegetables into a serving bowl and mix thoroughly. Add the dressing and the herbs and mix in gently. Sprinkle the seeds over the top and serve.