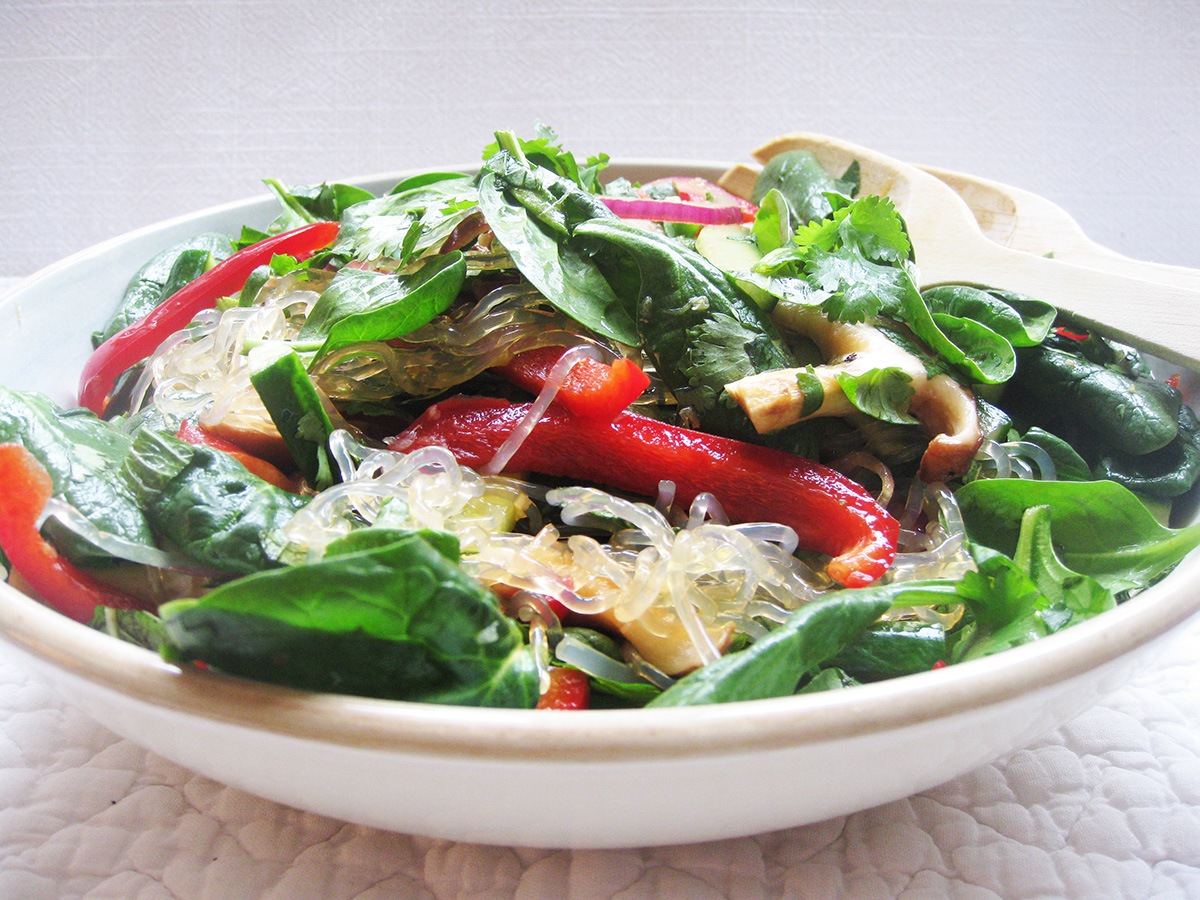 Last night I made a recipe from Christine Bailey's new book The Raw Food Diet. A raw food diet is increasingly recognised as a superhealthy way to eat (and followed by many celebs, including Jennifer Aniston and Demi Moore). Raw food is basically food that hasn't been heated above 47.7°C/118°F. It's all about pure, unadulterated, whole food that is rich in vitamins, minerals, enzymes and phytonutrients – mainly from lots of veggies (especially green leafy ones), fruit and nuts. Processed or refined foods are out, and alkaline foods and drinks are in, especially those that are nutrient-dense, such as kale. And by not cooking any of the food above 47.7%, the valuable enzymes are preserved. Raw foodists swear that their diet improves their digestion and immune function. Many lose weight and say that their skin and hair looks much better, and that their energy levels are much higher. They also claim that it can bring relief to allergies and intolerances, as well as reducing the risk of heart disease, diabetes and other chronic conditions. You don't have to follow a raw food diet 100% of the time. It makes sense to eat food in its natural state and devotees reckon that even if you can only eat 40-50% of your food raw, this will make a huge difference to your health and wellbeing.
I made Christine's Kelp Noodles with a Chilli Lime Dressing. I've never tried kelp noodles before but I've been wanting to try them because they're so good for you. Kelp noodles look and taste very similar to glass noodles and are simply made of the sea vegetable, kelp, and water. They're beloved by many people, including raw foodists, as an alternative to pasta or noodles because they are totally unprocessed don't need to cooking, (People looking to lose weight also love them because they're very low in calories and carbohydrates.) Plus, kelp is a true superfood, like all sea vegetables. It's rich in minerals, including iodine, plus enzymes, potassium, magnesium, calcium, iron and amino acids. It's also very cleansing and detoxifying for the body.
Kelp noodles have a very mild taste and soak up flavours beautifully. In this recipe, Christine has added delicious shiitake mushrooms, red pepper and cucumber and created a strong, vibrant dish, full of punchy flavours, especially from the chilli lime dressing. This recipe uses dried kelp noodles, but I used noodles that were immersed in water and sodium alginate, so I didn't need to soak them.
* gluten-free, wheat-free, dairy-free, yeast-free, egg-free, nut-free, seed-free

Gluten-Free & Dairy-Free Kelp Noodles with a Chilli Lime Dressing
Ingredients
½ red onion, thinly sliced
225g/8oz/1½ cups shiitake mushrooms, sliced
1 red pepper, halved lengthways, deseeded and julienned
½ cucumber, deseeded and julienned
1 tbsp chopped Thai basil leaves
1 tbsp chopped mint leaves
1 tbsp chopped coriander leaves
1 large handful baby spinach leaves
350g/12oz kelp noodles (soaked for 20 minutes, then drained)
Chilli Lime Dressing:
1 tbsp tamari soy sauce
juice of 3 limes
1 tbsp xylitol
1 tsp deseeded and finely chopped red chilli
1 garlic clove, minced
1 tbsp chopped coriander leaves
Method
Mix together all the dressing ingredients in a bowl, then chill until needed.
Put the onion, mushrooms and pepper in a bowl and toss with the dressing. Leave for 10 minutes to soften. Add the rest of the ingredients and mix well.
Nutritional analysis per serving: Calories 84kcal • Protein 4.2g • Carbohydrates 16.2g • Fat 1g (of which saturates 0.2g)