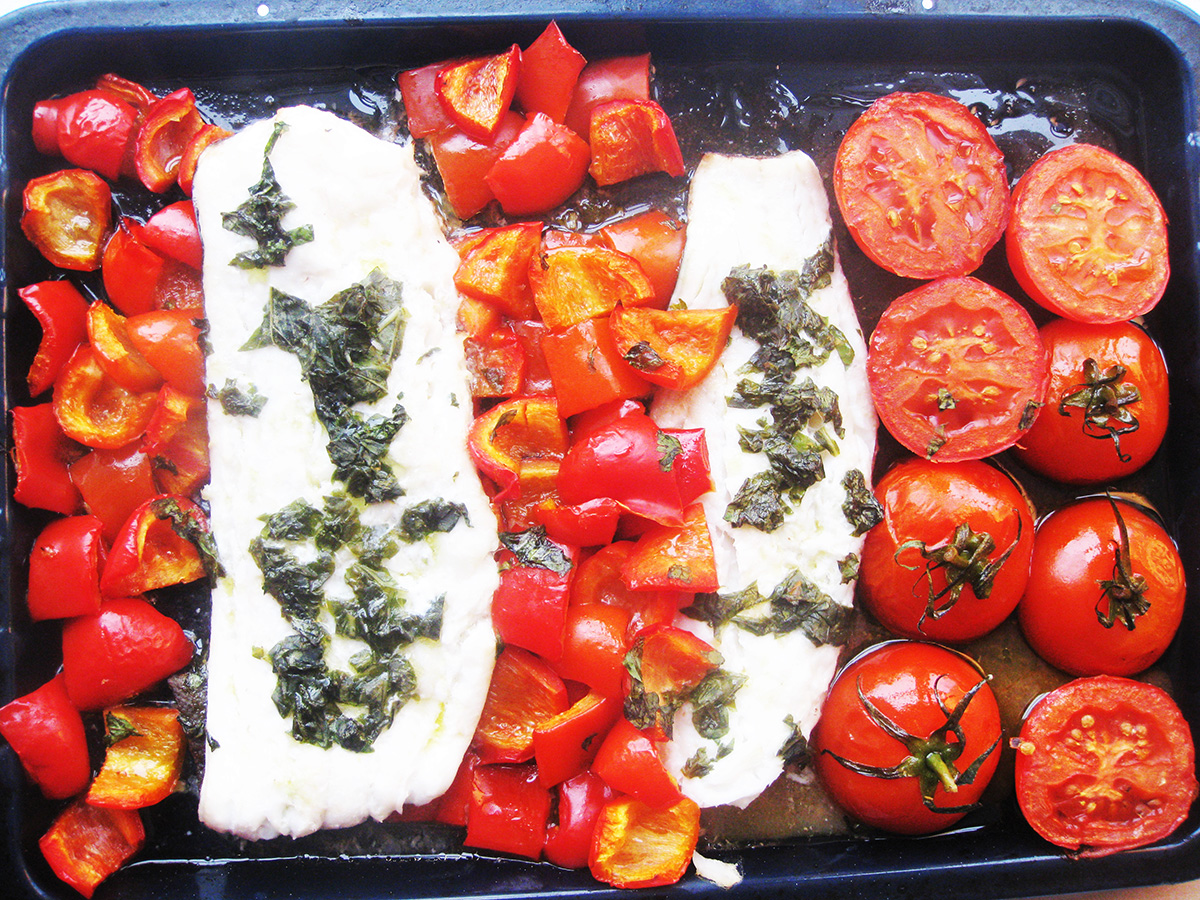 This lovely recipe is from Christine Bailey's The Top 100 Baby Foods, which is one of my favourite books at the moment. Full of recipes that are truly healthy – all catering for little tummies, so either no- or low-sugar, lots of gluten-free and dairy-free, packed full of nutrition, and the recipes are truly easy to make. Cod is full of high-quality protein that's easily digested by your baby's immature gut. Although cod is not as rich in omega-3 essential fats as oily fish, it contains good amounts of these brain-boosting nutrients. It also contains plenty of B-vitamins, which help your baby's body unlock the energy stored inside the food she or he eats. Make sure you check the fish carefully for any stray bones before you begin cooking. I made double the amount as I'd just bought 2 large cod fillets from the fishmongers.
* gluten-free, dairy-free, soya-free, egg-free, nut-free, seed-free

Gluten-Free & Dairy-Free Mediteranean Baked Cod
Ingredients
4 tomatoes, halved
2 red peppers, deseeded and chopped into chunks
2 tsp balsamic vinegar
2 tbsp olive oil
175g/6oz skinless, boneless cod fillet
2 tbsp lemon juice
1 handful of basil leaves
Method
Preheat the oven to 180ºC/350°F/Gas 4. Put the tomatoes and peppers in a small roasting tray. Drizzle with the balsamic vinegar and half the olive oil. Bake for 5 minutes until the tomatoes are softening.
Remove the roasting tray from the oven. Nestle the cod fillet among the peppers and tomatoes and drizzle with the remaining oil and the lemon juice. Scatter with the basil leaves and bake for a further 15 minutes until the fish is cooked through.
Serve hot or put the fish and vegetables in a food processor and process to form a purée if you're making this for a baby.