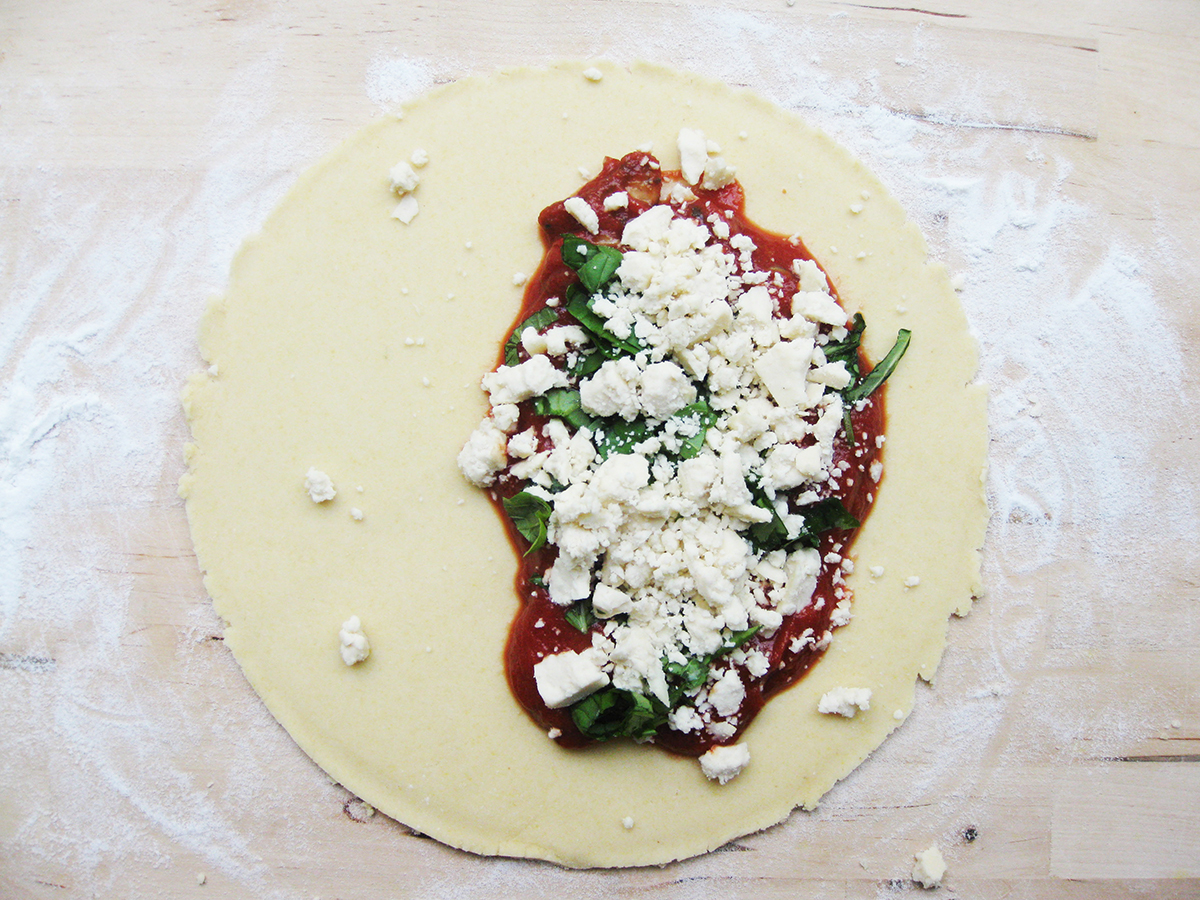 Calzone is simply a folded pizza. You make a dough (I've made a gluten-free and dairy-free one) and then put the filling onto one side, fold the other side of dough over the top, seal it and bake it. Here I've filled it with rich tomato, garlicy mushrooms, pungent basil and oozing soya cheese and it's completely delicious. It makes a wonderful lunch or dinner – and it's also great for packing up and taking with you, for a picnic on the beach or in the park, or even lunch at work.
* gluten-free, dairy-free, egg-free, nut-free, seed-free, citrus-free

Gluten-free and Dairy-free Mushroom Calzone
Ingredients
1 tbsp olive oil, plus extra for brushing
75g/2½oz mushrooms, peeled and sliced
1 garlic clove, crushed
4 tbsp passata
1½ tbsp tomato purée
1 small handful basil leaves, shredded
50g/1¾oz dairy-free cheese, crumbled
Dough:
85g/3oz/scant ½ cup rice flour, plus extra for dusting
85g/3oz/heaped ½ cup gram flour
30g/1oz/scant ⅓ cup maize flour
scant ½ tsp xanthan gum
½ tsp salt
1 tsp dried active yeast
2 tbsp olive oil
Method
To make the pizza dough, sift the flours, xanthan gum and salt into a food processor. Add the yeast and pulse several times to mix together. Add the oil and blend well. Add 110ml warm water, a little at a time, and continue blending to form a soft dough. Process for 10 minutes, to aerate the dough.
Heat the oil in a large, heavy-based PTFE-free frying pan over a medium heat until hot. Add the mushrooms and fry, stirring frequently, for 2–3 minutes until lightly golden. Add the garlic and fry for a further 30 seconds, stirring all the time. Leave to one side.
Preheat the oven to 220°C/425°F/gas 7 and line a baking sheet with baking parchment. Turn the dough out again onto a lightly floured surface and knead a little, then divide the dough into 2 equal pieces and shape each into a ball. Flatten the dough slightly, roll it out into a circle about 3mm/1⁄8in thick and trim with a knife to neaten the edges. Transfer the dough to the baking sheet.
Put the passata, tomato purée and garlicky mushrooms in a bowl and mix well, then spread it over one half of the dough, leaving a 2mm1⁄16in space around the edge. Sprinkle the basil over the top, then cover with the crumbled soya cheese. Using a pastry brush, brush the edges with water. Using a spatula to hold the dough, fold it over dough and press indentations with your finger around the edges to secure them together. Bake for 14–15 minutes until golden brown. Remove from the oven and brush olive oil over the top with a pastry brush. Serve.