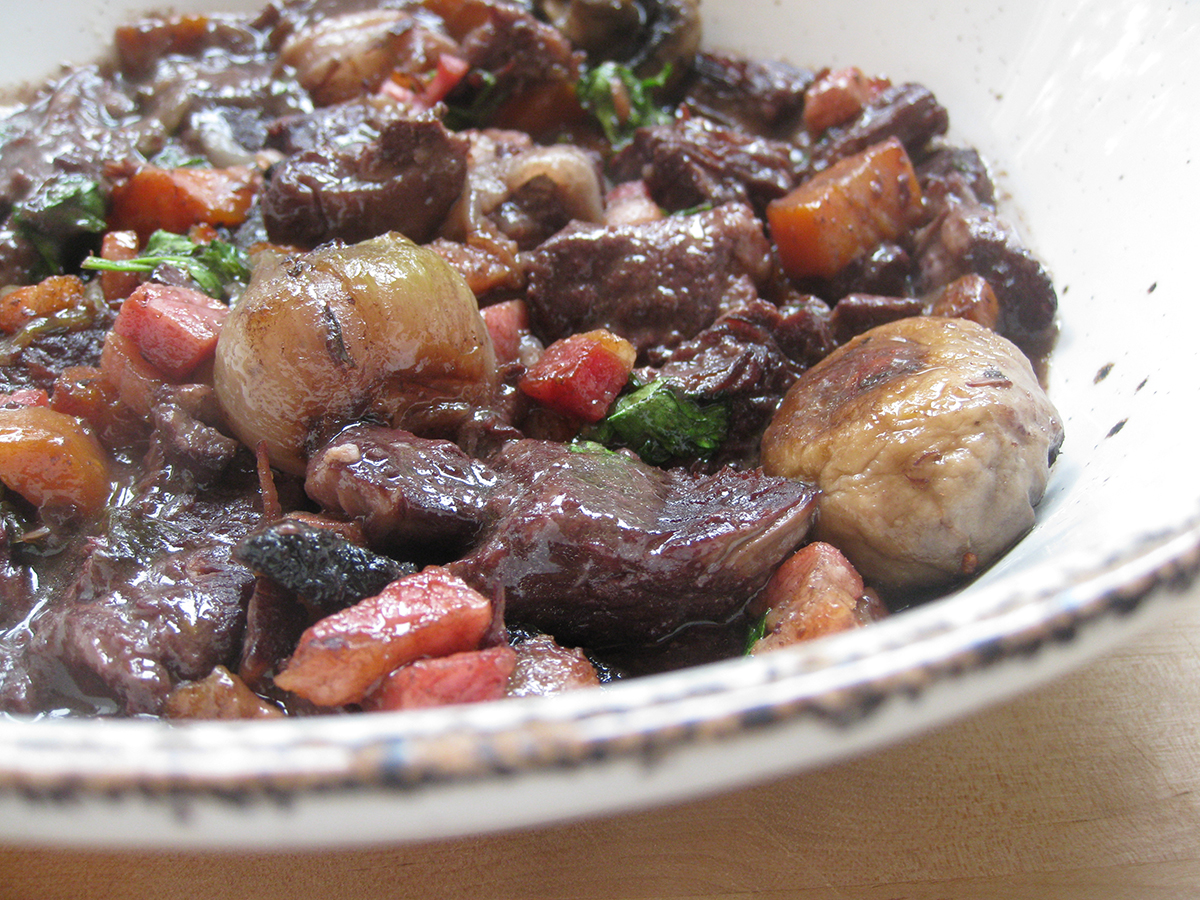 Today is publication day for Daniel Galmiche's book The French Brasserie Cookbook. This is one of the most gorgeous books I've worked on – full of truly wonderful recipes and stunning pictures. Daniel (who is the chef at the Vineyard in Berkshire) is known as 'The king of contemporary French cooking' and has produced a book full of wonderful French recipes, many of which have his unique modern twists. Full of the diverse tastes and aromas from the different areas of France, his recipes show you how to create fresh, contemporary French dishes in your own kitchen.
Daniel is all about making recipes work for you in your own home, rather than reproducing cheffy recipes. This Beef Bourguignon recipe is a great example. It's an iconic French dish but one that traditionally takes a couple of days to make. Instead, Daniel shows how you can do a simple marinade and leave it for just 3 hours, before cooking it for only a couple of hours. And it's not an expensive recipe (unless you drink the bottle of wine before you start and then have to buy another one!) You don't need to use prime cuts of beef – the braising cuts, such as brisket, silverside, blade, cheek or even shank will work really well.
One of my most memorable days when working on this book was when I went to one of the photography days. Daniel was cooking the dishes and I found myself entranced by the way he cooked. No matter what he was doing; whether he was sorting through ingredients that had just arrived or styling the food on the plate, he was always incredibly aware of what was going on in the saucepans. I realise that I can get distracted when I'm cooking and that's when things overcook – so it would be great to have Daniel's amazing awareness! And Daniel was a truly lovely person to work with.
I was going to make the Moules Marinières with Lemongrass & Chilli but I couldn't get any mussels and, anyway, the weather has turned cold. So I made this wonderful beef dish, instead – using rice flour instead of plain flour, and gluten-free stock. The flavours were deep and delicious; the meat was tender and full of flavour – and I loved making my own, fresh bouquet garni, instead of using a dried one!
* gluten-free, wheat-free, dairy-free, nut-free, egg-free, citrus-free

Gluten-Free & Dairy-Free Beef Bourguignon
Ingredients
800g/1lb 12oz casserole steak, cut into large cubes
1l/35fl oz/4 cups full-bodied red wine
2 thyme sprigs
4 garlic cloves, crushed with the flat edge of a knife or your hand
3 tbsp Cognac
100ml/3½fl oz/scant ½ cup sunflower oil
2 tbsp rice flour
600ml/21fl oz/scant 2½ cups gluten-free chicken or vegetable stock
1 bouquet garni made with 1 parsley sprig, 1 thyme sprig and 1 small bay leaf, tied together with kitchen string
2 carrots, peeled, halved lengthways and cut into chunks
12 silverskin onions or shallots
100g/3½oz small button mushrooms
100g/3½oz pancetta, diced
1 handful of flat-leaf parsley, roughly chopped
salt and freshly ground pepper
Method
In a deep dish, mix together the beef, wine, thyme, garlic and Cognac. Cover with cling film and leave to marinate in the fridge for at least 3 hours. Drain the meat into a bowl, using a colander, and reserve the marinade.
Heat 4 tablespoons of the oil in a large saucepan or cast iron pot over a medium heat. Add the meat and cook for 20 minutes until brown, season with salt and pepper, then sprinkle with the flour and cook, stirring, for a further 2–3 minutes. Add the stock and reserved marinade and bring to the boil. Skim the foam off the surface and add the bouquet garni, then reduce the heat to low and simmer, partially covered, for 1 hour 45 minutes, stirring occasionally, until the meat is tender. By that time you should have a rich, silky sauce.
About 50 minutes before the end of the cooking time, heat another medium saucepan with 1 tablespoon of the oil over a medium-low heat. Add the carrots and onions and cook for 10 minutes or until soft and pale gold in colour, then add to the meat saucepan.
When the beef is almost ready, heat the remaining oil in a frying pan over a medium heat. Add the mushrooms and pancetta and fry for 8–10 minutes, stirring occasionally, until golden brown, then add them to the beef. Check the seasoning adjusting the salt and pepper, if necessary, discard the bouquet garni, throw in the parsley and stir gently without breaking the delicate pieces of beef. Serve hot.