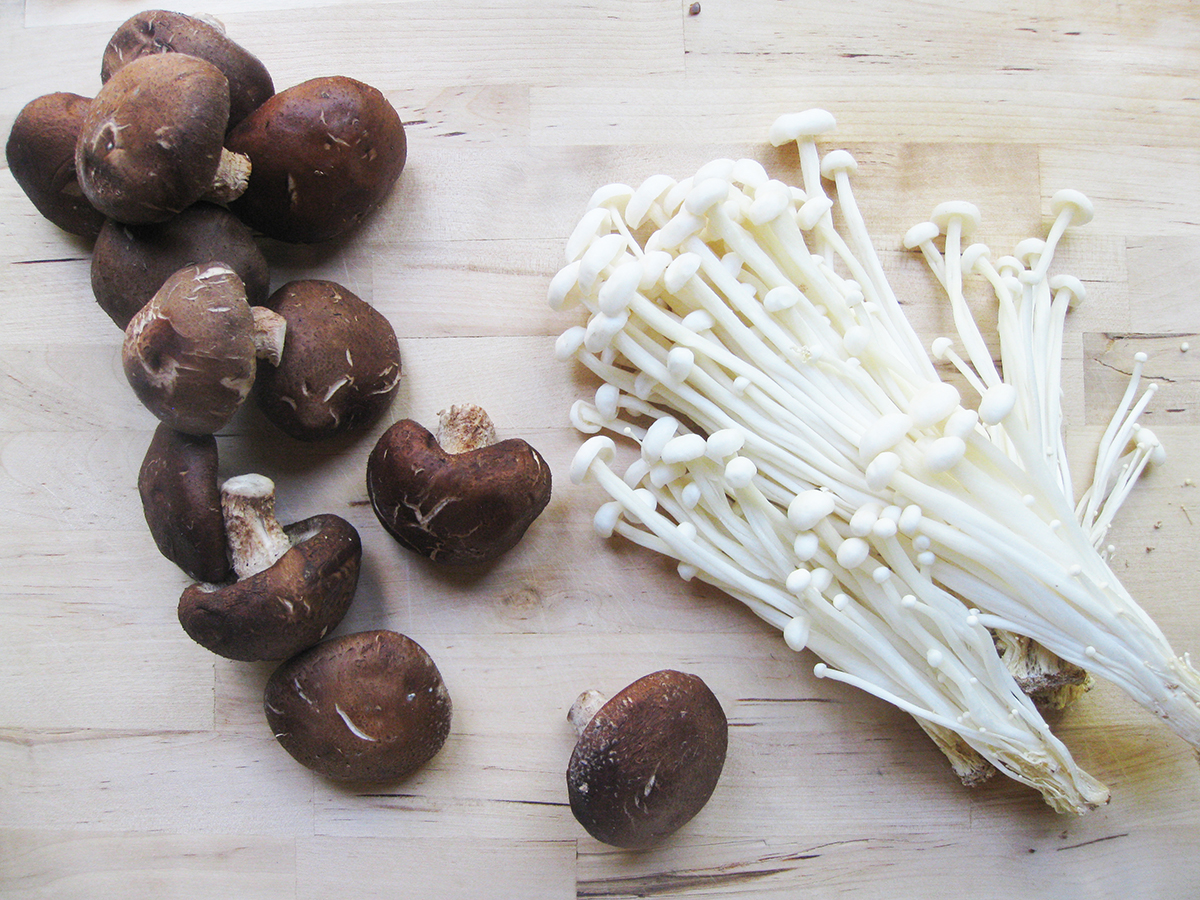 This wonderfully delicious recipe is from Beverly le Blanc's new book, The Big Book of Soups. This book is literally brimming with an incredible variety of soups for all seasons and all occasions – whether you're looking for a light soup for lunch outdoors on a summer's day, or a thick, creamy, comfort-soup for when the weather turns cold and rainy.
I love this soup because it tastes great, and is full of nutrient-dense ingredients. Watercress is a true superfood – containing more than 15 vitamins and minerals, including more calcium than milk, more vitamin C than an orange and more iron than spinach! Shiitake mushrooms have been used as both food and medicine in Asia for thousands of years and is currently used in Japan to treat many conditions, including chronic fatigue syndrome. And kombu (in the dashi) is packed with minerals and phytonutrients that help detoxify your body and relieve many ailments.
You can either make dashi yourself (see below for the recipe) or you can buy it ready-made from Japanese stores or from the internet. Just in case you need some instructions because they might only be in Japanese(!) you normally dissolve 2 teaspoons powder in 1.25l/44fl oz/5 cups water. You can get vegetarian versions, made without bonito (fish flakes). This recipes also uses another very Japanese ingredient, daikon, which is a long white crunchy vegetable from the radish family, with a light, peppery punch similar to watercress.

Gluten-Free & Dairy-Free Japanese Hotpot Soup
Ingredients
400g/14oz watercress, any thick stalks or yellow leaves removed
280g/10oz thin rice noodles
2l/70fl oz/8 cups Dashi (see below) or prepared instant dashi
10cm/4in piece of daikon, peeled and finely grated
1 red chilli, deseeded and thinly sliced
750g/1lb 10oz salmon fillet, small bones removed, and fish cut across the grain into 1cm/½in thick slices
12 shiitake mushroom caps
280g/10oz firm tofu, drained and cut into 12 cubes
200g/7oz enoki mushrooms, stalks trimmed
salt
tamari soy sauce, to serve
Dashi:
25cm/10in piece of dried kombu
10g/¼oz/²⁄³ cup bonito flakes
Method
To make the Dashi, put the kombu and 1.4l/48fl oz/5½ cups water in a saucepan and leave to soak for 30 minutes.
Bring to the boil, uncovered. As soon as it boils, skim the surface, then add the bonito flakes. Skim the surface again, if necessary. Reduce the heat and simmer, uncovered, for 10 minutes.
Strain the dashi into a large bowl and use immediately. Alternatively, leave to cool, then store in the fridge for up to 2 days. Freezing isn't recommended for more than 2 weeks as it will lose much of its flavour.
(To make Vegetarian Dashi omit the bonito (fish) flakes in the above recipe. Instead soak 8 dried shiitake mushrooms in 1.4l/48fl oz/5½ cups hot water for at least 30 minutes. Put the mushrooms and the soaking liquid in a saucepan. Add the kombu and leave to soak for 30 minutes. Slowly bring to the boil, uncovered. As soon as it boils, skim the surface, then reduce the heat and simmer, uncovered, for 10 minutes. Strain through a muslin-lined sieve, and use the dashi as above.)
To make the soup, bring a saucepan of lightly salted water to the boil, and bring another saucepan of unsalted water to the boil. Boil the watercress in the salted water just until the leaves wilt, which will be almost instantly. Drain and immediately rinse under cold running water, then drain again and set aside. Meanwhile, boil the rice noodles in the unsalted water for 6–8 minutes, or according to the packet instructions, until tender. Drain and immediately rinse under cold running water and set aside.
Put the dashi in a saucepan, cover and bring to just below the boil. Meanwhile, mix together the daikon and chilli in a small bowl and set aside. Just before the dashi boils, reduce the heat to low, add the salmon and shiitake mushrooms and simmer for 5 minutes or until the salmon is cooked to your liking. One minute before the end of the cooking, add the tofu and enoki mushrooms and simmer until the enoki are tender. Season with salt.
Divide the noodles into bowls and top with the salmon. Use a slotted spoon to transfer the watercress, mushrooms and tofu into the bowls. Ladle the dashi over them and serve immediately with small bowls of tamari soy sauce and the daikon and chilli mixture on the side.