The Free-From Food Awards Shortlist has just been published. Set up six years ago by Michelle Berriedale-Johnson of freefromfoodsmatter.com, these Awards celebrate the innovation and imagination shown by the food industry in creating foods for the free-from market (ie foods that do not include one or more of wheat, gluten, dairy products, eggs, yeast, soya and sugar.) It's worth mentioning the website Foods Matter here… Originally a magazine offering information and support both to food allergic/intolerant consumers and to the health professionals caring for them, it went on-line in 2010 and has become the most awesome reference site for people with food allergies/intolerances or coeliac disease (logging over 13 million hits per year!)
I took part in the judging for a day and was hugely impressed with the whole process. There were 11 of us that day and we blind-tasted every entry in our categories in silence, making notes and scoring each one out of ten. Once we had finished, we discussed every entry and then came to our conclusions as a group. This done, we could look at who had produced what. During the day I was there, we covered Breakfast Cereals and Grocery Ambient, including pastas, sauces and condiments.
It was great to taste so many of the entries. Some of them (especially some from outside Britain) I hadn't come across before. And it was fascinating to sit there, tasting pasta after pasta, cereal after cereal etc against each other. The variety of ingredients, and combinations of those – and the resulting tastes and textures – were really interesting. The results of the awards will be announced in April…
One of the products we tasted was especially interesting. Shortlisted for the Pasta Award, the Slim Noodles were a subject of a great deal of discussion. Recently launched, it is gluten-free and it claims to deliver not only a feeling of fullness, but also an unbelievably low calorie content (7.7 calories per 100g serving). Made from a vegetable extract called Konjac (or Konnyaku) which has apparently been eaten in Asia for centuries because of its health benefits, it expands in your stomach, leading to the sensation of being full for up to four hours. Zero fat, zero sugar, low-calorie and low-carb, it's currently being hailed (along with a very similar product called Zero Noodles which is made of exactly the same ingredient) as the answer to weight loss for many, many people. What's more, independent studies apparently show that it can help increase insulin in your blood sugar levels, making it great for diabetics, and can help lower cholesterol. Wow!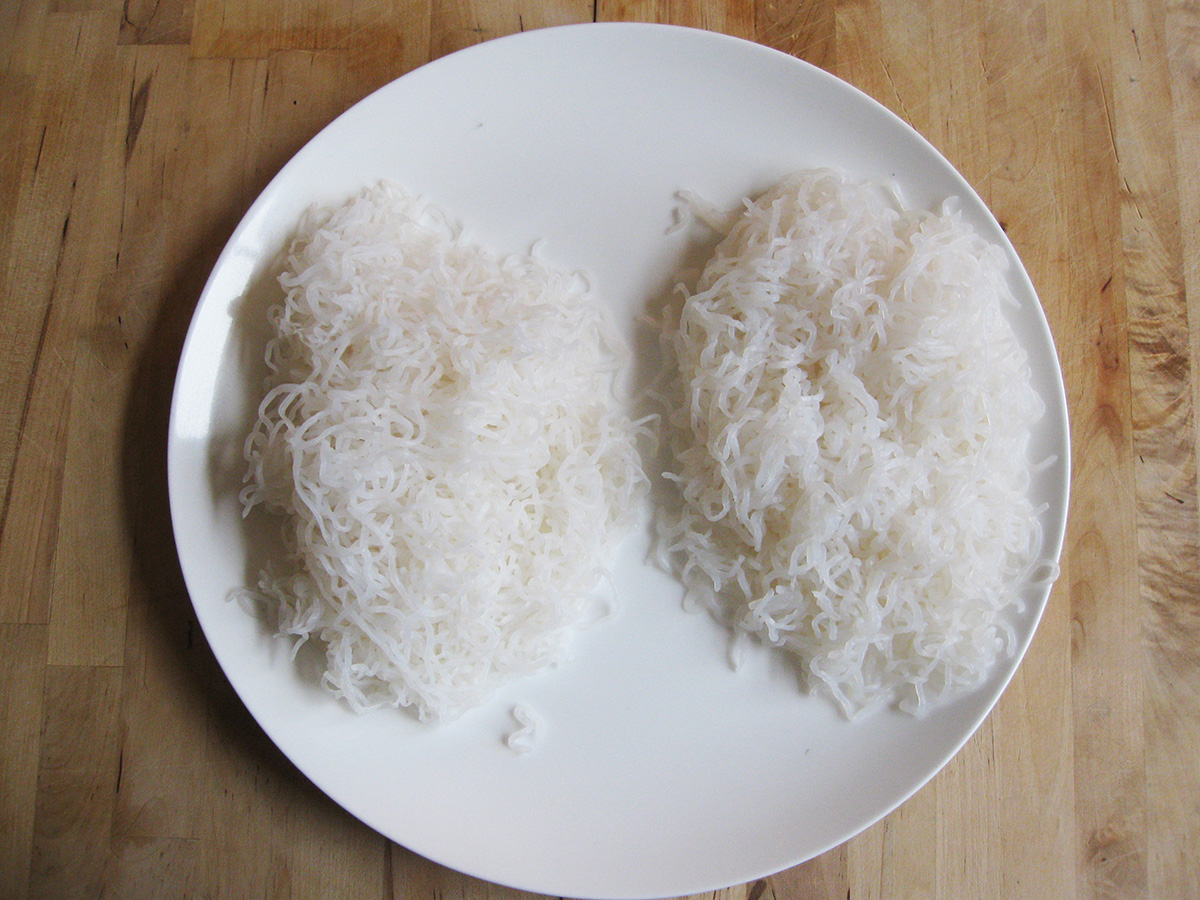 Slim Noodles comes in three different guises – Slim Pasta, Slim Rice and Slim Noodles. The Slim Noodles – and Zero Noodles – look very similar to glass noodles and thin rice noodles in that they are white-coloured and very thin. They have a slightly rubbery texture (the Slim Noodles I find more so than the Zero Noodles) and almost no taste. I tested these at home this weekend with a recipe (see below) and they both worked really well with noodle-style recipes, such as stir-frys and Asian-style dishes. I haven't tasted the Slim Rice yet but the Slim Pasta was very similar to Slim Noodles – just thicker, apparently more like a pasta-shape. I'm not convinced about the concept of Slim Pasta, though, as it doesn't work for me as something that would work with pasta sauces, such as tomato-based sauces, and there was a slightly 'fishy' aroma to these, I thought.
You'll find both the Slim Noodles and Zero Noodles in health food stores. In Holland & Barrett the Slim Noodles sell for £2.49 and the Zero Noodles (organic) for £1.99. They're the same size – so go for the cheaper Zero Noodles if you're looking to try the product!
* gluten-free, dairy-free, soya-free, egg-free, nut-free, seed-free

The Free-From Food Awards Shortlist (and Slim Noodles and Zero Noodles)
Ingredients
2 fish fillets, such as salmon, trout or cod
2 large salad onions or 6 spring onions, white part finely chopped
stir-fry vegetables, such as beansprouts, pak choi
Marinade:
2cm/¾in piece fresh ginger, peeled and finely chopped
2 large garlic cloves, finely chopped
1 lemongrass stick, finely chopped
1 large red chilli, deseeded and finely chopped
2 large handfuls of coriander leaves, finely chopped
3 tbsp olive oil
2 tbsp Thai fish sauce
2 tbsp tamari soy sauce
juice of 2 limes
1 serving of Zero Noodles, to serve
Method
Put the fish in a shallow, non-metallic dish. Mix together all the marinade ingredients in a bowl or jug and pour over the tuna. Cover with a lid or cling film and leave to marinate in the fridge for at least 1 hour, preferably longer.
Spoon the marinade into a large wok and heat over a medium-high heat. Cook for 2–3 minutes until the onion starts to soften and turn translucent. Add the vegetables and then place the fish on the top. Cover with a lid and steam for about 10 minutes, until the fish is cooked through. Serve hot with the prepared Zero Noodles.