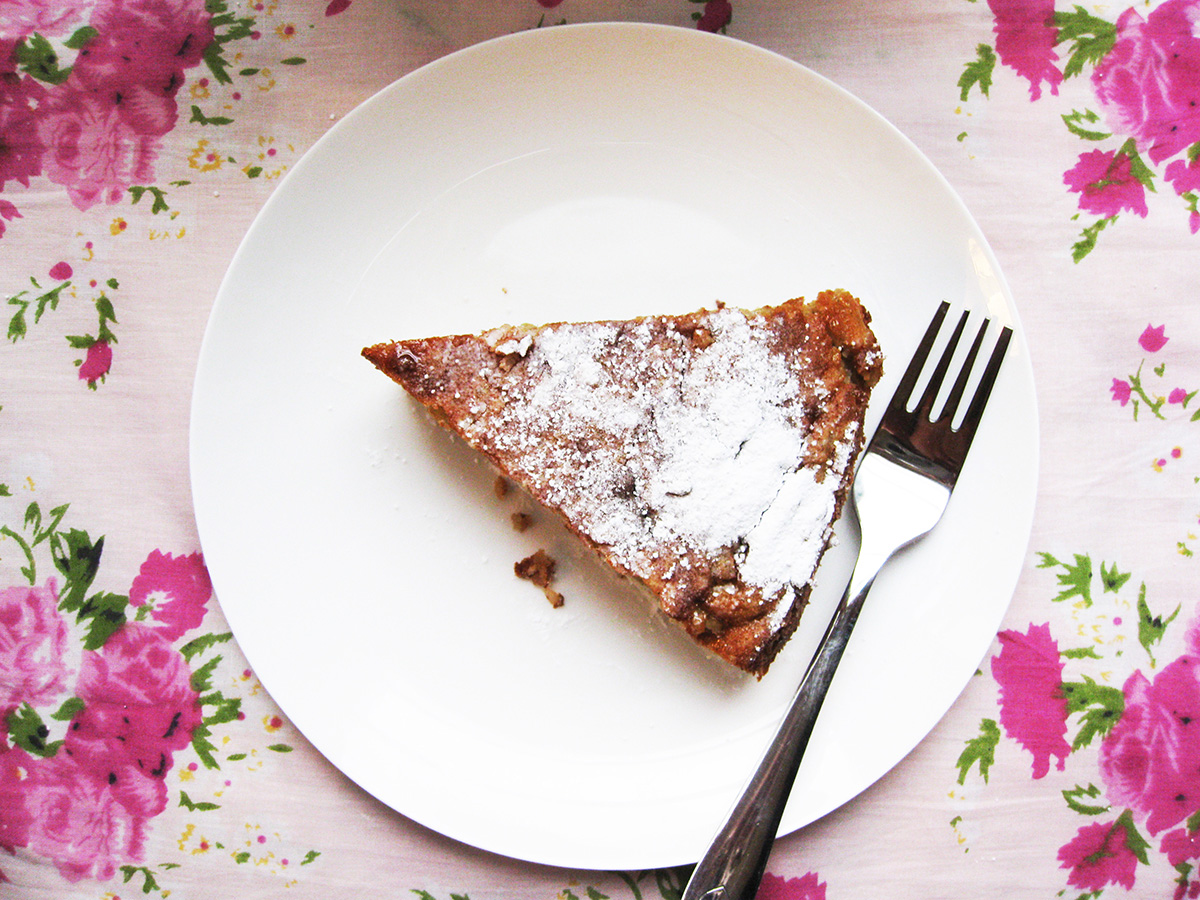 Rice dishes are very common in Italy, especially in the northern areas, because rice was so plentiful (rice has been grown in Italy since the 15th century). Traditionally Torta di Riso was served as a celebration cake – for weddings, baptisms, Christmas and Easter. A particular favourite in Tuscany, apparently, it's a flourless cake that uses risotto rice instead of flour, and can also be eaten as a dessert.
It's lovely to make a cake without the usual flour-combination-method. Not for those on a low-carb diet(!), this cake is mouthful after mouthful of sweet, substantial comfort. The risotto rice is simmered in flavoured milk (I've used dairy-free, of course) until soft and creamy, then mixed with lots of beaten eggs and the remaining ingredients, before being baked in the oven. The vanilla and cinnamon imbue the cake with sweet tones, and the lemon zest gives a citrusy kick. Make sure you don't overcook the rice in the first stage (take it off the hob while it still has some bite) and use really good quality eggs, preferably organic.
* gluten-free, dairy-free, yeast-free, seed-free

Gluten-Free & Dairy-Free Torta di Riso (Italian Rice Cake)
Ingredients
50g/1¾oz dairy-free margarine, plus extra for greasing
150g/5½oz/⅔ cup fruit sugar or caster sugar
1 vanilla pod, split
1.25l/44 fl oz/5 cups dairy-free milk
250g/9oz/heaped 1 cup arborio or risotto rice
½ tsp ground cinnamon
grated zest of ½ lemon
2 large eggs, plus 5 large egg yolks
25g/1oz/scant ¼ cup ground almonds
1 tsp gluten-free baking powder
½ tsp xanthan gum
icing sugar, to serve
Method
Preheat the oven to 180°C/350°F/gas 4 and lightly grease a deep, springform 20cm/8in cake tin with dairy-free margarine and line the base with baking parchment.
Put the margarine, sugar, vanilla pod and milk in a large, heavy-based saucepan and bring to a gentle boil over a medium heat. Add the rice and turn the heat down to medium-low. Simmer for about 30 minutes, until all of the liquid has been absorbed and the rice is creamy and soft, but still has a slight bite. Remove from the heat and scrape the seeds from the vanilla pod and add, then add the cinnamon and lemon zest and stir in thoroughly. Transfer to a large mixing bowl and leave to cool completely.
Using an electric mixer, beat the eggs and egg yolks until pale and thick. Fold the ground almonds, gluten-free baking powder and xanthan gum into the mixture. Make sure the mixture is well mixed but take care not to overmix it.
Remove the vanilla pod from the rice mixture. Pour the egg mixture into the rice and stir gently until combined. Spoon the mixture into the tin and level the surface with the back of a spoon.
Bake for about 60 minutes until firm to the touch and cooked through. Remove the cake from the oven and leave to cool for 5 minutes, then remove from the tin, transfer to a wire rack and leave to cool completely. Once cooled, sprinkle icing sugar over and serve.