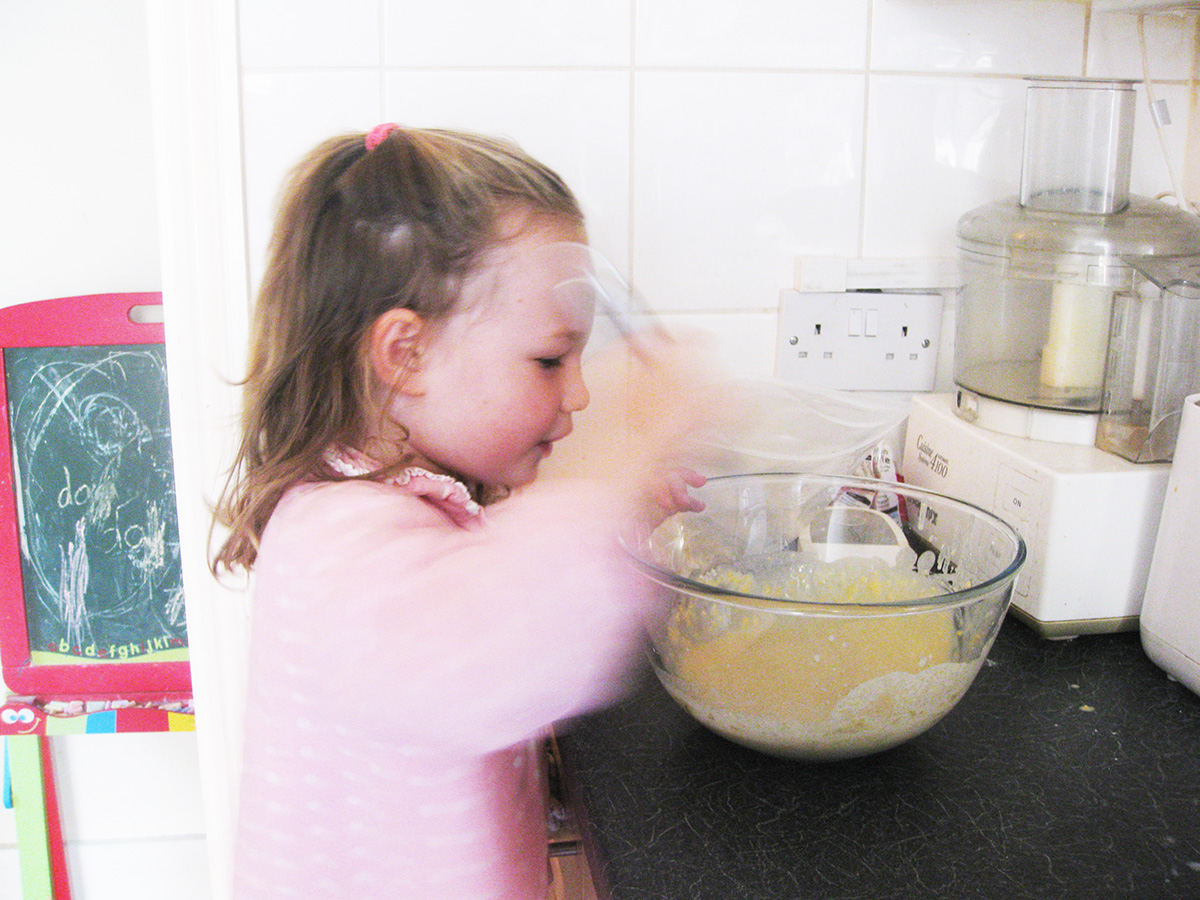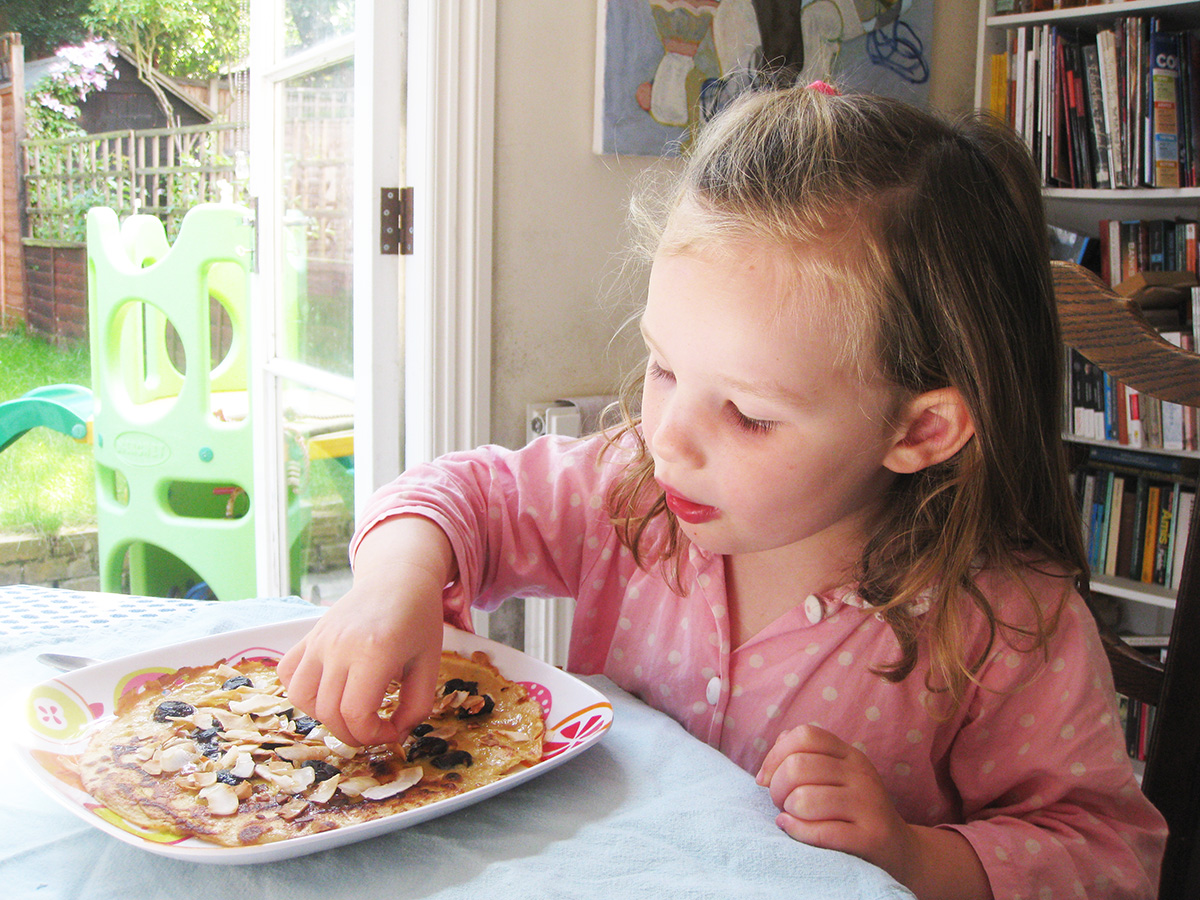 Zoë's favourite part of the kitchen is the cupboard where the dried fruit and nuts are stored (unless there's some cake or cupcakes in the kitchen, in which case her focus switches immediately…) Her favourites at the moment are dried cherries and coconut so when she wanted to make pancakes, she pulled those out of the cupboard. We soaked the cherries for a little while and toasted the coconut, but if you're in a rush, you don't need to do that. When they were made, we drizzled honey over the pancakes – mountain honey that we'd brought back from Thollon, France – delicious!
* gluten-free, wheat-free, dairy-free, yeast-free, seed-free, citrus-free

Zoë's Gluten-Free & Dairy-Free Cherry & Coconut Pancakes
Ingredients
3 large eggs
50g/1¾oz/heaped ¼ cup rice flour
25g/1oz/scant ¼ cup gram flour
25g/1oz/scant ¼ cup maize flour
1 tsp gluten-free baking powder
a pinch of salt
300ml/10½fl oz/scant 1¼ cups soya milk or dairy-free milk, plus extra if needed
30–40g/1–1½oz dairy-free margarine
75g/2½oz/heaped ½ cup unsweetened dried cherries
50g/1¾oz/1 cup coconut flakes, to serve
clear honey, to serve
Method
Put the dried cherries in a bowl and pour the soya milk over. Leave to soak for as long as you can – up to 30 minutes. Strain through a seive into a bowl and leave to one side, and reserve the soya milk.
Beat the eggs in a large mixing bowl, then sift in the flours, gluten-free baking powder and salt and stir together. Slowly beat in the soya milk, gradually drawing in the flours to make a smooth batter. Cover and leave to stand for at least 10 minutes at room temperature or up to 30 minutes in the fridge.
Meanwhile, heat a large non-stick frying pan over a medium heat until hot. Add the coconut flakes and dry-fry, stirring continuously, for 2–3 minutes until just beginning to brown. Remove from the pan and leave to one side.
Add a little of the dairy-free margarine to the pan and heat until melted, making sure it covers the base of the pan. Using a small cup, pour a cup of the batter into the pan to form a circle. Sprinkle a small handful of the cherries over the top, distributing them evenly, and cook for 2–3 minutes or until the base of the pancake is golden. Using a large spatula, flip it over and cook for another 1–2 minutes until golden.
Repeat with the remaining batter to make 4–6 pancakes, melting more margarine in the pan as needed and adding a little more soya milk if the batter seems too thick. Stack the pancakes between sheets of baking parchment to prevent them from sticking together and to keep them warm. Scatter coconut flakes over the top, drizzle with honey and serve hot.