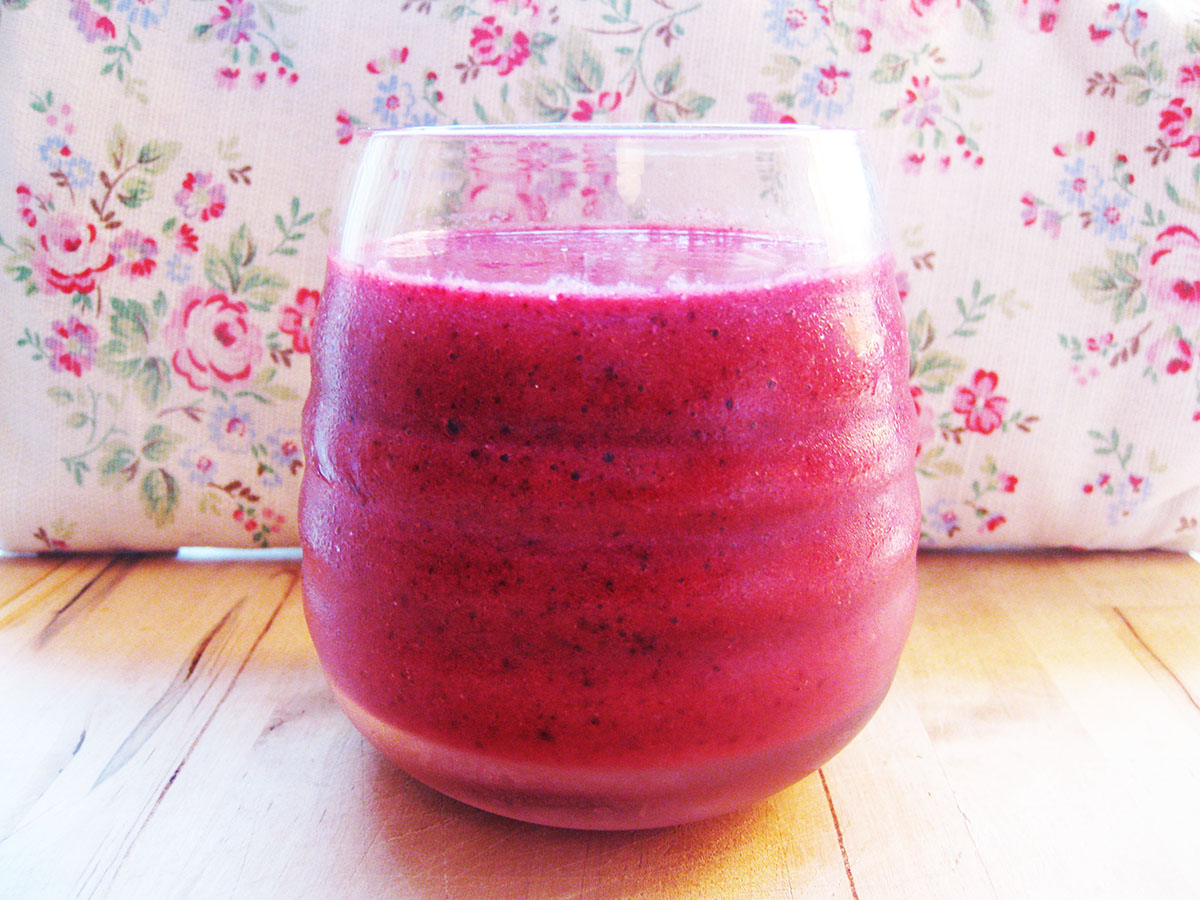 Post-detox – and I have a plan for keeping the weight off and making sure I carry on eating a nutrient-dense diet. The first and easiest thing is to continue having juices/smoothies for breakfast. I've always loved doing this but I'd slipped out of the routine. Firmly back into it now, though!
This recipe showcases two amazing ingredients – acai berry powder and chia seeds. Someone gave me some acai berry powder the other day so I tried it out in this smoothie and it gave the smoothie a beautifully rich, complex taste – as well as incredible amounts of nutrients, including phytochemicals, antioxidants and omega-3 and -6. Buy some today – you won't regret it.
But how can I call this a smoothie, you'll be wondering?… There's no yogurt, banana or any of the other things you normally make a creamy smooth smoothie from. The answer is the tiny, nutrient-powerhouse that is the chia seed. Chia seeds are super-rich in vitamins and minerals, especially calcium, potassium and iron, they have the highest amount of omega-3 in any plant-based ingredient and also contain excellent quantities of fibre and protein. What's more, when chia seeds are mixed with liquid, they expand and form a coating of gel. This means that they can act as a bulking ingredient – and this is why you can get a smoothie consistency when used with a juice mix, and why many people swear by chia seeds for weight-loss as they feel fuller for longer. But it also means that they can be used as a substitute for eggs in baking – more of that to come…. So go for it with chia seeds – sprinkle them onto salads or stir-frys, thicken soups and stews with them and try them in this awesome smoothie.
* gluten-free, wheat-free, dairy-free, yeast-free, soya-free, egg-free, nut-free, citrus-free

Dairy-Free Berry, Acai & Chia Smoothie
Ingredients
2 tbsp acai berry powder
2 tbsp mesquite meal, agarve syrup or honey
300g/10½oz mixed frozen berries
1l/35fl oz/4 cups apple juice
1 tbsp chia seeds
Method
Put all the ingredients into a blender or food processor and process until smooth.