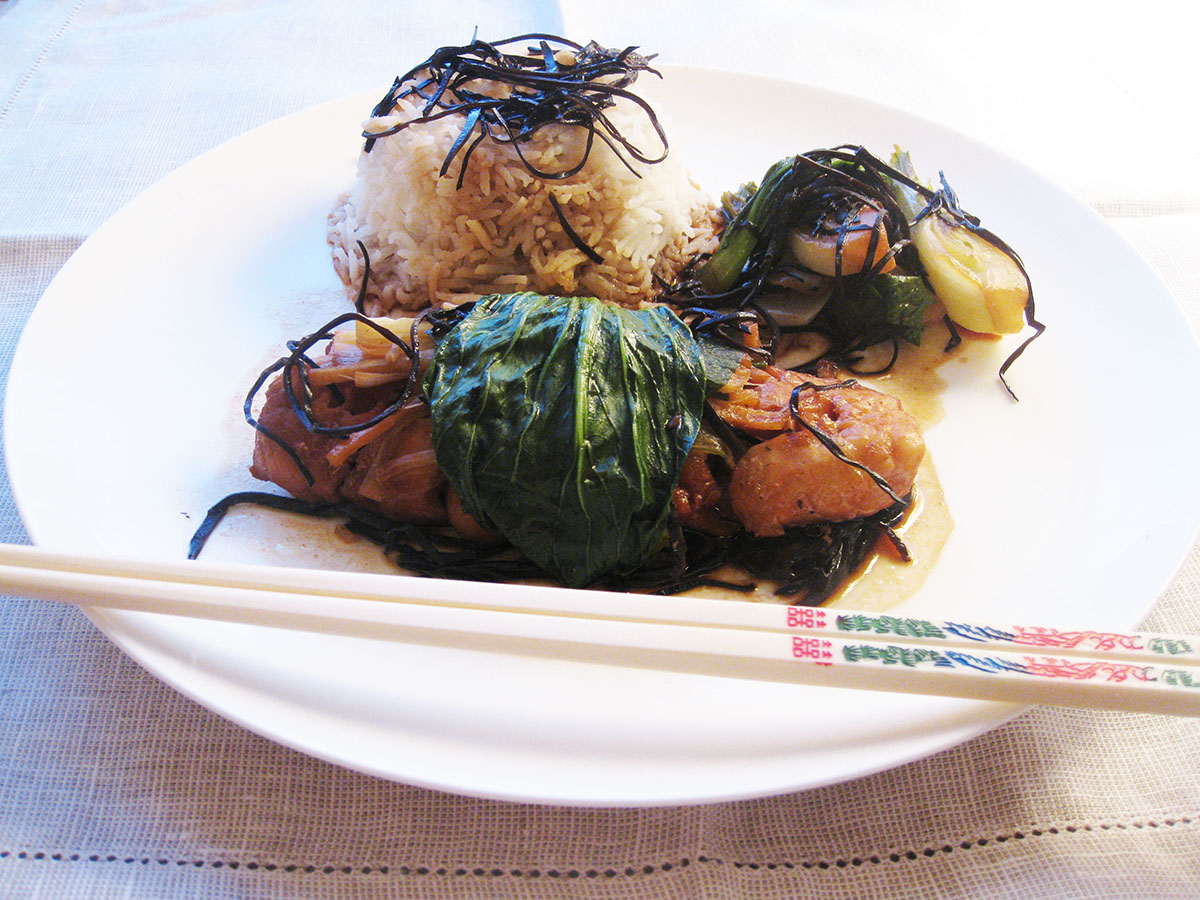 Spring onions turned up in my veg box this week and it made me think of lighter, Asian-style food. I've been meaning to try this idea out for a while, but it's felt too wintery recently. But as the blossom is now in full bloom on the trees and the weather has turned warmer, I thought it would be good to try this.
Spring onions are often combined with ginger and sesame oil, and these marry wonderfully well with the subtle tastes of pak choi and white fish. I've used pollack because the sauce makes the fish taste delicious, and I've added lots of the sea vegetable, arame, to maximise the healthy aspect of this dish. Arame, like all sea veg, contains high levels of iodine, which, as well as boosting your immune system, it helps to keep your metabolism working at an optimum level.
I bought some Chinese rice wine for this dish – and it was a revelation! I'm not sure what I was expecting but, to me, it tastes rather like sherry. The recipe uses 5 tablespoons of the wine and the bottle says that the wine will only keep for a week. So there was no choice, really – we had to drink the rest. (Yep, the detox is over!) I had bought Doragon Sake – and we drank it warm as the bottle suggested, slowly over the course of a couple of days. It's opened my eyes to a whole new world of wine!
* gluten-free, wheat-free, dairy-free, egg-free, nut-free, citrus-free

Gluten-Free & Dairy-Free Pak Choi-Wrapped Fish
Ingredients
2 pak choi
6 spring onions, cut into strips
1cm/½in piece root ginger, peeled and cut into strips
4 skinless white fish fillets, such as pollack
½ tsp sesame oil
2 tbsp olive oil
5 tbsp Chinese rice wine
3 tbsp tamari
150ml/5fl oz/scant ⅔ cup miso soup
1 handful of arame
steamed rice or cooked rice noodles, to serve
Method
Remove the 2 outer leaves from each pak choi and immerse in a bowl of boiled water for about 1 minute until the leaves have softened. Refresh under cold running water and leave to one side. Cut the remaining pak choi into quarters.
Arrange the spring onion strips and ginger on the top of the fish and wrap the softened pak choi leaves around the fish, tucking each end under the fish.
Heat the sesame and olive oils in a large wok over a medium heat until hot. Pour in the rice wine, tamari and miso soup and add the arame, making sure the arame is immersed in the liquid. Bring to the boil, then place the fish on the top and cover with a lid. (If your wok is too small for all the fish, cook in batches.) Cook for 5 minutes, then add the remaining pak choi quarters and cook, covered, for a further 3–5 minutes until the fish is cooked through. Serve immediately with steamed rice or rice noodles.