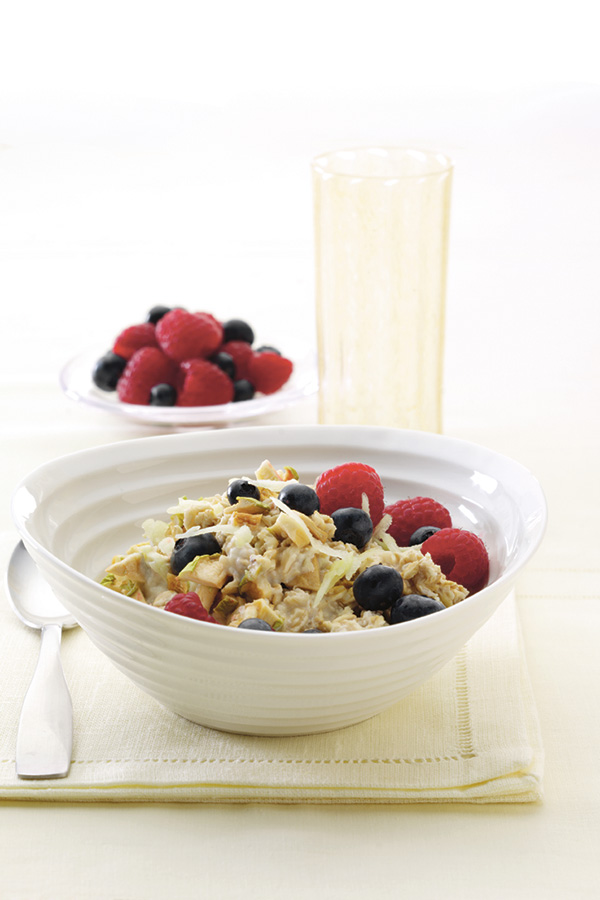 Savour a deliciously creamy gluten-free and dairy-free Bircher Muesli. This is a great start to the day! Guaranteed to stave off any hunger pangs until lunchtime, this recipe is loaded with fibre, protein and a good dose of antioxidants.
* gluten-free, wheat-free, dairy-free, yeast-free, seed-free, citrus-free

Gluten-Free & Dairy-Free Bircher Muesli
Ingredients
200g/7oz/2 cups gluten-free oats
350ml/12fl oz/scant 1½ cups apple juice
2 apples
50g/2oz sugar-free dried apple, chopped
125g/4oz soya or coconut yogurt
100g/3½oz seasonal berries, such as raspberries and blueberries
Method
Put the oats in a large mixing bowl and pour over the apple juice to cover them. Cover the bowl and leave to soak overnight in the fridge.
In the morning, peel and grate the apples and add to the oat mixture. Stir in the dried apple and yogurt.
Spoon the mixture into bowls. Scatter the berries over each helping and serve.
Variation: To make different versions of bircher muesli, you can use 200g/7oz/2 cups buckwheat flakes instead of the oats. Alternatively, you could try 200g/7oz/2 cups quinoa flakes, but you will need an extra 150ml apple juice.