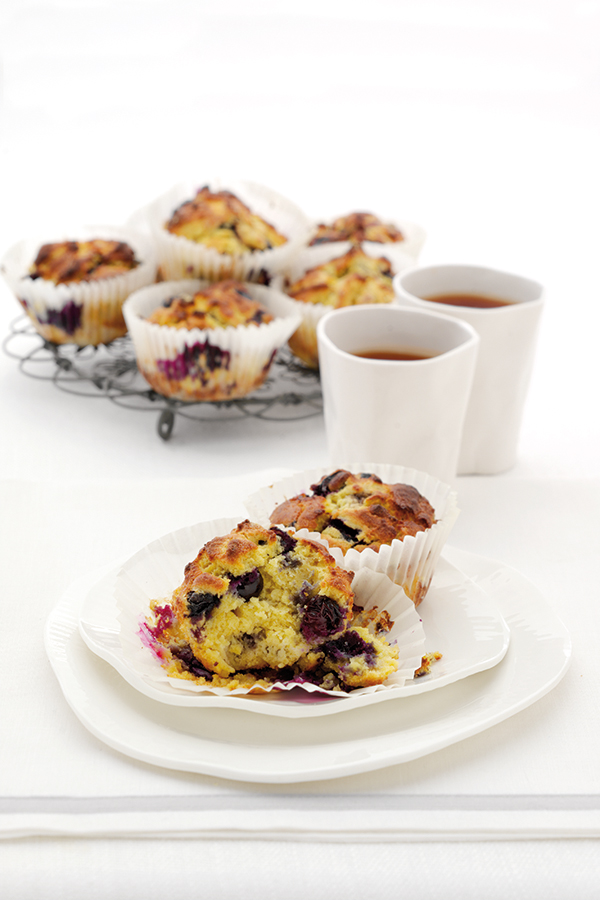 Dive into a vitamin-packed Blueberry and Banana Muffin. These make life deliciously easy! You can quickly make these the night before, or at the weekend – and then keep them in an airtight container for 2–3 days. Grab a breakfast on-the-run, pack them into your bag for a nutritious mid-morning snack, or eat them warm from the oven. Your whole family will love these, even if they're not gluten- or dairy-intolerant.
* gluten-free, wheat-free, dairy-free, yeast-free, citrus-free

Gluten-Free & Dairy-Free Blueberry & Banana Muffins
Ingredients
75g/2oz½ dairy-free margarine, softened, plus extra for greasing
50g/2oz/¼ cup sugar
1 large egg, lightly beaten
100ml/3½fl oz/scant ½ cup soya or nut milk
100g/3½oz/heaped ⅔ cup rice flour
100g/3½oz/scant 1 cup gram/chickpea flour
1 tsp gluten-free baking powder
2 small bananas, mashed
150g/5oz blueberries
Method
Preheat the oven to 200°C/400°F/Gas 6. Grease 10 paper muffin cases and place them in a muffin tray. Put the margarine and sugar in a large mixing bowl and, using a hand-held electric whisk, beat well until light and fluffy. Gradually beat in the egg, a little at a time, then beat in the soya milk.
Sift in the flours and baking powder and stir quickly with a wooden spoon until mixed. Be careful not to overmix, and don't worry if you can still see lumps in the mixture.
Carefully fold in the mashed bananas and the blueberries, then spoon the mixture into the prepared paper cases, filling each one about two-thirds full.
Bake in the hot oven for 20–25 minutes until well risen and just firm to the touch, or until a skewer inserted into the centre comes out clean. Take the muffins out of the oven and either eat them warm or transfer them in their paper cases to a wire rack to cool.