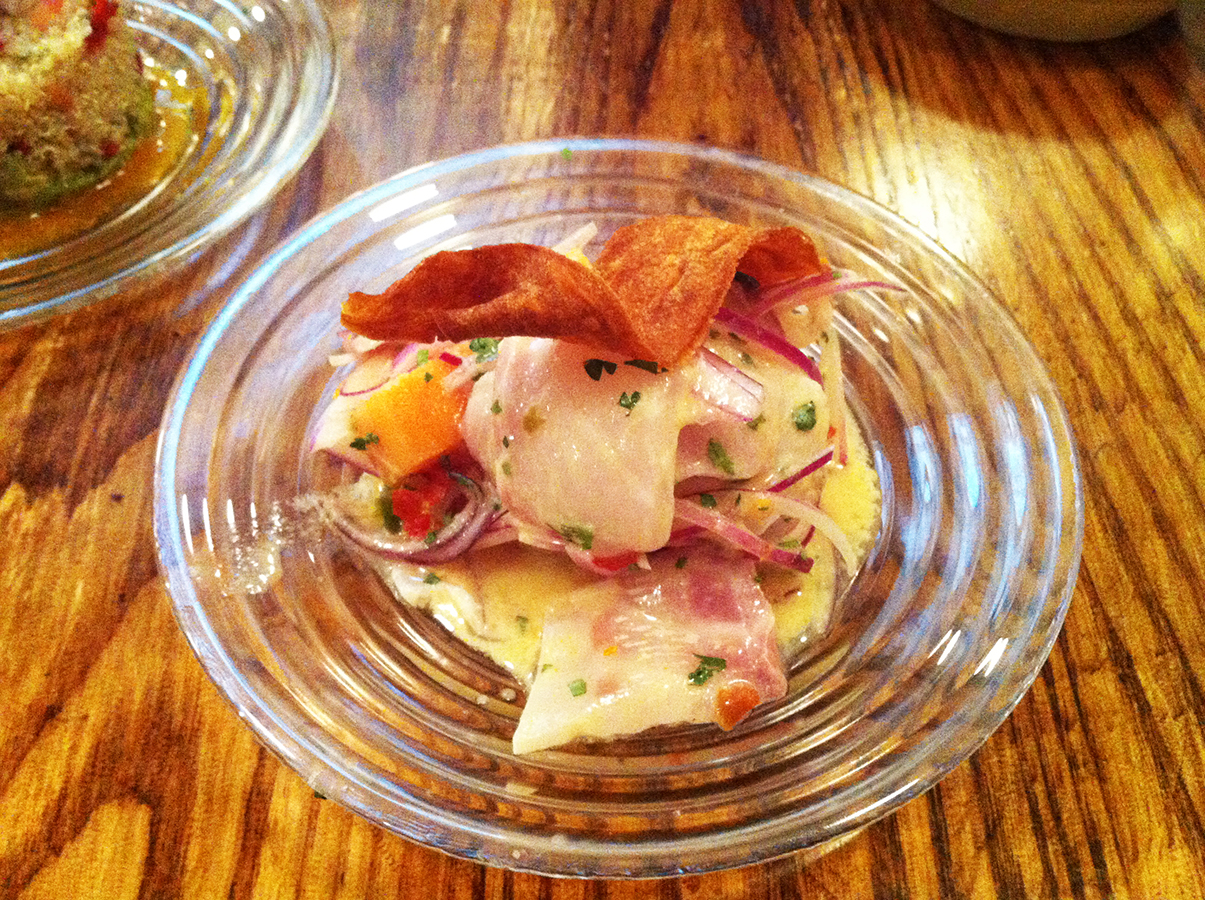 Ceviche opened last year to great reviews – and with it, Peruvian food hit the culinary map in London. The small dishes, bold, stunning flavours and buzzy atmosphere (and apparently the cocktails are great, but I went at lunchtime…) has ensured that the restaurant has been packed ever since. And for gluten-free folk, Peruvian food has the added attraction of being the homeplace of quinoa (yep, that's where quinoa originated). Step in and mention that you're gluten-free and/or dairy-free and they don't bat an eyelid. Our waitress went through the menu methodically, and even gave me a marked-up menu of what I could and couldn't have.
True to its name, the main star of the restaurant is Peru's national dish of fish marinated in lime, salt and chilli. You'll find Don Ceviche (seabass marinated in amarillo chilli tiger's milk), Wasabi Ceviche (seabass in wasabi tiger's milk), Chacalón (mushroom and sweet potato), Alianza Lima (mixed seabass, mussels, prawns and octopus), Drunk Scallops (king scallops marinated in pisco, the Peruvian white brandy) – all of which are gluten-free and dairy-free. (And there's also Sakura Maru, but that's salmon with soy sauce.) I had the Don Ceviche (mainly because I loved the sound of the name) and it was completely delicious. Wonderful bold, punchy flavours explode in your mouth – and the combination of citrus with spicy notes works brilliantly with the firm yet tenderized fish.
But it's not all about ceviche. On the menu you'll also find South American staples such as plantain chips and corn bites, as well as rice and potato cake dishes, all of which are g-f and d-f. Then there are Grilled Skewer dishes (I had the Salmón Rosado which was a lovely combination of marinated salmon with a sweet cucumber and rocoto pepper pickle salad) – and these, too, are all g-f and d-f. And there are hot dishes such as Lomo Saltado (beef fillet, flame cooked) and Arroz con Pato (confit duck in coriander rice) – but beware of these as they all contain dairy and/or gluten.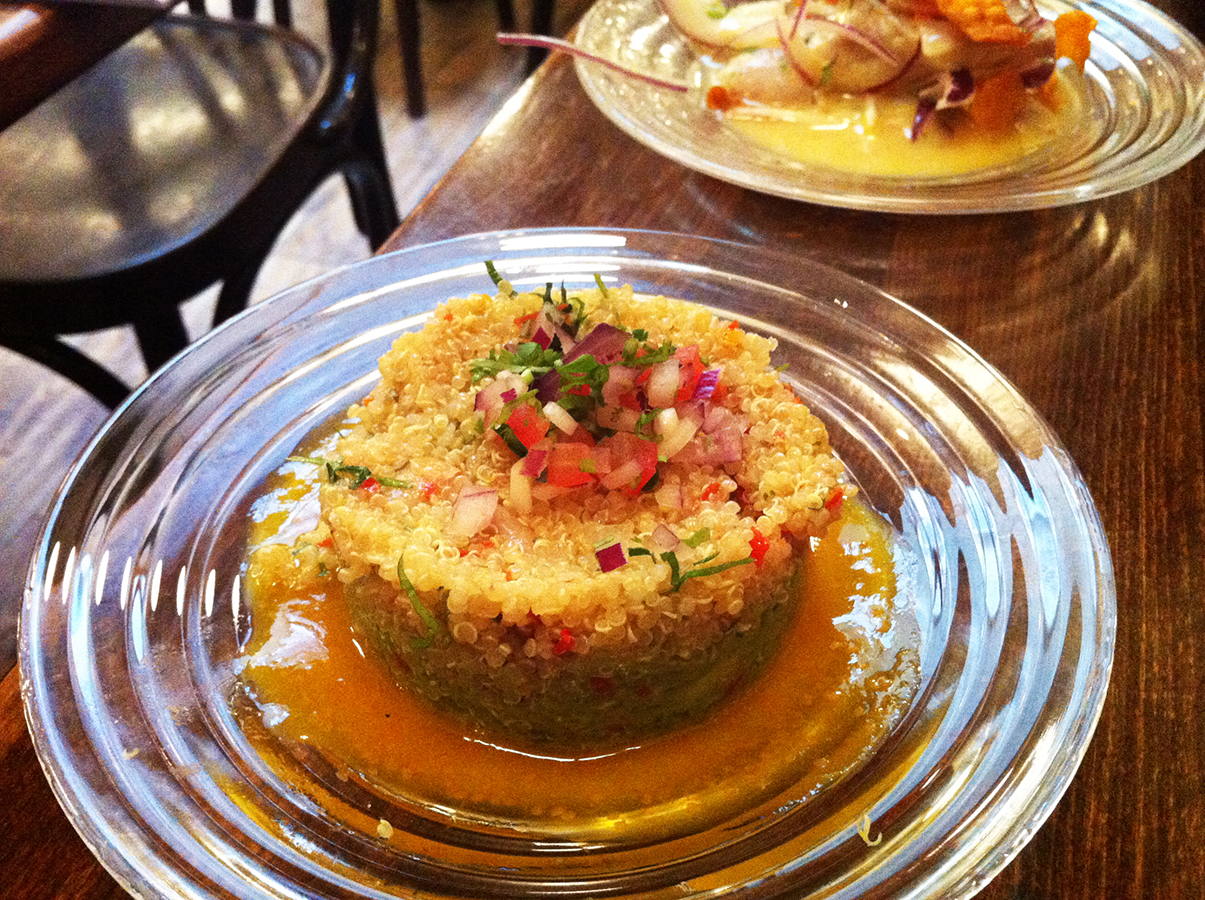 The star, for me, though, was the Ensalada de Quinoa. Seemingly a simple salad of quinoa, tomatoes, avocado, butter beans and coriander with lime and limo chilli vinaigrette, it was a brilliant marriage of textures and flavours. And when it arrived, it looked extremely pretty. The roughly-blended avocadoes provided a soft base to the mixed textures of the quinoa, tomatoes, beans, onion and coriander. And the mingling of the sour, spicy and sweet tastes of the lime/limo and chilli vinaigrette were fantastic. In fact, it's worth going to Ceviche, just for this dish alone!
You'll find Ceviche at 17 Frith Street, Soho. They also run masterclasses. And this summer Ceviche goes on tour. Starting on July 1st the team will be taking Ceviche in a ten date tour visiting restaurants and locations including The Ethicurean near Bristol, Mark Greenaway in Edinburgh, Rick Stein's Padstow Seafood School, Moshimo in Brighton, The River Café in North Shields and Mr Scruff's Teacup on Thomas St in Manchester among others.