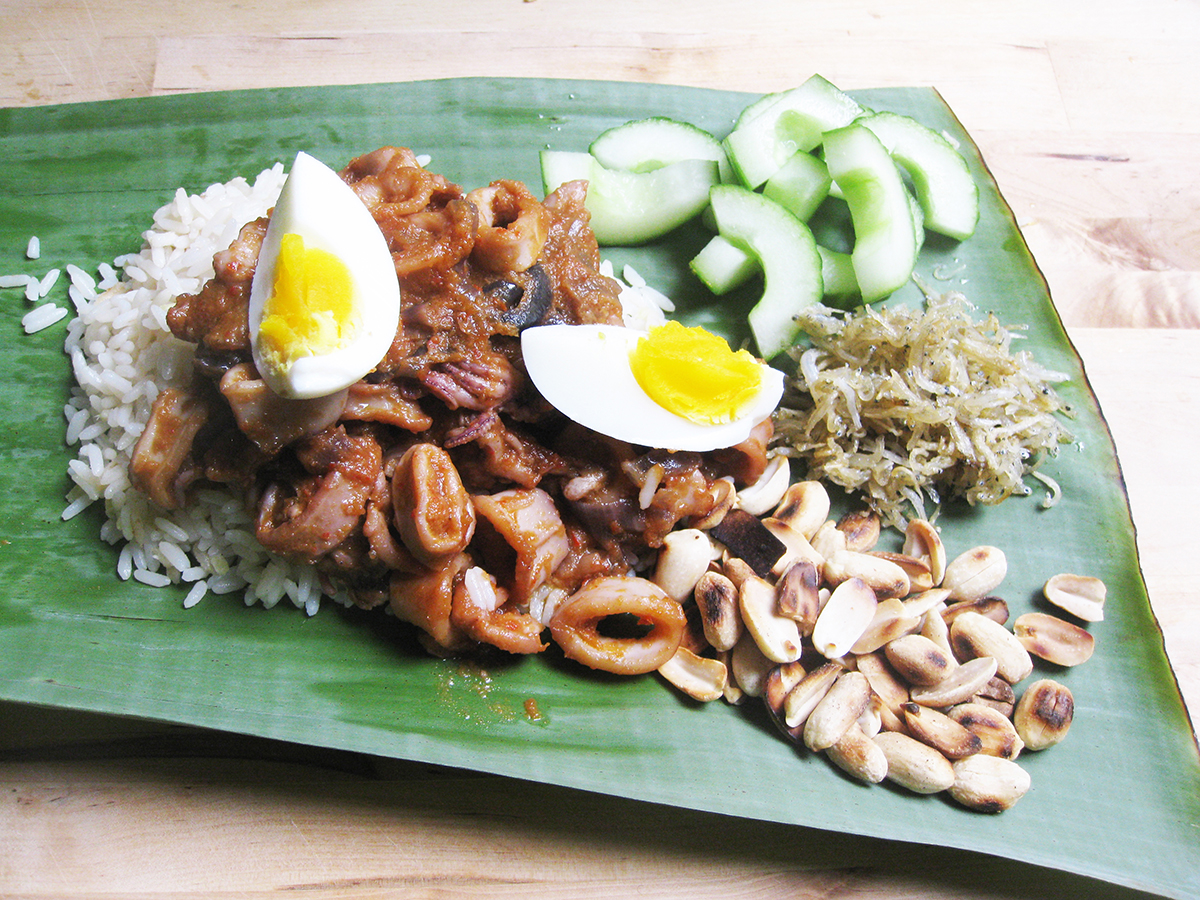 It's easy to get stuck in a rut, making the same spice paste over and over again. So I tried a new one to make this recipe – from Leemei Tan's Lemongrass & Ginger. I have an all-time favourite Thai green curry that I make that is hard to drag myself away from. But it uses a lot of different ingredients so it was great to try this simple paste – especially as it delivers delicious flavours and tons of oomph.
Leemei Tan is a food blogger, stylist and photographer. Her blog is gorgeous – full of Asian (inspired by her upbringing in Malaysia) and French/Asian (inspired by her French husband) recipes. Her brilliant book covers recipes from all over Asia – Japan & Korea, China, Philippines & Indonesia, Malaysia & Singapore, Thailand, Cambodia & Vietnam and India & Sri Lanka. Here I've tried one of the Malaysian recipes as I've become increasingly interested in this particular cuisine.
Malaysian food reflects the country's different ethnic backgrounds. The mixture of Malay, Chinese, Indian, Nyonya, Eurasian and the indigenous people of Borneo has meant the cuisine majors on a fusion of Malay and Chinese ingredients and cooking techniques. Added to that is the effect of the spice trade in the 15th century that brought a wide range of exotic spices to Malaysia, including cardamom, cinnamon, clove and star anise, all of which often play a starring role in the dishes.
This recipe uses star anise, ginger and lemongrass, along with coconut milk, to make a truly delicious rice. (I made the rice the other morning, before I went to work, thinking that Zoe would love it for her lunch, as she loves coconut-flavoured rice. But when I came home and asked Peter whether she had liked it, he said that she'd eaten a fair bit of it but didn't seem to enjoy it particularly. Later on, I realised that he'd given her the chopped up dried anchovies for this Sambal recipe that I'd had in the fridge instead. No wonder she hadn't gone for it big time!)
This recipe is a great one for cooking squid. Squid can so easily be tough and rubbery when you've cooked it, so you have to either flash fry/stir-fry or cook it slowly, as you do here, to get a lovely tender texture. And the whole dish is full of punchy, vibrant flavours – delicious!
I went to New Loon Moon Supermarket in Chinatown, London, to get the dried anchovies, the pandan leaves and the banana leaves for this recipe. It's always wonderful going to this store – and I generally spend far too long in there, drifting around the aisles looking at the wonderful selection of foods…
* gluten-free, wheat-free, dairy-free, soya-free, nut-free

Leemei Tan's Gluten-Free & Dairy-Free Malaysian Coconut & Lemongrass–Scented Rice with Squid Sambal
Ingredients
350g/12oz/1¾ cups long-grain rice, washed and rested
1 star anise
2 lemongrass stalks, outer leaves and stalk ends removed and crushed
3 pandan leaves, tied into a knot (optional)
2cm/¾in piece of root ginger, peeled and finely chopped
100ml/3½fl oz/generous ⅓ cup coconut milk
½ tsp sea salt
4–6 banana leaves (optional)
For the Squid Sambal
4 tbsp sunflower oil
2 red onions, sliced into rings
800g/1lb 12oz squid, cut into rings
1 tbsp granulated sugar
2 tbsp lime juice or 1 recipe quantity Tamarind Water
sea salt
For the Sambal paste
4 dried chillies
5 red chillies, deseeded and roughly chopped
3 garlic cloves, roughly chopped
10 shallots, roughly chopped
1 tsp roasted shrimp paste
2 macadamia nuts
To serve
100g/3½oz/scant ⅔ cup raw, skinless peanuts
1 tsp granulated sugar
2 hard-boiled eggs, quartered
1 small cucumber, halved lengthways, deseeded and cut into chunks
80g/2¾oz dried anchovies
Method
To make the Sambal paste, soak the dried chillies in hot water for 10 minutes, then drain, deseed and roughly chop. Put all the ingredients in a food processor and blend to a smooth paste.
To make the Squid Sambal, heat the oil in a frying pan over a medium-high heat, then add the onions and cook until soft and translucent. Add the spice paste and cook gently, stirring occasionally, for 10–15 minutes until fragrant and the oil starts to rise to the surface. Tip in the squid, stir until well coated and cook for about 5 minutes. Add the sugar and season with salt, then add the lime juice and stir to combine. Bring to the boil, then reduce the heat to low and simmer, covered, for 45 minutes, or until the sauce thickens and turns a dark reddish brown. Leave to one side and keep warm.
Meanwhile, put the rice, star anise, lemongrass, pandan leaves, if using, ginger, coconut milk and salt in a large saucepan and pour in 300ml/10½fl oz/scant 1¼ cups water. Put the pan over a high heat and bring to the boil for about 20 seconds. Stir with a wooden spoon to prevent the rice sticking to the base of the pan, reduce the heat to low, cover, and simmer gently for 20 minutes.
Remove the pan from the heat, leaving the lid tightly closed, and leave to one side to steam for 10–15 minutes until cooked. Fluff the rice with a fork and discard the star anise, lemongrass and pandan leaves, if using.  Leave to one side and keep warm.
While the Sambal and rice are cooking, heat a frying pan over a medium-high heat, then add the peanuts and dry-roast until fragrant and starting to brown. Tip the peanuts onto a plate, sprinkle over the sugar and leave to cool. Add the remaining 1 tablespoon of oil and fry the dried anchovies until slightly browned.
Serve the rice on plates or banana leaves. Ladle the Squid Sambal over the rice and top with the eggs. To the side, heap the cucumber, toasted anchovies and sugared peanuts. Serve hot.