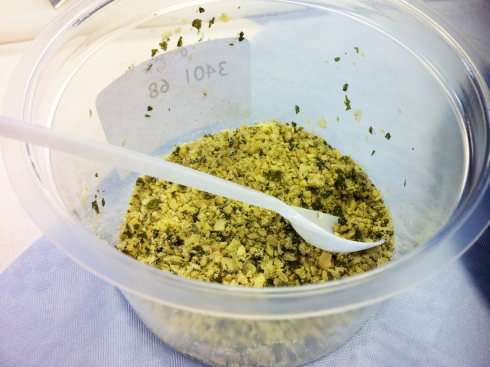 Another year, another trip to Wincanton a couple of months ago to join the judges for the Great Taste Awards judging… I really enjoyed going to the tastings the previous two years so I set off with high hopes. But this year it wasn't nearly so much fun. In truth, during the day we tried a lot of entries that really didn't taste great. It seems to me that this year, as the Awards have become recognised as the standard of authority both within the food industry and with consumers, more and more mass-produced products are being entered. But it's very clear in the blind-tastings which foods are what the Great Taste Awards are all about – great quality, made with care, fine ingredients and excellent methods – and which ones are not!
We also noticed that a lot of the products seemed to have lovely descriptions, such as 'finest quality natural ingredients', 'family recipe passed down through generations' or even 'secret bespoke' recipe – but when we tasted the products, they didn't live up to the marketing descriptions. And there were some lovely-sounding ingredients within some of the products, such as Madagascan vanilla or smokey charred peppers. But often these ingredients didn't seem to be anything but a marketing ploy.
The thing that really annoyed me, though, was that we tasted various "gluten-free" products that are obviously marketing ploys as well. There was a soup that had no clear reason to be marketed as a gluten-free soup, with indistinct flavours and really nothing to commend it. (It would be lovely to get delicious gluten-free soups that are full of flavour, from the chiller cabinet, though.) And then we tasted some gluten-free chocolates that had seriously misleading descriptions – and really weren't good. Some mass-produced chocolates do contain traces of gluten to help bind them but I'm feeling annoyed at how gluten-free people are being targeted so cynically. It would be great to get delicious gluten-free chocolate, but then the good stuff normally is. What would be better, though, is if we could get more dairy-free and gluten-free chocolates (like some of the delicious ones out there, including the awesome Booja Booja ones).
As a community of people (whether coeliac, intolerant, allergic or avoiding certain things out of a lifestyle choice) we need to make it clear to those in the food trade that we are a) not dumb b) want to buy delicious food c) also want to buy food that will help us nutritionally. I'm certainly not going to buy products that feel like they are arrogant marketing ploys.
Free-from products are judged along with all the other entries, so it's pot luck how many turn up on the day I'm judging – and this year there were hardly any on my day. But suddenly, within the tastings, there was one very nice gluten-free product. One that is a lovely idea, tasted really good and would be a great ingredient to have in your storecupboard to use as you cook. It was the Linwood's blend of sunflower and pumpkin seeds. What I loved about it was that the blend was very clever – pumpkin seeds can often taste too strong, but the overall taste of this blend was really good. And this is the sort of thing that you could use to add some excellent nutrients into your daily meals, such as into smoothies, soups, stir-frys, casseroles and stews, as well as in your baking. This was a wonderful product – and it definitely deserved the star it was given. Congratulations, Linwoods!