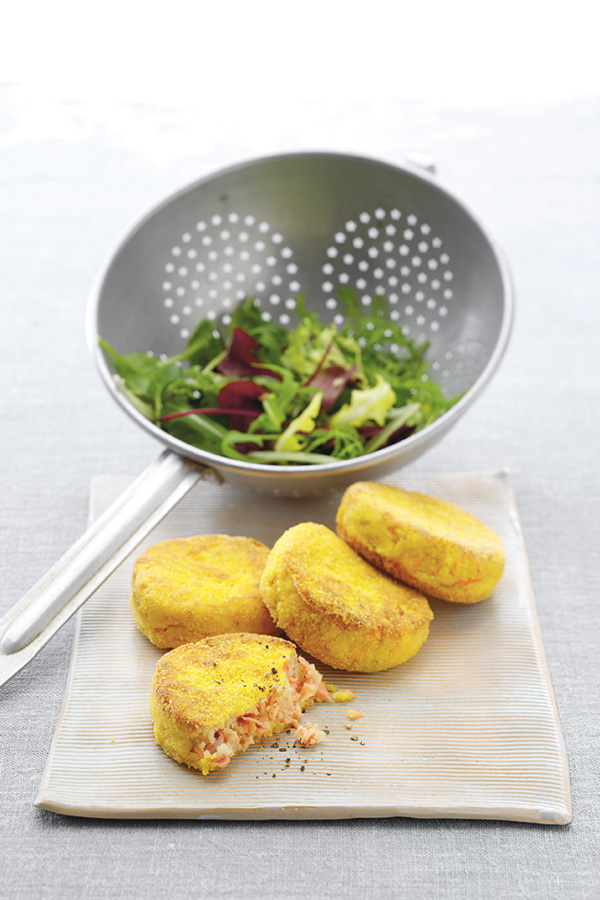 Soft, tender salmon with a deliciously crunchy coating. It's the polenta – or maize flour – which makes these so crunchy and delicious. It is worth using the gram flour, too, as a base coat, but if you don't have any to hand you could use rice flour or just use polenta for both coatings. And if you want to prepare these ahead of time, you could cook the salmon and the potatoes the day before and then simply assemble into fishcakes on the night. Perfect for mid-week dinner with the family or a casual weekend lunch.
* gluten-free, dairy-free, yeast-free, soya-free, nut-free, seed-free, citrus-free

Gluten-Free & Dairy-Free Salmon Fishcakes
Ingredients
500g/1lb 2oz salmon fillets
2 tbsp olive oil
500g/1lb 2oz potatoes, peeled and cut into large chunks
2 large eggs, beaten
gram flour, for dusting
polenta or maize flour, for dusting
sea salt and freshly ground black pepper
Method
Preheat the oven to 180°C/350°F/Gas 4. Place the salmon in an ovenproof dish and drizzle over half of the oil. Cover and bake in the hot oven for 20–25 minutes until cooked through.
Meanwhile, put the potatoes in a saucepan and cover with cold water. Place over a high heat, bring to the boil, then turn the heat down, cover with a lid and leave to simmer for 15–20 minutes until tender.Drain, return to the saucepan and heat gently for 1–2 minutes to dry out. Mash coarsely.
Take the salmon out of the oven, remove and discard the skin and any brown meat, and flake with a fork, reserving any juices. Mix together the flaked salmon, mashed potatoes, half the beaten eggs, the reserved cooking juices and some salt and pepper, taking care not to break up the fish too much. With wet hands, shape the salmon mixture into eight balls, then flatten them slightly to form fishcakes.
Spread the gram flour out on a plate and the polenta or maize flour out on a second plate. Dip each fishcake into the gram flour to coat it, then into the remaining beaten egg, then finally into the polenta or maize flour until well coated. Place on a clean plate, cover with cling film and leave to chill in the fridge for at least 30 minutes.
Heat the remaining oil in a large, heavy-based frying pan over a medium heat. Add half the fishcakes and cook for 4–5 minutes on each side until golden brown. Keep warm while you cook the remaining fishcakes. Serve with vegetables or mixed salad leaves.