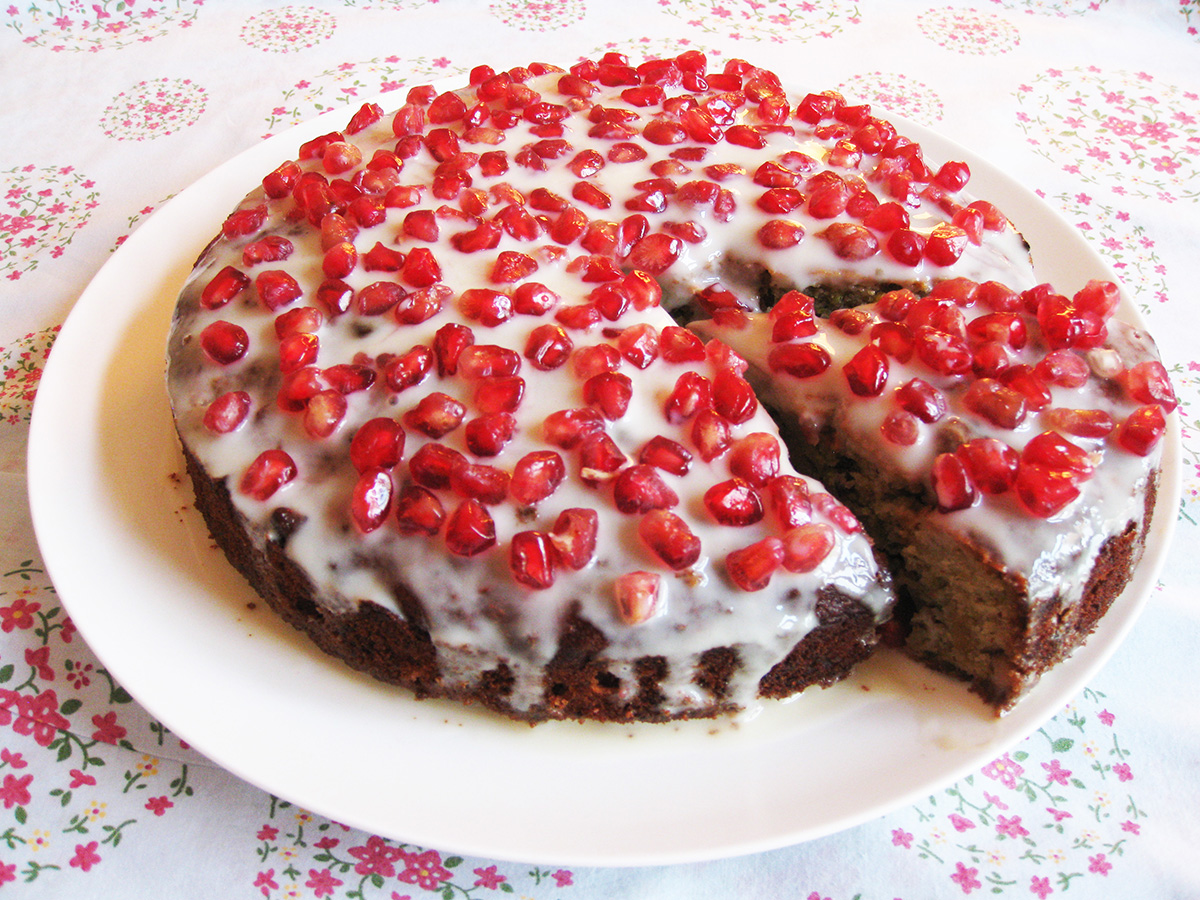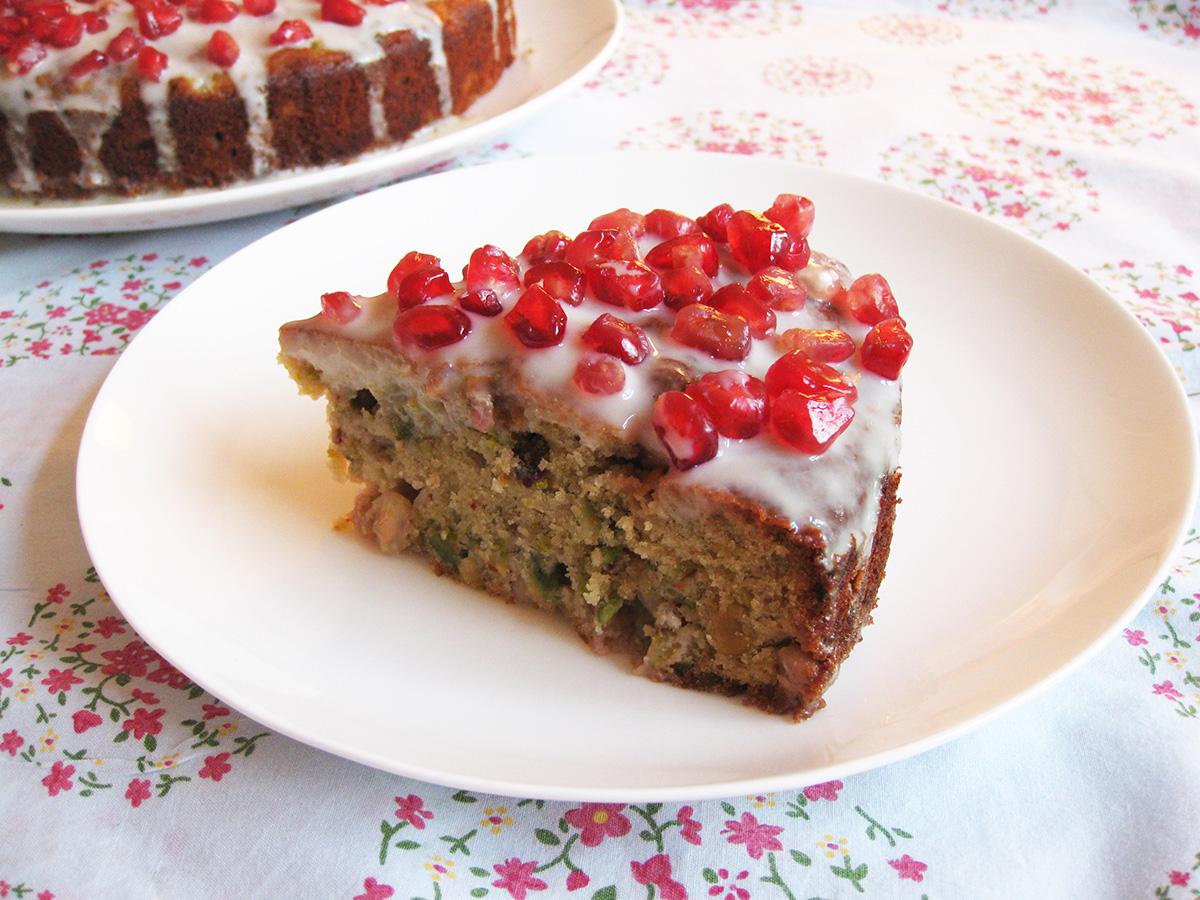 Yesterday, I woke up at 4am, pushed the curtains to one side, and took a quick look outside. It was one of those magical mornings, with whisps of morning mist, and all the signs that it was going to be a sunny day. I went back to sleep, thinking 'I'll make a picnic for lunch'. And, yep, the sun shone, the birds sang – and, at last, it was time for summery food!
This cake is an absolute joy to eat. It's beautifully moist but holds together well. And it's full of flavours from the pomegranates, almonds and pistachios. I made it with a very simple dairy-free yogurt and honey topping (but, of course, you can do a different frosting if you want a more conventional sugary one!)
* gluten-free, dairy-free, yeast-free, citrus-free

Gluten-Free & Dairy-Free Pomegranate & Pistachio Cake
Ingredients
150g/5½oz dairy-free margarine, softened, plus extra for greasing
2 pomegranates
175g/6oz/scant 1 cup fruit sugar or caster sugar
1 tsp vanilla extract
3 large eggs
60g/2¼oz/scant ¼ cup rice flour
20g/¾oz/scant ⅓ cup gram flour
20g/¾oz/scant ⅓ cup maize flour
1 tsp gluten-free baking powder
½ tsp xanthan gum
50g/1¾oz/½ cup ground almonds
100g/3½oz/⅔ cup unsalted, shelled pistachios
Topping:
100g/3½oz dairy-free yogurt
2 tbsp clear honey
Method
Preheat the oven to 180°C/350°F/gas 4 and lightly grease a deep 20cm/8in springform cake tins with dairy-free margarine. Halve the pomegranates and, holding each half over a large mixing bowl, bash the outer skin with a wooden spoon until all of the seeds fall into the bowl. You'll need to bash the skin a few times before the seeds begin to fall out, but they will. And you might need to pick a few pieces of pith out of the bowl. Put a quarter of the pomegranate seeds into another dish and leave to one side, covered in cling film, to decorate the cake.
Using an electric mixer, beat the dairy-free margarine and sugar together in another large mixing bowl until light and fluffy. Beat in the vanilla extract, then beat in the eggs, one at a time. Sift the flours, gluten-free baking powder and xanthan gum into the mixture, add the ground almonds, and fold in. Add the pistachios and three-quarters of the pomegranate seeds and mix in gently. Make sure the mixture is well mixed but take care not to overmix it. Spoon the mixture into the cake tin and level the surfaces with the back of a spoon.
Bake for about 40 minutes until firm to the touch and a skewer inserted in the centre comes out clean. Remove from the oven and leave to cool in the tins for 5 minutes, then turn out onto wire racks and leave to cool completely.
Mix together the yogurt and honey in a bowl until smooth. Spread the topping over the cake, cover with the remaining pomegranate seeds and serve. Keep in an airtight container in the fridge for 2–3 days.