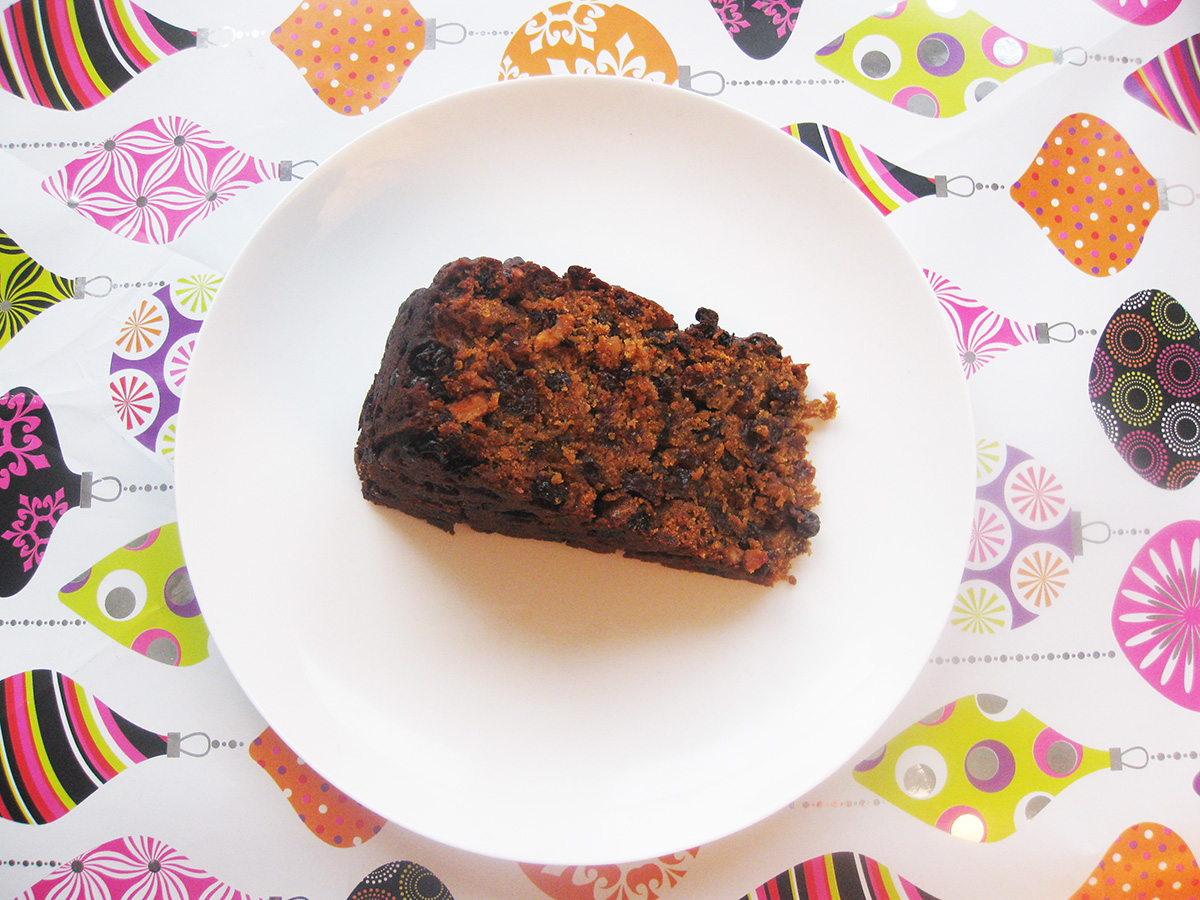 I'm so excited about Christmas this year! Zoe is 2 years old, so I think she'll understand it this year. She was only a couple of months' old for her first Christmas, 2 years ago – and she slept through most of it, including the very loud Mama Mia karaoke my sister had organized! And while she dressed up for the festivities last year, she didn't understand the concept of presents or Santa Claus. But this year, we're going to see Santa and I know she's going to love all the presents, Christmas tree decorations, crackers, party hats etc etc. Can't wait! Here's a recipe for a fantastically delicious gluten-free and dairy-free Christmas cake – very rich and moist. By all means feed it with more brandy while you wait for the day. And wrap it tightly in foil, then in an airtight container to store it. I've made 2 cakes here, because I wanted one for Christmas day and one to freeze (it freezes brilliantly). But you could always make 1 very large one, instead. Just cook for another hour or so, peering at it frequently to make sure you don't overcook it.
* gluten-free, wheat-free, dairy-free, seed-free, citrus-free

Gluten-Free & Dairy-Free Christmas Cake
Ingredients
350g/12oz dairy-free margarine, plus extra for greasing
1.5kg/3lb 5oz mixture of sultanas, raisins and currants
300ml/10½fl oz/scant 1¼ cups brandy
250g/9oz/1⅔ cups almonds
150g/5½oz/heaped ¾ cup rice flour
100g/3½oz/scant 1 cup gram flour
100g/3½oz/⅔ cup maize flour
100g/3½oz/1 cup ground almonds
½ tsp salt
1 tbsp gluten-free baking powder
1 tsp xanthan gum
½ tsp ground cinnamon
¼ tsp ground ginger
¼ tsp ground cloves
a large pinch freshly grated nutmeg
350g/12oz/2 cups fruit sugar or caster sugar
6 eggs, beaten
2 tbsp molasses (I used pomegranate molasses)
200g/7oz dried pineapple or mango, finely chopped
Method
Preheat the oven to 150°C/300°F/gas 2 and lightly grease 2 x 23cm/9in springform cake tins with dairy-free margarine. Put the sultanas, raisins and currants and 1l/35fl oz/4 cups water in a saucepan. Bring to the boil over a high heat, then turn the heat down to medium and simmer for 30–40 minutes until all of the fruit has softened and the water has been absorbed. Pour the brandy in, mix thoroughly, and leave to one side.
Put the almonds in a food processor and pulse until chopped.
Sift the flours into a large mixing bowl and add the ground almonds, salt, gluten-free baking powder, xanthan gum and spices and mix well.
Using an electric mixer, beat the dairy-free margarine and sugar together in a large mixing bowl until light and fluffy. Gradually beat in the eggs, one at a time, until well mixed, then stir in the softened fruits, chopped almonds and pineapple or mango pieces, using a spoon. Quickly fold in the flour mixture. Make sure the batter is well blended, but take care not to overmix. Pour the batter into the tins and smooth the surfaces with the back of a metal spoon.
Bake for 30 minutes, then cover both tins with baking parchment, tucking the ends under the tins securely. Bake for another 1¾–2 hours until browned on top, well risen and a skewer inserted in the centre comes out clean. Leave to cool in the tins for 5 minutes, then turn out and transfer to a wire rack. Leave to cool completely before serving.