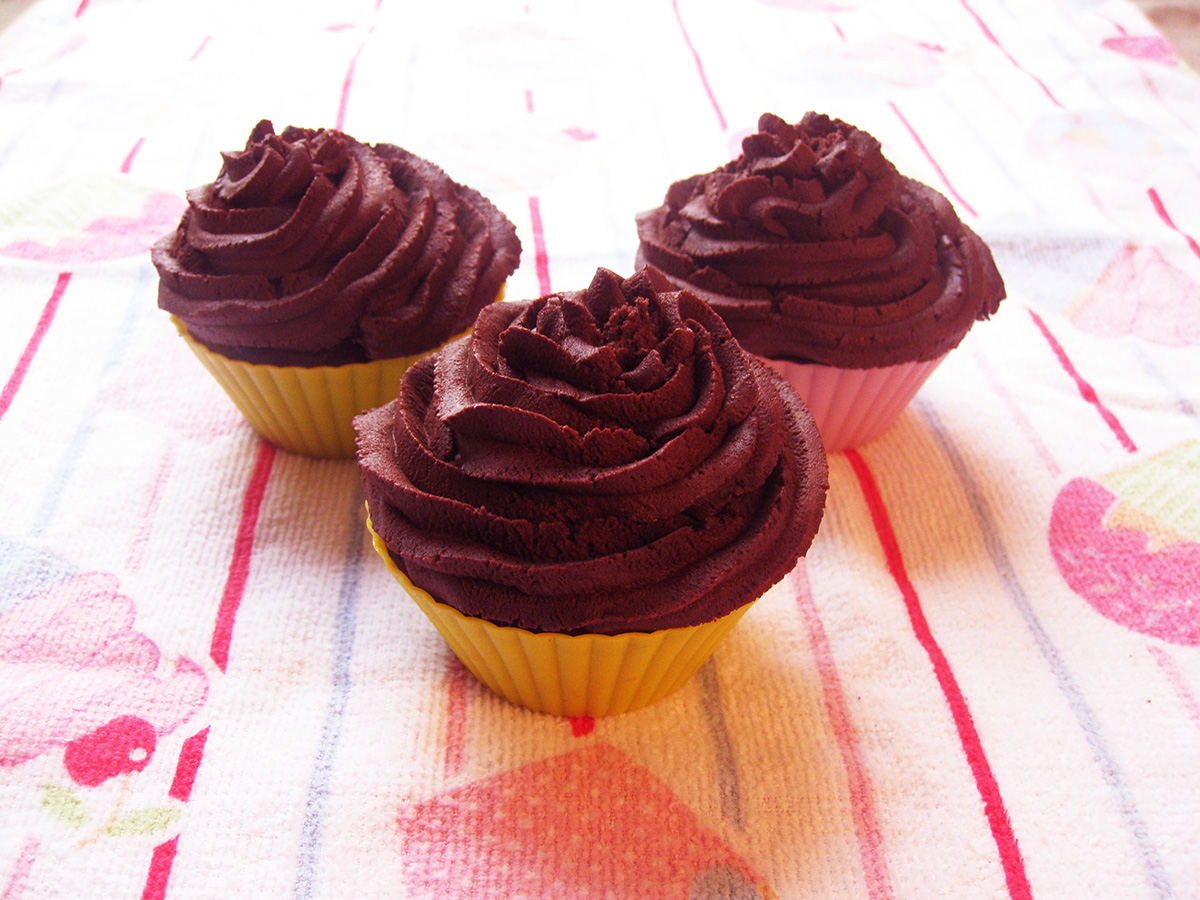 Cupcakes really are EASY to make. What's more, they cook very quickly and the frosting doesn't need to chill in the fridge – so they're ready very quickly. (Something that Zoë appreciates hugely!) I've made these with cocoa powder in both the cupcakes and the frosting, instead of melting chocolate. And I've used a mixture of rice flour, ground almonds and buckwheat flour because it's an excellent recipe to use buckwheat flour in (which is very nutritious). But you don't need to use buckwheat flour, if you don't have any to hand. (Just use 75g rice flour and 50g ground almonds, instead.)
I made these with a little helper – Zoë. She was excellent at helping to mix and at putting all the cupcake cases into the bun tin. She kindly licked the spoons to make them clean and helpfully tasted each stage to make sure that it tasted good. Unfortunately, though, once they were made,  I heard a crash in the kitchen while I was having a bath. Cries of "Mummy" came from the kitchen, followed by Peter coming to explain that Zoë had tipped the container over and the cupcakes were now squashed. Luckily I'd already taken the picture – and I guess we'll just have to eat the squashed ones quickly and make some new ones now for Easter day!
Happy Easter! x
* gluten-free, dairy-free, yeast-free, seed-free, citrus-free

Super Easy Gluten-Free & Dairy-Free Chocolate Easter Cupcakes
Ingredients
150g/5½oz dairy-free margarine, softened
150g/5½oz/heaped ¾ cup fruit sugar or caster sugar
3 large eggs
50g/1¾oz/heaped ¼ cup rice flour
20g/¾oz/scant ¼ cup buckwheat flour
1 tsp gluten-free baking powder
scant ½ tsp xanthan gum
50g/1¾oz/scant ½ cup cocoa powder
55g/2oz/½ cup ground almonds
Chocolate Frosting:
200g/7oz dairy-free margarine
400g/14oz/scant 3¼ cups icing sugar, or ground fruit sugar
120g/4¼oz/1 cup cocoa powder
2 tsp vanilla extract
Method
Preheat the oven to 180°C/350°F/gas 4 and arrange 10 cupcake cases in a bun tin. Using an electric mixer, beat the dairy-free margarine and sugar together in a large mixing bowl until light and fluffy. Gradually beat in the eggs, one at a time, until well mixed.
Sift the rice flour, buckwheat flour, gluten-free baking powder, xanthan gum and cocoa powder into the mixture. Quickly fold in the ground almonds, using a spoon and mix well, but take care not to overmix. Divide the mixture evenly into the cupcake cases.
Bake for 15–18 minutes, until well risen and a skewer inserted in the centre comes out clean.
Meanwhile, make the frosting. Put the dairy-free margarine, icing sugar, cocoa powder and vanilla extract in a mixing bowl and beat, using a whisk or hand-held electric mixer, until smooth, light and fluffy. (I find that my electric mixer makes the icing sugar cloud up at the beginning, so I use a wooden spoon initially to blend the ingredients together and then I use the electric mixer. Some mixers, though, work fine if you simply add the icing sugar in slowly.)
When the cupcakes are cooked, remove from the oven and turn out of the tin, then transfer to a wire rack and leave to cool completely.
Spread or pipe a little of the frosting over each cupcake and serve.