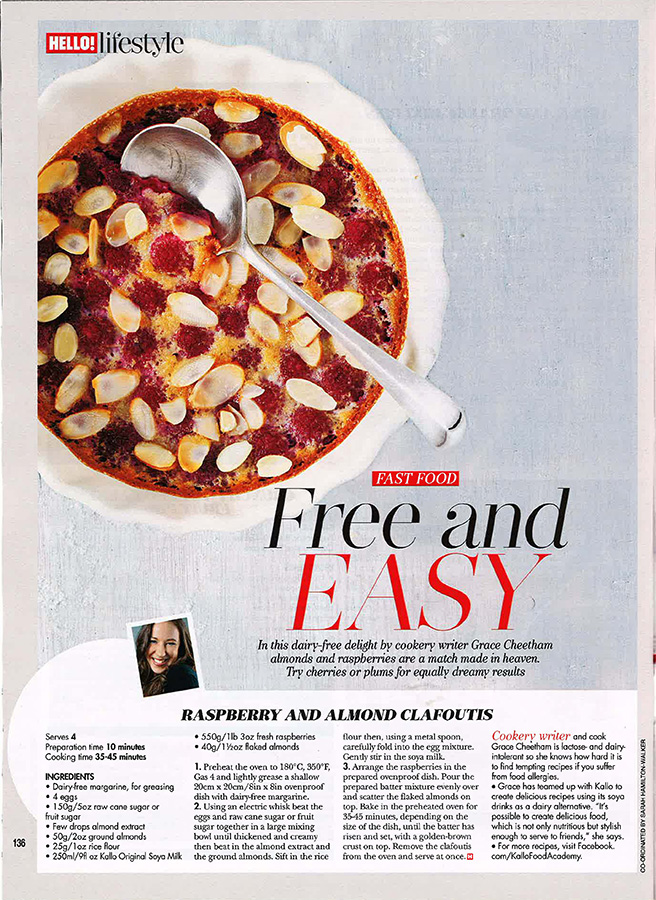 Recently I devised some recipes for Kallo, for their new range of organic soya milks (which are delicious!!) One of the recipes I created was a Raspberry and Almond Clafoutis. I adore clafoutis – it's a a baked dessert in a custard-like batter, similar to pancake batter. Originally a French dish, it was traditionally made with cherries, but you can find many variations using summer/autumnal fruits such as plums and blueberries. It's easy to make a good gluten-free and dairy-free batter, but it is important to use good soya milk. This recipe combines raspberries and almonds – a classic combination of tastes – with an extra kick of almond from the almond extract. Super-easy to prep and assemble – and thoroughly delicious!
* gluten-free, wheat-free, yeas-free, seed-free, citrus-free

Gluten-Free & Dairy-Free Raspberry & Almond Clafoutis – in Hello! Magazine
Ingredients
dairy-free margarine, for greasing
4 eggs
150g/5½oz/scant 1 cup raw cane sugar or fruit sugar
⅛ tsp almond extract
25g/1oz/scant ¼ cup rice flour
50g/1¾oz/scant ½ cup ground almonds
250ml/9fl oz/1 cup Kallo Original Soya Milk
550g/1lb 4 oz/4½ cups raspberries
40g/1½oz/heaped ½ cup flaked almonds
Method
Preheat the oven to 180°C/350°F/Gas 4. Lightly grease a large (approximately 20 x 20cm) ovenproof dish with dairy-free margarine.
Beat the eggs and sugar together in a mixing bowl with an electric whisk until thickened and creamy. Beat in the almond extract, then sift in the rice flour and add the ground almonds. With a metal spoon, carefully fold into the egg mixture. Gently stir in the soya milk.
Put the raspberries on the bottom of the dish. Pour the batter over the top and scatter the flaked almonds over the top. Bake in the hot oven for 35–45 minutes, depending on the size of the dish, until risen and set, with a golden-brown crust formed on the top. Remove from the oven and serve.