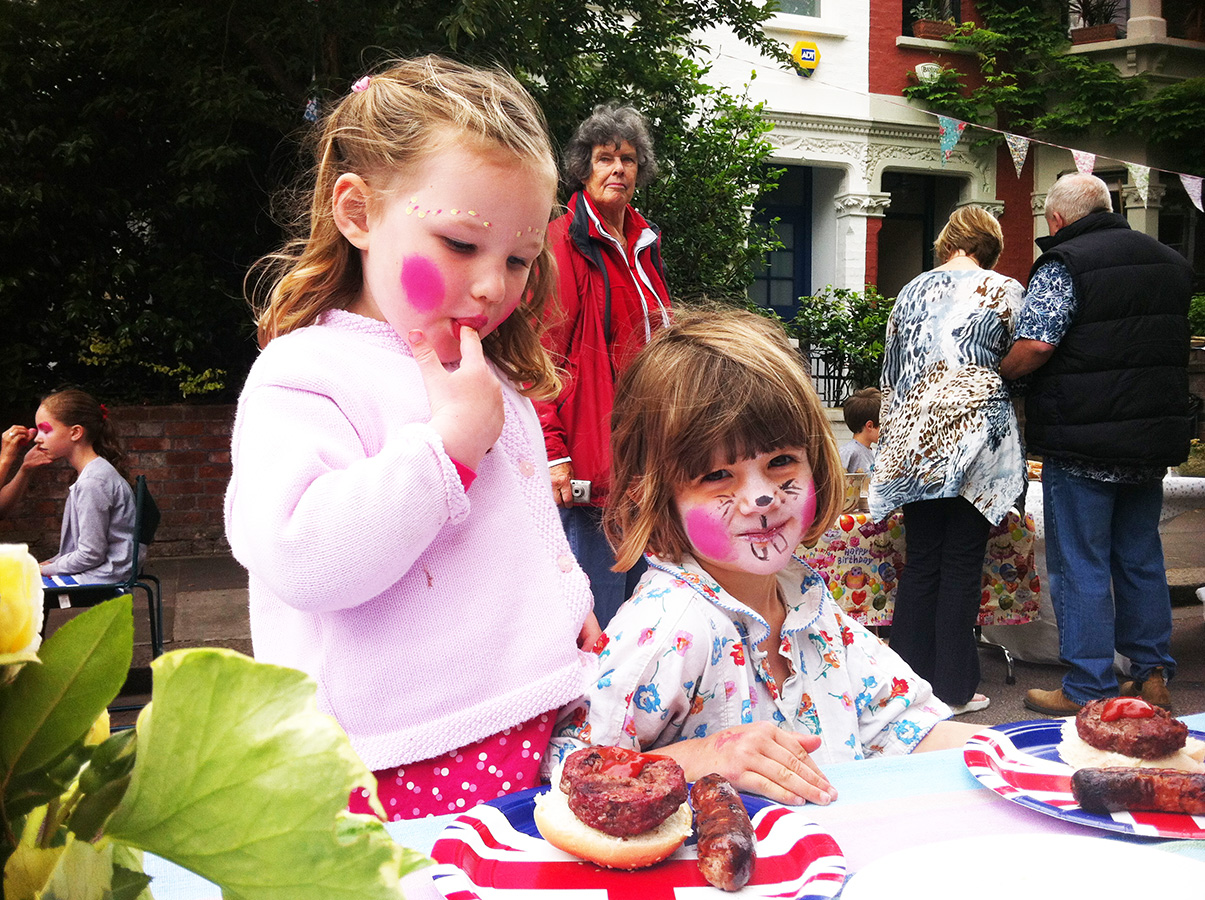 This weekend we went to a street party on my sister's street. Zoë ran around with all the kids, bouncing on the bouncy castle, eating goodies and zooming into different houses, playing, playing and playing; Peter helped my brother-in-law and sister to cook the BBQ (well, he is Australian after all) and I chatted, ate delicious food, drank wine and had a fine time! The sun shone in the afternoon and we stayed on and on, enjoying the celebrations and the prospect of a four-day weekend. (The following day we got drenched, squashed and freezing cold watching the boats going up the Thames…!)
I made these chocolate brownies the night before. They had a wonderfully crunchy crust and gorgeously gooey centre. I normally use fruit sugar, xylitol or agave syrup when I'm baking but I didn't have enough left in my cupboards, and didn't have enough time to go and get any more. So I used caster sugar and perhaps that's why the crust was so crunchy. (I'll have to make these again, now, to test whether that's the reason!) There was nothing remotely red, white or blue or Jubilee about these brownies – but my sister had asked for them because she loves them. If you're just going to bake one gluten-free thing, bake these because they're really, really good.
* gluten-free, dairy-free, yeast-free, citrus-free

Jubilee Gluten-Free & Dairy-Free Chocolate & Pecan Nut Brownies
Ingredients
150g/5½oz dairy-free margarine, plus extra for greasing
200g/7oz dairy-free dark chocolate, with at least 70 per cent cocoa solids
200g/7oz/heaped 1 cup fruit sugar or caster sugar
2 large eggs, beaten
1 tsp vanilla extract
50g/1¾oz/heaped ¼ cup rice flour
25g/1oz/scant ¼ cup ground almonds
1 tsp gluten-free baking powder
¼ tsp xanthan gum
100g/3½oz/1 cup pecan nuts
Method
Preheat the oven to 180°C/350°F/Gas 4. Line the base of a 20 x 30cm/8 x 12in baking tin with non-stick baking parchment.
Break the chocolate into small pieces and place in a large heatproof bowl. Rest the bowl over a pan of gently simmering water, making sure that the bottom of the bowl does not touch the water. Gently stir from time to time until the chocolate has melted. Add the margarine to the bowl and continue stirring occasionally until it is completely melted and mixed in with the chocolate.
Meanwhile, using an electric mixer, beat the eggs, sugar and vanilla extract together in a large mixing bowl until light, fluffy and very pale in colour.
Remove the bowl of melted chocolate from the heat. Using the electric mixer, beat into the egg mixture, then sift the flours, baking powder and xanthan gum into the bowl and carefully fold in with a metal spoon, making sure the mixture is thoroughly combined but not stirred too heavily, or the air will be lost. Add the pecan nuts and fold in gently.
Spoon the mixture into the prepared tin, spreading it evenly into the corners with the back of the spoon. Bake in the hot oven for 15–18 minutes, depending on how gooey you like them, until risen and almost firm to the touch. Remove from the oven and leave to cool in the tin for 5 minutes, then transfer to a wire rack and leave to cool completely. Cut into 20 squares.