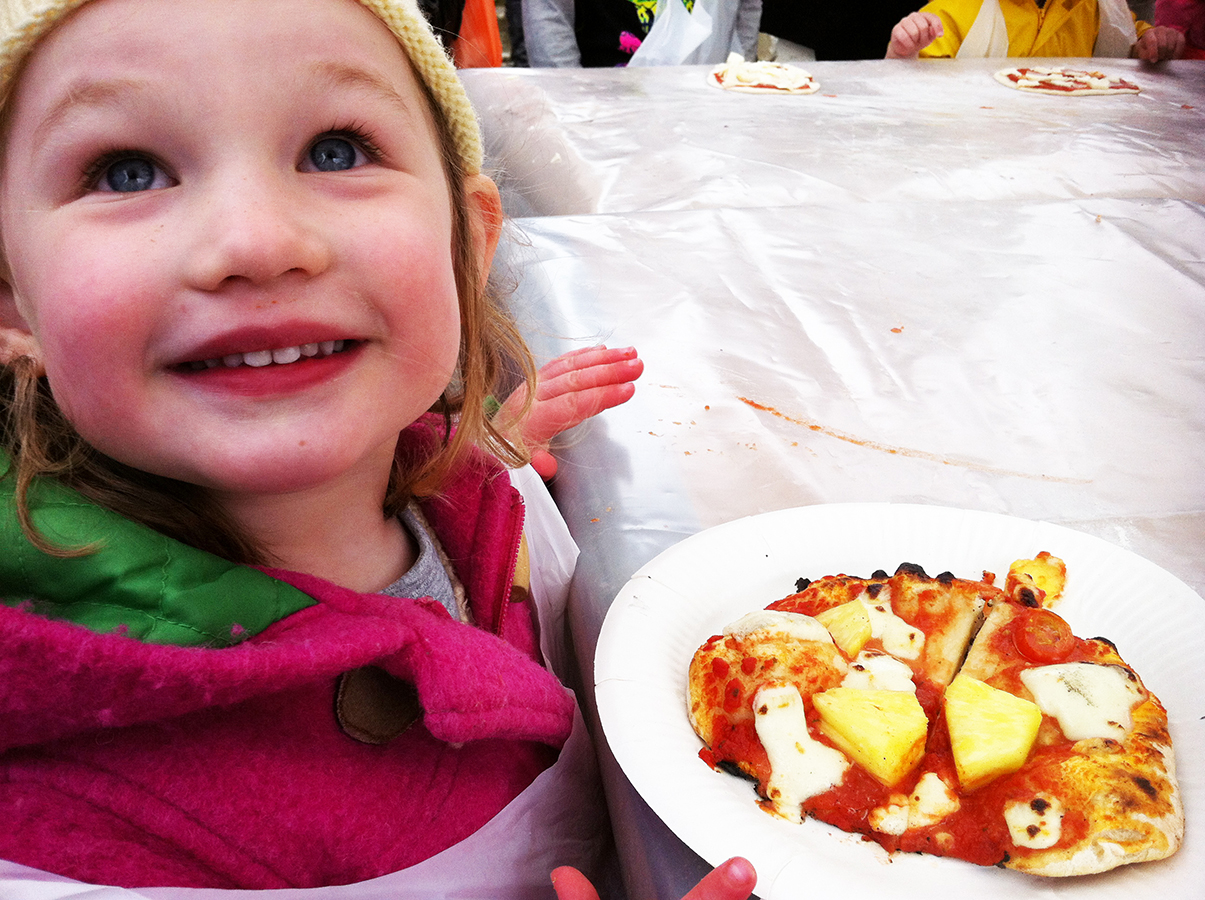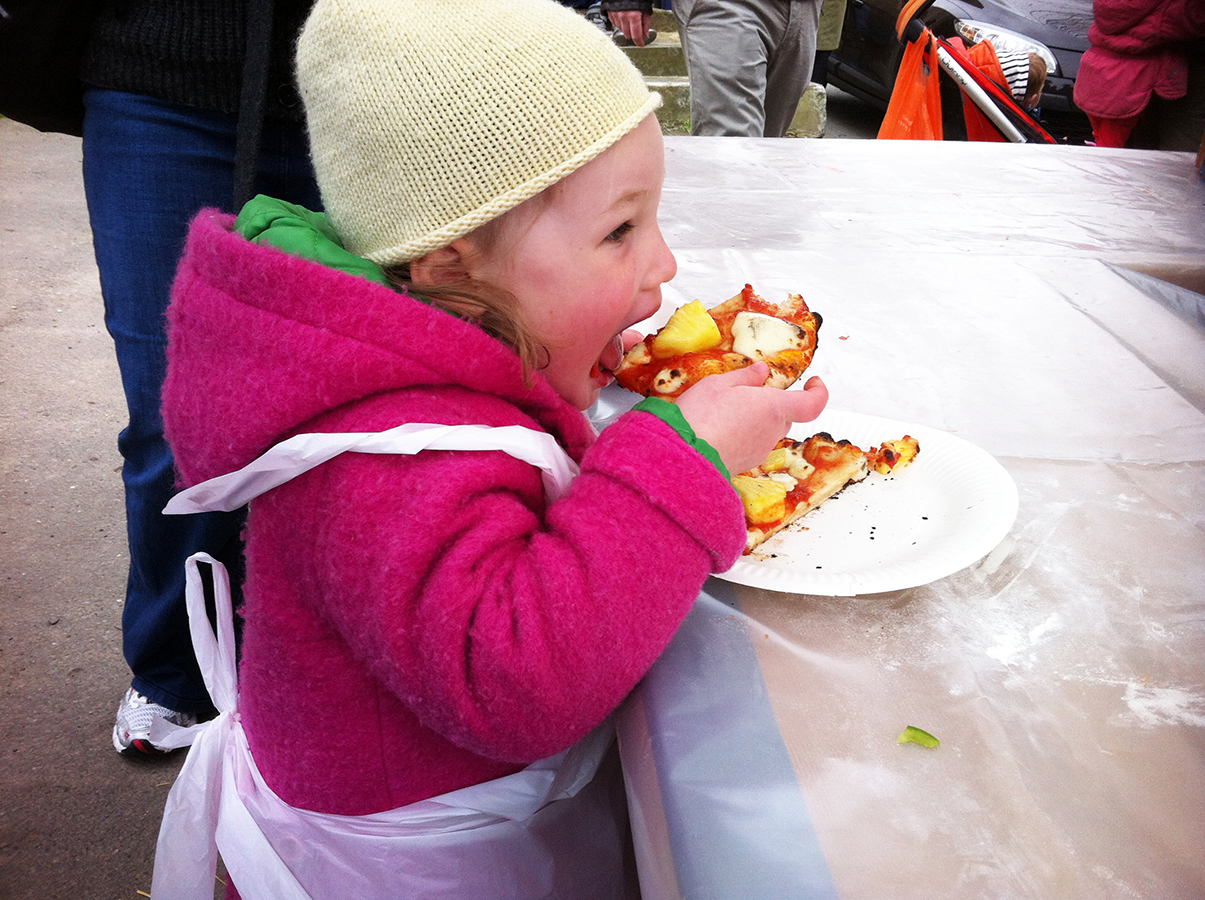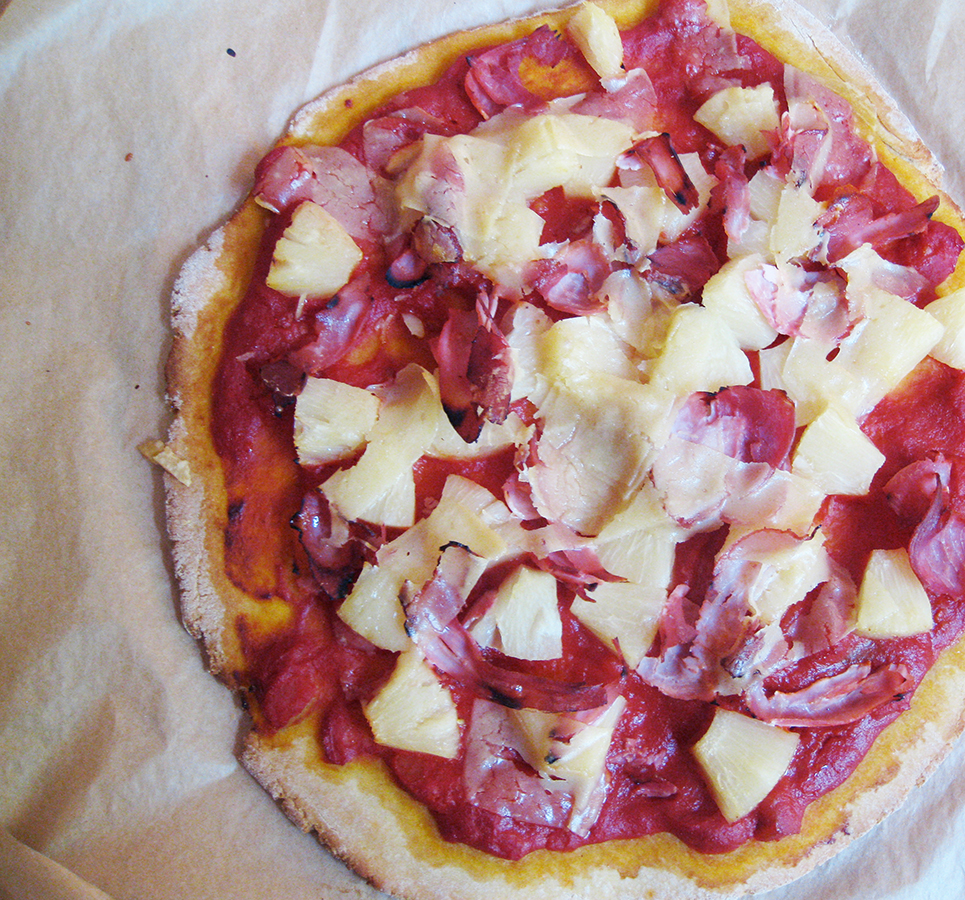 A while ago, I took Zoe to a pizza-making class at our local farmers' market. Surrounded by other kids piling on different toppings, Zoe made a very simple pizza, using just pineapple and ham. I asked her whether she wanted to add peppers, tomatoes, mushrooms, or anything else, but she was very clear that she only wanted to add the two ingredients. Of course, it's a much-loved combination with kids but I was surprised that she didn't go for the peppers or mushrooms as well. As she munched her way through it – very happily – it led me to think about the beauty of using just a few ingredients in dishes. At home, I often cook very simple meals – baking fish, for example, in olive oil, or grilling meat, and serving it with steamed veggies and salad. If you use good quality (preferably organic) ingredients, you can enjoy every mouthful of pure, unadulterated food.
So it makes sense that you can apply the same idea to pizza. This weekend I tried out Zoe's combo and it was great. Peter, especially, loved it. Long live the good, simple classics!
* gluten-free, dairy-free, egg-free, nut-free, seed-free, citrus-free

Gluten-Free & Dairy-Free Ham & Pineapple Pizza
Ingredients
6 tbsp passata
2 tbsp tomato purée
220g/7¾oz tinned pineapple, drained and cut into chunks
50g/1¾oz Parma ham, thinly sliced
30–60g/1–2¼oz/⅓–⅔ cup soya cheese, shaved
Pizza Dough:
85g/3oz/scant ½ cup brown rice flour, plus extra for rolling the dough
85g/3oz/¾ cup gram flour
30g/1¼oz/¼ cup maize flour
scant ½ tsp xanthan gum
½ tsp salt
1 tsp dried active yeast
2 tbsp olive oil
Method
To make the pizza dough, sift the flours, xanthan gum and salt into a large mixing bowl. Add the yeast and, using a metal whisk, mix thoroughly. Add the oil and mix in. Pour in 100ml/3½fl oz/scant ½ cup warm water and, using either a wooden spoon or your hands, mix to form a soft dough. Alternatively, sift the flours, xanthan gum and salt into a food processor. Add the yeast and blend to mix together. Add the oil and blend well. Add 100ml/3½fl oz/scant ½ cup warm water, a little at a time, and continue blending to form a soft dough. Put the dough in a clean bowl, cover with cling film and leave to stand at room temperature for 30 minutes.
Preheat the oven to 220°C/425°F/gas 7 and line a baking sheet with baking parchment. Turn the dough out again onto a lightly floured surface and knead a little, then shape it into a ball. Flatten the dough slightly, roll it out into a large circle about 5mm/¼in thick and neaten the edge, using a sharp knife, if you like. Transfer the dough to the baking sheet.
Put the passata and tomato purée in a bowl and mix well, then spread it over the pizza base and sprinkle with the pineapple and ham. Bake for 12 minutes until the base is starting to turn brown and the tomato sauce is bubbling. Remove the pizza from the oven and scatter the cheese over the top, then return to the oven for 3–4 minutes until the cheese has started to melt. Serve immediately.