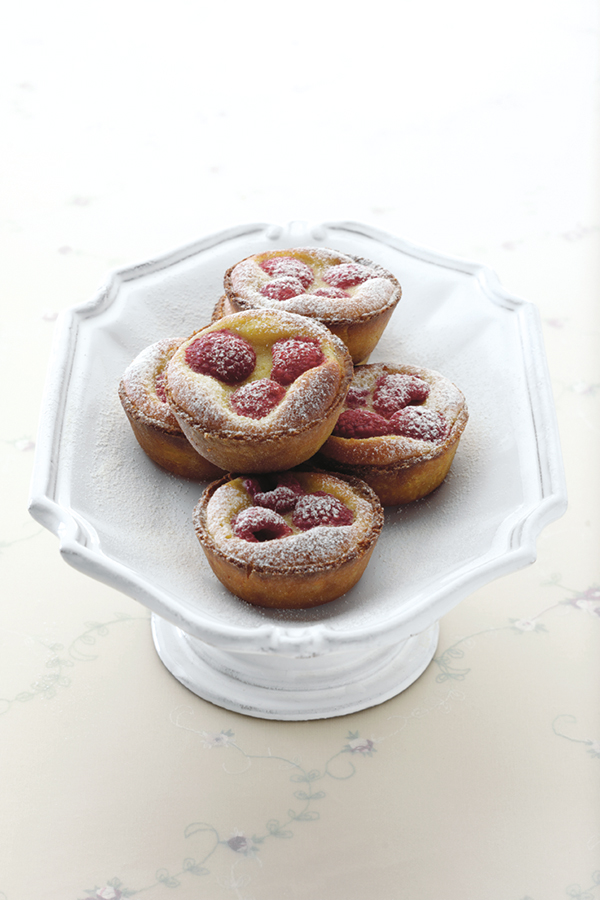 Soft and creamy on the inside with a light pastry casing.
You can use any soft fruit for this recipe instead of raspberries if you like. Try apricots, strawberries, blackberries, peaches, nectarines or even cherries. And if you can't get hold of xanthum gum, don't worry – the pastry will still work, although it is better with the gum. Make sure your eggs are organic and your fruit deliciously ripe and fresh – and you won't believe these are made without gluten or dairy!
* gluten-free, dairy-free, yeast-free, citrus-free
Gluten-Free & Dairy-Free Raspberry Tarts
Ingredients
90g/3¼oz dairy-free margarine, softened, plus extra for greasing
rice flour, for dusting
50g/2oz/¼ cup sugar, plus extra for dusting
1 large egg, beaten
100g/3½oz/1 cup ground almonds
200g/7oz raspberries
Pastry:
75g/2½oz/scant ½ cup rice flour
75g/2½oz/⅔ cup gram flour
50g/2oz/scant ½ cup ground almonds
35g/1½oz/scant ¼ cup sugar
1 tsp xanthan gum
80g/2¾oz chilled dairy-free margarine
1 large egg, beaten
Method
To make the pastry, sift the flours into a large mixing bowl. Stir in the ground almonds, fruit sugar and xanthan gum. Cut the margarine into small cubes and, using cold fingertips, rub it into the dry ingredients until the mixture resembles fine breadcrumbs.
Make a well in the centre and add the egg, mixing lightly with a round-bladed knife so that the mixture begins to hold together. It needs to form a dough with a little extra moisture at the base of the bowl. If it is too dry, gradually add 1–2 tbsp chilled water to make it quite sticky. If too sticky, add some rice flour.
Shape the pastry into a ball. Wrap in greaseproof paper and put in the fridge for 30 minutes. This amount will line a 25cm tart tin, 3cm deep, or 5 x 12cm tartlet tins, 2cm deep.
The pastry can also be made in a food processor. Simply tip the sifted flours, ground almonds and sugar into the bowl, add the margarine and blend until the mixture resembles fine breadcrumbs. Add the egg and blend for 20–30 seconds until the mixture comes together to form a sticky dough, adding more water if needed.
Preheat the oven to 190°C/375°F/Gas 5. Grease a six-hole muffin tray with dairy-free margarine.
Gently roll out the pastry on a surface lightly dusted with rice flour until about 2mm thick. Using a pastry cutter that is slightly larger in diameter than the muffin holes, cut out six pastry circles. Be very gentle, as the dough will still be slightly sticky.
Lift the pastry circles into the muffin holes (you may need to use a palette knife) and press down lightly to remove any pockets of air. Line each pastry case with a piece of non-stick baking parchment and cover with baking beans. Bake in the hot oven for 8–10 minutes until firm and lightly golden.4 Meanwhile, using a hand-held electric whisk, beat the margarine and sugar together in a large mixing bowl until light and fluffy. Gradually beat in the egg, a little at a time,until well mixed, then fold in the ground almonds.
Take the pastry cases out of the oven and remove the parchment and beans. Spoon the prepared filling mixture into the pastry cases. Press a small handful of raspberries into each tart and return to the hot oven for 25–30 minutes until firm and golden brown. Take the tarts out of the oven, allow to cool in the tin for 5 minutes, then transfer to a wire rack to cool completely. Grind the extra sugar with a hand-held electric mini-blender or a pestle and mortar and sprinkle over the tarts before serving.