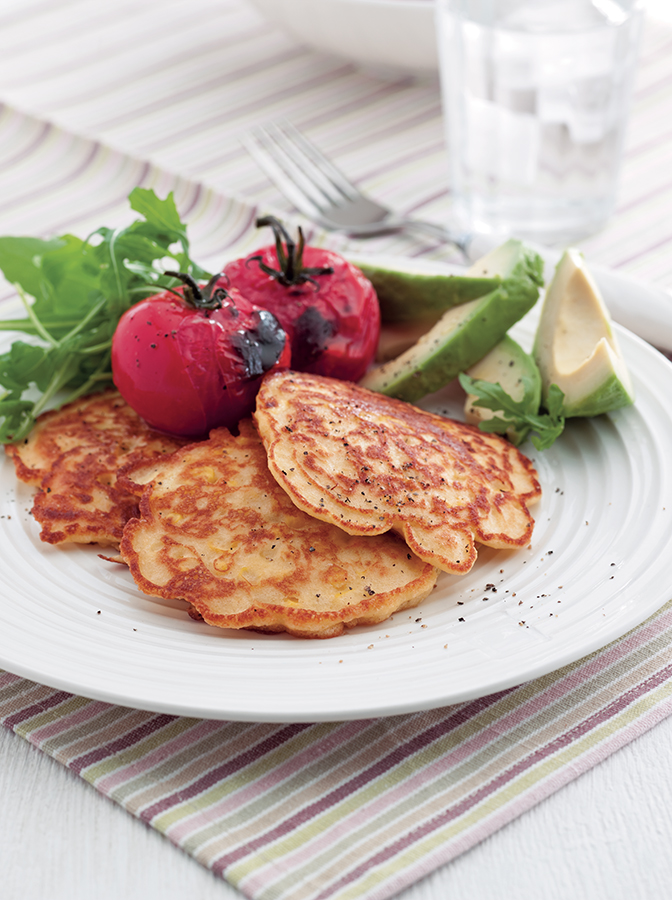 Happy Pancake Day! For pancakes with a difference, try these Sweetcorn Pancakes from my book, Simply Gluten-Free & Dairy-Free. Although they're a healthy, savoury version, the sweetcorn gives them a sweet flavour. And I've used soya cream, instead of milk, to get a lovely thick, creamy batter. These make a delicious light meal – and a great alternative to the usual thin pancakes with lemon and sugar.
* gluten-free, dairy-free, yeast-free nut-free, seed-free, citrus-free, vegetarian

Gluten-Free & Dairy-Free Sweetcorn Pancakes
Ingredients
8 tomatoes
350g/12oz/2¹⁄₃ cups sweetcorn
50g/1¾oz/heaped ¼ cup brown rice flour
50g/1¾oz/¹⁄₃ cup maize flour
a pinch of salt
1 tsp gluten-free baking powder
2 large eggs
250ml/9fl oz/1 cup soya cream
1 tbsp olive oil
freshly ground black pepper
2 avocados, peeled, pitted and sliced, to serve
1 large handful of rocket leaves, to serve
Method
Preheat the grill to high. Grill the tomatoes for 3–4 minutes until just starting to turn brown, then set aside.
Put the sweetcorn in a steamer and steam over a high heat for 3–4 minutes until just tender.
Sift the flours, salt and gluten-free baking powder into a large mixing bowl. Beat together the eggs and soya cream in another bowl. Make a well in the centre of the flour mixture and add the egg mixture. Beat slowly with a wooden spoon to draw in the flours to make a smooth batter. Stir in the sweetcorn.
Heat the oil in a large heavy-based frying pan over a medium heat until hot. Pour 2 tablespoons of the batter into one half of the pan to make a pancake and then pour 2 more tablespoons into the other half. Cook for 2–3 minutes on each side or until golden.
Repeat with the remaining batter, adding more oil to the pan as needed. Stack the freshly cooked pancakes between sheets of non-stick baking parchment to prevent them from sticking together and to keep them warm. Note that the later pancakes will take less time on each side as the pan will have heated up. Season with black pepper, then serve hot with the grilled tomatoes, avocados and rocket leaves.