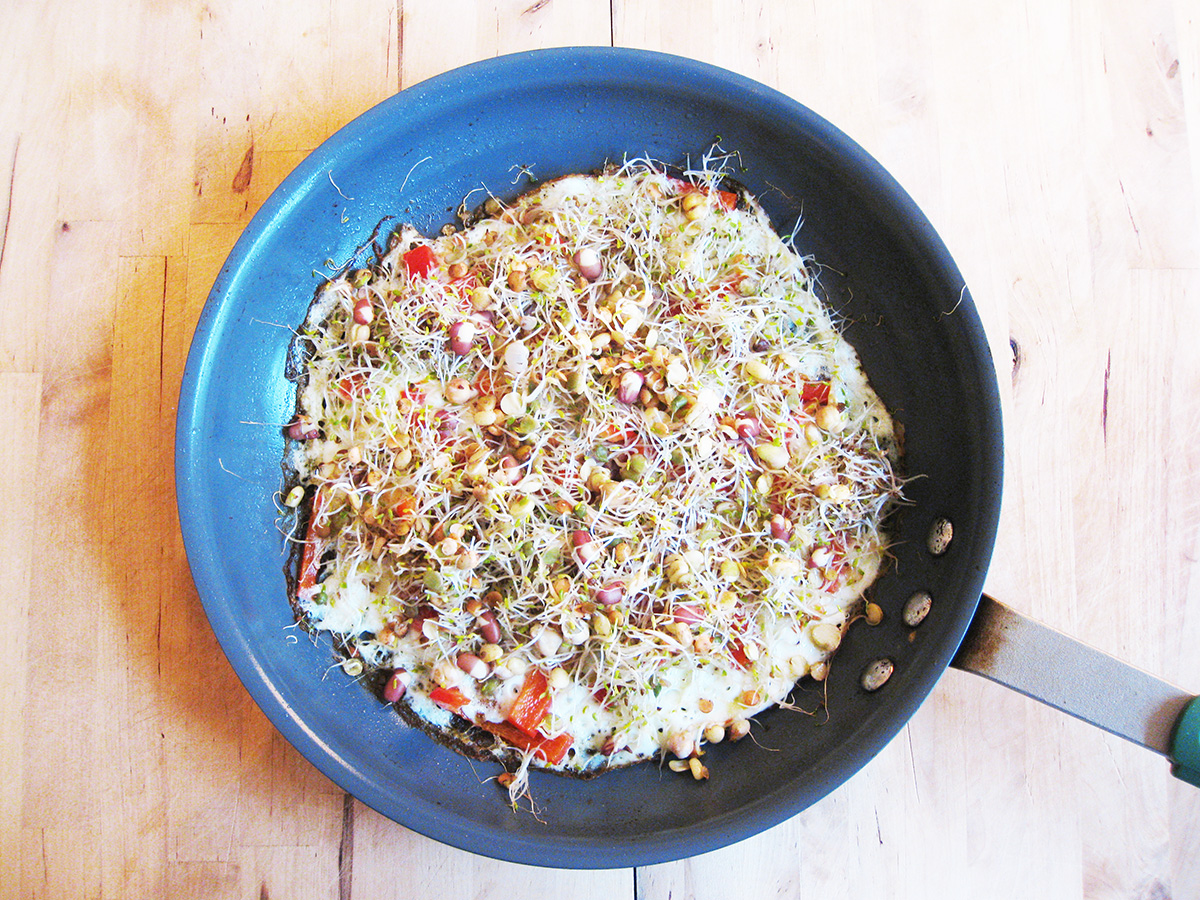 My birthday falls at the beginning of January, and I find that Christmas, New Year and my birthday tends to roll into one long celebratory period! We generally eat lots of chocolate from Santa, indulge in delicious, rich meals and, of course, eat our way through the ubiquitous Christmas and birthday cakes… It's lovely to breathe a deep sigh of delight when the festivities are over, and then focus on cleaning up our diet a fair bit afterwards!
Omelettes make great healthy, fresh meals. They work brilliantly any time of the day, whether it's breakfast time, lunchtime or even dinner time. And you can literally pack them with nutrient-dense ingredients. Here I've used red pepper, sprouted seeds and and alfalfa sprouts. Sprouted nuts and seeds are fantastic. The sprouting process increases digestibility and greatly enhances the nutritional content. They become powerhouses of vitamins, antioxidants and other nutrients, and packed with energizing and health-promoting enzymes. Besides this, alfalfa sprouts also contains amino acids and phytochemicals that can balance hormones and protect against disease.
Sprouts can be difficult to get, though, so you can make your own very easily. You can buy special seed sprouters, but a jam jar will do just as well. Simply take a small handful of seeds, wash them and place in the jar. Fill the jar with about three times the amount of water and soak for at least eight hours. Drain and rinse the seeds and leave in a warm, dark place. Rinse thoroughly every 12 hours for three days, then bring them out into sunlight and repeat the process for another two days until they're ready to eat.
* gluten-free, wheat-free, dairy-free, yeast-free, soya-free, nut-free, citrus-free

Gluten-Free & Dairy-Free Superfood Omelette
Ingredients
3 large eggs
1 tbsp olive oil
½ red pepper, deseeded and cut into strips
50g/1¾oz sprouted seeds, such as mung bean, chickpea and lentil
50g/1¾oz alfalfa sprouts
sea salt and freshly ground black pepper
Method
Beat the eggs in a bowl with 2 tablespoons of water, then season lightly with salt and pepper. Heat the oil in a large, heavy-based frying pan over a medium-high heat, tilting the pan so that the base is covered with oil. Pour the egg mixture into the pan and sprinkle over the red pepper. Cook for about 5 minutes until the base of the omelette is golden and the egg is almost set, but still soft.
Sprinkle the sprouted seeds and alfalfa sprouts over the top and serve immediately.