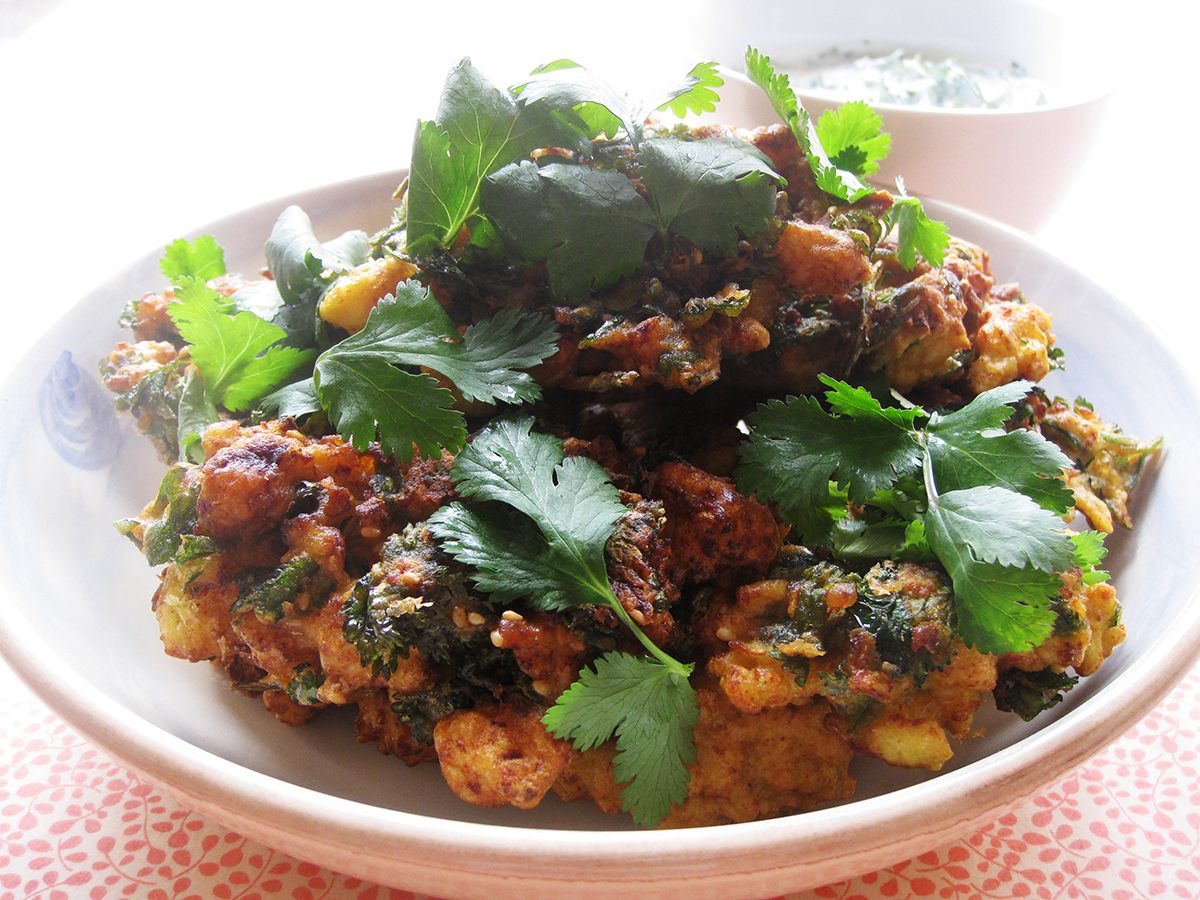 Cauliflower works brilliantly with bold, spicy flavours. Its delicate taste and texture when cooked just soaks them in. And it's a lovely firm vegetable that is substantial – making it a great addition to a gluten-free kitchen.
Here I've mixed up a batter, using rice flour, gram flour and cornflour, and then sparkling water as the Japanese do in their tempura recipes to make the batter light. I've seasoned the batter with salt and ground chilli, cumin, turmeric and coriander – making them quite fiery. But if you'd like them less full-on, just halve the quantities of those spices. And then I've made a coriander-yogurt to dip them into.
* gluten-free, dairy-free, yeast-free, nut-free, seed-free, citrus-free

Gluten-Free & Dairy-Free Spicy Cauliflower Fritters
Ingredients
1 cauliflower
100g/3½oz/heaped ½ cup rice flour
50g/1¾oz/scant ½ cup gram flour
100g/3½oz cornflour
½ tsp crushed sea salt
2 tsp ground mild chilli
1 tsp ground turmeric
1 tsp ground cumin
1 tsp ground coriander
1 garlic clove, crushed
2 large eggs, beaten
150ml/5fl/oz fizzy water
2 large handfuls chopped coriander leaves
at least 250ml/9fl oz/1 cup rapeseed oil or olive oil, for frying
Coriander yogurt:
300ml/10½fl oz/scant 1¼ cups dairy-free soya yogurt
1 large handful finely chopped coriander leaves
sea salt
Method
Break the cauliflower into small florets. Put into a steamer and steam over a high heat for 4–5 minutes until the thicker stalks are tender but the cauliflower still has a firm texture.
Sift the flours into a large mixing bowl and stir in the salt and spices. Make a well in the centre of the flour mixture and add the garlic, egg and fizzy water. Beat slowly with a wooden spoon to draw in the flours to make a smooth batter. Stir in the steamed cauliflower and, using the spoon, mash the cauliflower up into small pieces then add the coriander and mix in well.
Heat enough oil in a large frying pan to deep fry the fritters over a medium heat until hot. Spoon a couple of large spoonfuls or a few small spoonfuls, depending on the size of fritters you want, into the pan and cook for 1–2 minutes on each side or until golden. Remove from the pan with a slotted spoon and put on a pile of kitchen paper to remove any excess oil.
Repeat with the remaining batter, keeping the cooked fritters warm. Serve hot with the Coriander Yogurt.