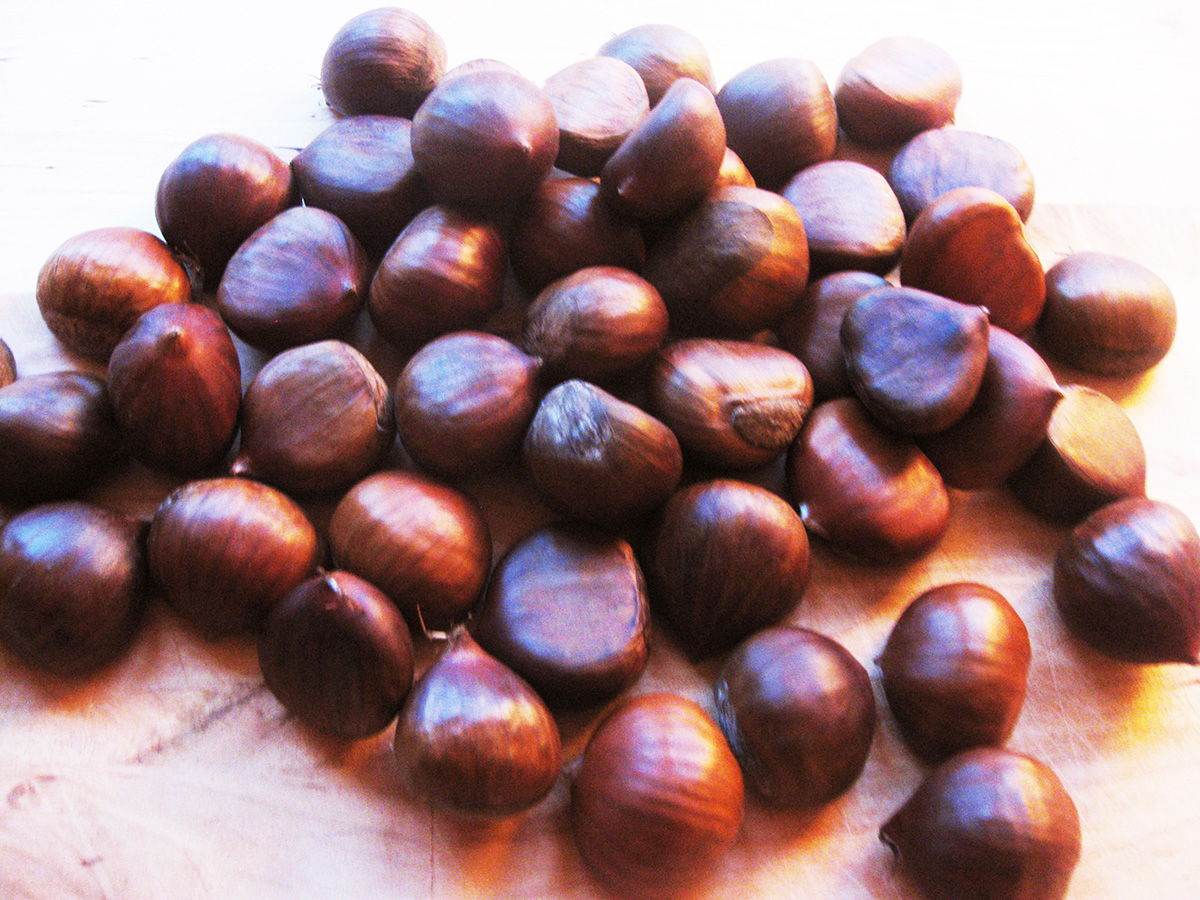 This is a wonderfully robust soup – with a great mixture of flavours from the sweet, earthy chestnuts, the salty pancetta and the aromatic rosemary. It makes a lovely lunch-time soup for 4 – or a evening bowl for 2. And if your toddler can tolerate nuts, it's guaranteed to be a hit with him or her.
If you're lucky enough to be able to forage or get some fresh chestnuts, all good. Simply cut a cross in the top of them and roast in the oven at 200°C/400°F/Gas 6 for about 10 minutes. Then just peel and use. Or, of course, you can use the vacuum-packed chestnuts you can buy in packets. With these you just soak the packets in boiling water for a minute or so, before opening.
* gluten-free, wheat-free, yeast-free, dairy-free, soya-free, egg-free, seed-free, citrus-free

Gluten-Free & Dairy-Free Chestnut & Pancetta Soup
Ingredients
1 tbsp olive oil
200g/7oz pancetta
1 onion, chopped
2 garlic cloves, crushed
1 carrot, sliced
1 celery stalk, sliced
½ leek, sliced
2 tbsp chopped rosemary leaves
400g/14oz cooked chestnuts
1.2l/42fl oz/scant 5 cups stock made with gluten- and dairy-free stock powder
sea salt (optional as the pancetta is already salty) and freshly ground black pepper
Method
Heat the oil in a large, heavy-based saucepan over a medium heat until hot. Add the pancetta and fry for 5–6 minutes until golden brown. Remove with a slotted spoon and leave to one side.
Put the onion in the saucepan and reduce the heat to medium-low. Fry for 2–3 minutes, stirring frequently, until just starting to turn golden. Add the garlic and cook for 30 seconds, stirring all the time. Add the carrot, celery and leek and cook, stirring frequently, for 2 minutes, until the leek starts to turn translucent. Stir in the rosemary and chestnuts and cook for a further 5 minutes until the carrot is starting to soften. Add the cooked pancetta and pour in the stock. Season lightly, turn up the heat and bring to the boil. Reduce the heat to low and leave to simmer for 15 minutes, until all the vegetables are tender.
Using a immersion blender or blender, whiz the mixture to make a slightly textured soup. Serve hot.