A couple of weekends' ago I hopped off to meet up with some gluten-free tweeps for our second Gluten-Free Tweet Up. Our first Tweet Up was back in August, when Gluten Free Mrs D organised the evening and we met at Annie's Supperclub and had an amazing gluten-free (and dairy-free for me) Italian feast, including my first ever taste of a tiramisu. This time, Gluten Free Cake Lover took up the challenge of organising us all and we met at Leon on Carnaby Street.
Leon has long been a favourite of mine. They're great at labelling their food and they'll happily show you ingredients lists of any dish. They have a wonderful selection of food to either eat in or take away, including Breakfasts, Hot Bowls, Wraps, Soups, Salads & Superfood Salads, Sides, Snacks, Cakes & Biscuits, Evening Specials, Kids Food and Desserts. You can get dishes like Meatballs, Chilli Chicken, Poached Salmon and Falafels – all of which are gluten-free, and can be dairy-free if you ask them. You can also get their famous Leon Baked Fries which really are very, very good – fantastically crispy yet made without flour (yippee!) and full of flavour – as well as their renowned Fresh Slaw which is a modern take on the old mayonnaise-drenched version, instead deliciously zesty and herby.
I ordered the Set Menu for 1 which is fantastic value – you get Hummus (and you can have Fries instead of Flatbread), Meatballs/Veggie Curry/Falafels with Rice and Spiced Corn/Fresh Slaw on the side. All this comes to £9.95. I often go to Leon to order a take-away, or to get salads for work lunches. I'm particularly keen on the Salmon Salad which really is delicious – and you can see them poaching the salmon fresh for each order.
Leon is all about healthy food. Their motto is that the food Tastes Good and Does You Good. They set about to change the face of fast food, concentrating on fresh, natural food (often using seasonal ingredients and using ingredients from sources they know and trust). They cook dishes that are low in saturated fat (but full of the good fats from fish, olive oil, avocadoes and the like) and low GI. They make their Chocolate Brownies, for example, with dark chocolate, ground almonds instead of flour and fruit sugar instead of refined sugar. They also label foods if they're Wheat-Free, Gluten-Free, Dairy-Free, Vegetarian or Vegan and they're incredibly careful about making sure that they are, indeed, free from. Gluten Free Mrs D told me that they've had their gluten-free food tested to make sure they're less than 20ppm of gluten. They also make sure that there's no cross contamination and their staff are very knowledgeable and helpful.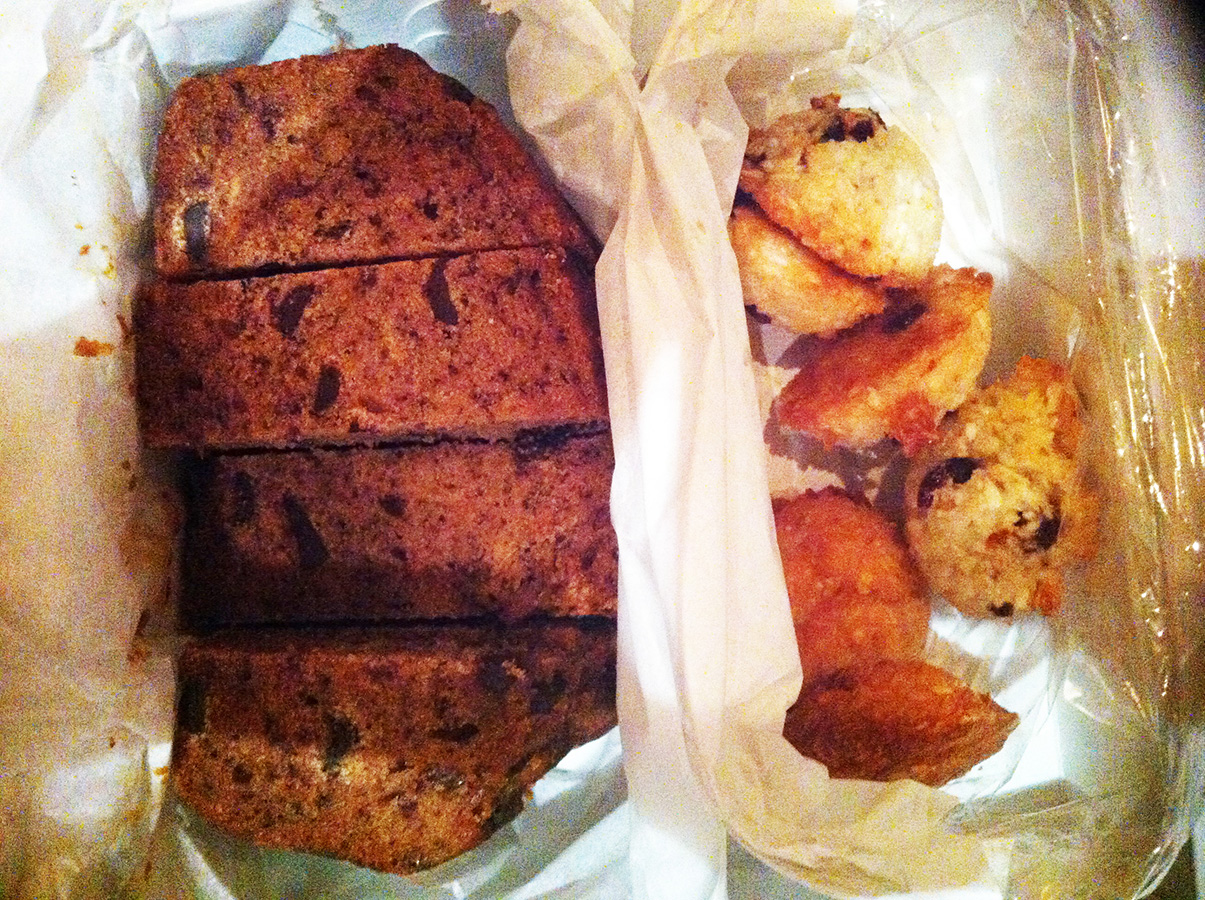 We had a great evening there. It's wonderful to meet up with like-minded people – chat, gossip and share food. What was even better was that some people brought goodies for us to try! Ann Perkins from PERK!ER brought up chocolate brownies, Samantha (The Happy Coeliac) brought Coconut-Lime Layer Cake and Caroline (Sugargrain) brought these Honey Coconut Bites and (sugar-free and vegan) Banana & Choc Chip Loaf pictured above. Huge thanks everyone for the goodies and a great evening!