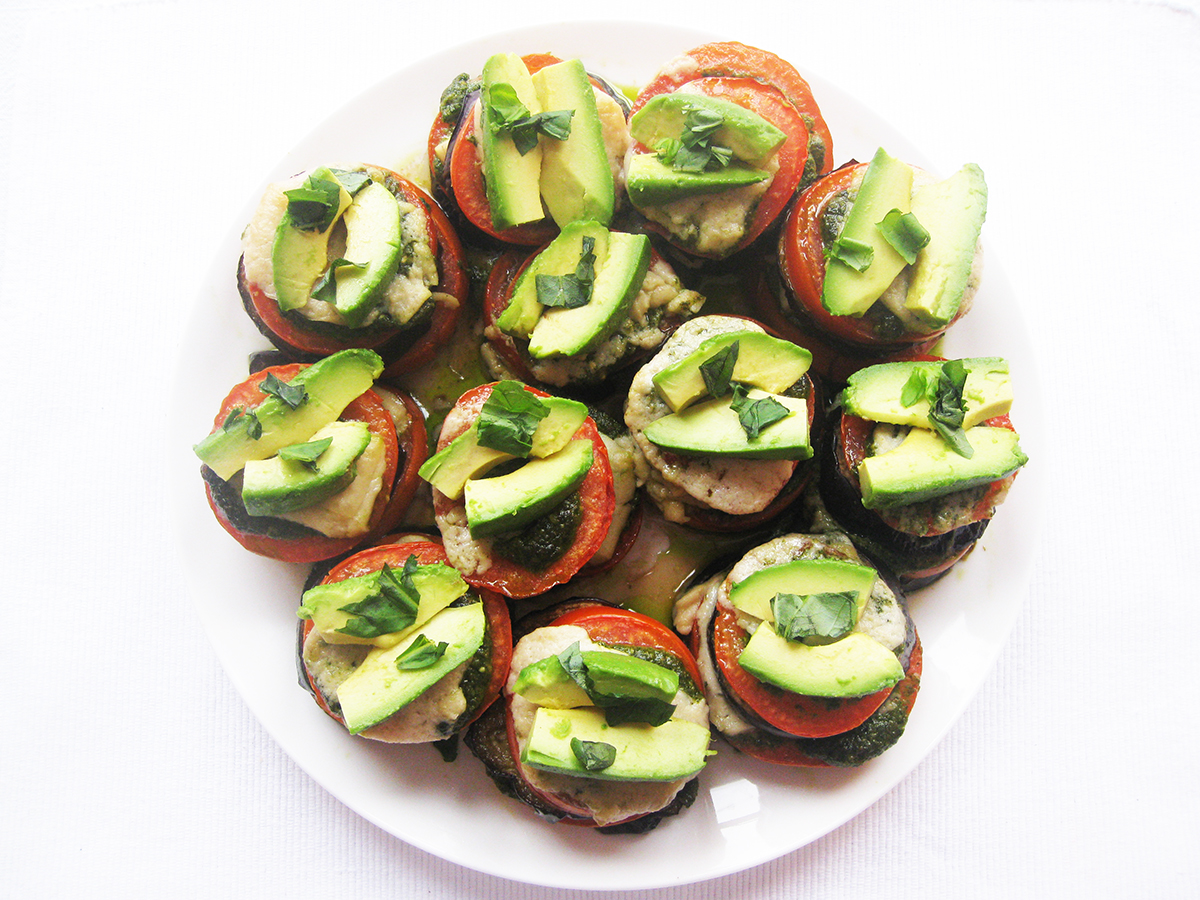 Full of the flavours of the Mediterranean, this recipe transports you to sun-drenched Italy! As someone who has been intolerant to gluten and dairy for many, many years, I've generally stayed away from Italian food, thinking that it's mainly based around pasta, pizza and a lot of cheese. But when we went to Tuscany recently, I discovered that real Italian food is a wonderfully, all-embracing cuisine. Of course there's pasta and pizza and of course there are many different cheese showcased throughout the menus. But there's also a delicious range of recipes that create little bites of heaven with vegetables, meat, fish and fruit, as well. In Tuscany I gained enormous respect for the way Italians work with local produce and hope that this (dairy-free) Italian-style recipe does the cuisine justice.
* gluten-free, dairy-free, egg-free, seed-free, citrus-free

Gluten-Free & Dairy-Free Aubergine, Avocado & Tomato Stacks
Ingredients
Dairy-Free Pesto:
60g/2¼oz basil leaves
30g/1oz/scant ¼ cup pine nuts
2 garlic cloves, crushed
50g/1¾oz dairy-free cheese
3 tbsp olive oil
2 large aubergines, sliced widthways and ends removed
3–4 tbsp olive oil
6 large tomatoes, sliced and ends removed
200g/7oz dairy-free soya cheese, cut into small square-shaped slices
1 large, ripe avocado
a few basil leaves, to serve
Method
Preheat the oven to 180°C/350°F/Gas 4 and put the aubergine slices onto a baking tray. Drizzle over the oil and bake for 20 minutes until tender.
Meanwhile, make the pesto. Heat a large heavy-based frying pan over a medium heat. Add the pine nuts and dry-fry until just starting to turn golden. Remove from the heat and leave to cool. Wash the basil and pat dry in a clean kitchen towel. Put the pine nuts, basil, garlic and dairy-free cheese into a food processor and blitz. With the motor running, pour the oil until a thick, dense sauce forms.
When the aubergines have cooked, put a slice of tomato on top of each aubergine slice. Then put a small dollop of the pesto sauce on top and cover with a slice of dairy-free cheese.
Return to the oven and bake for about 15 minutes until the dairy-free cheese is starting to turn golden. Remove from the oven.
To make the stacks, put one pile of aubergine/tomato/pesto/dairy-free cheese on top of another, on a serving plate, using the smaller piles to put on top of the larger ones. Press the stacks down slightly to anchor them. This will make about 12 stacks.
Cut the avocado into quarters and remove the skins and stone. Slice each quarter into thirds and half each slice. Top the stacks with a couple of pieces of avocado each and sprinkle the basil over. Serve hot or cold.