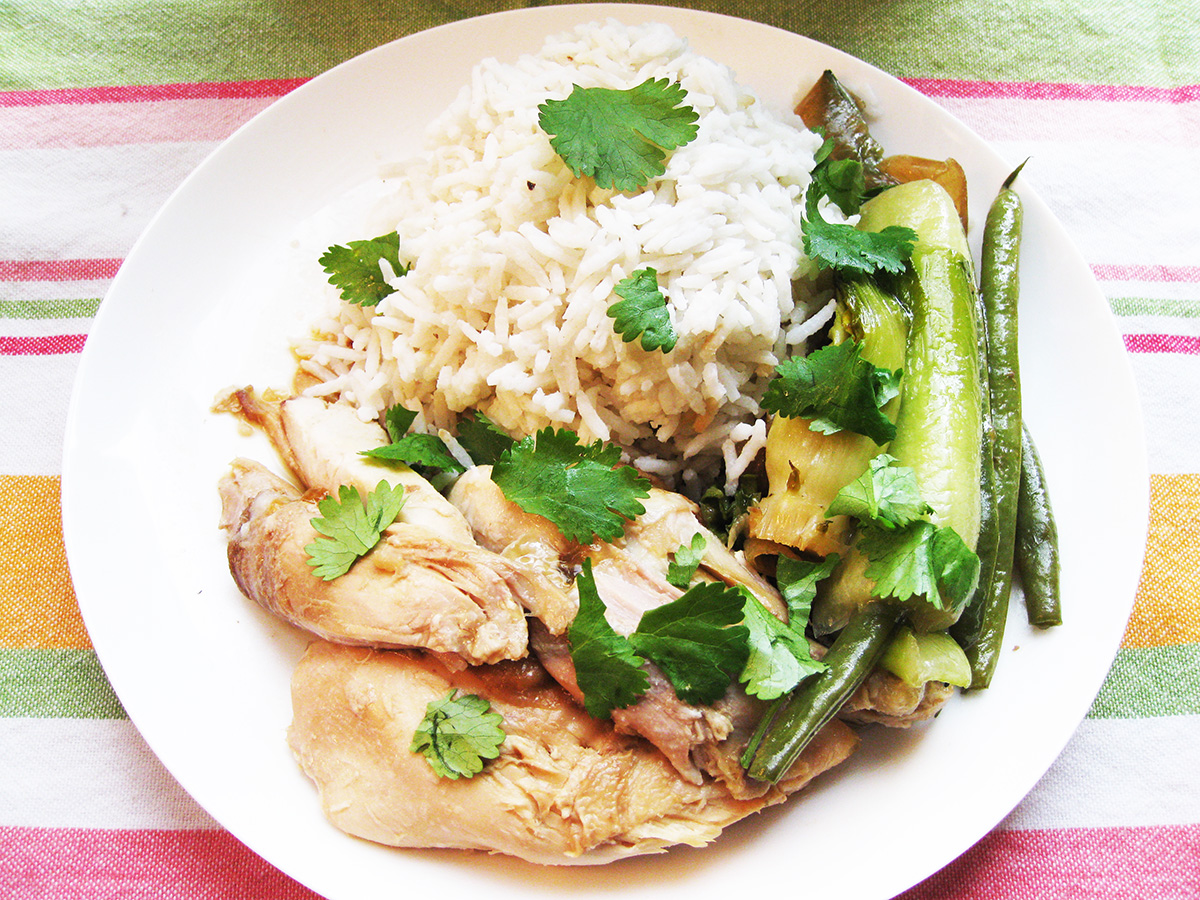 Recently I worked with Beverly le Blanc on her brilliant new book, I Love My Slow Cooker, which was published last month. She very kindly gave me one of the slow cookers she'd bought to do all the testing and didn't need any longer (many thanks, Bev!!) so I've been having a lovely time trying out lots of the recipes from her book. My mother didn't have a slow cooker, and I'd never tried one before, so it was all new to me. But oh wow, are slow cookers great!
On the back cover of I Love My Slow Cooker it says "Discover how your slow cooker can transform your life in the kitchen from a frantic, stressful time into a wonderfully calm one". Sounds like a big claim, doesn't it? Well I wrote that so now I need to back up my words! Trust me, though, it's true! I work full-time and my husband stays at home (doing cartoons for The Guardian), so he collects Zoё from school and makes her evening meal for her. For me, one of the fantastic things about the slow cooker is that I can quickly put a recipe together in the cooker before I leave the house in the morning, and by dinner time it can be ready and waiting for Peter to dish up for her. It's easy to make stews and casseroles that are healthy and full of delicious flavours, that warm Zoё up in this cold weather and give her a lovely comforting meal. The slow cooker can then keep the meal warm until I get home from work and Peter and I tuck in. Great. Truly great. But then you've probably heard that sort of story from lots of people…
What you probably haven't heard is how slow cookers are wonderful for making a whole variety of dishes. Yes, of course, soups, stews and sauces. They're great, too, for cheap cuts of meat (which you can cook for numerous hours until meltingly tender) and dried beans (which you can leave to bubble away without worrying about them going mushy). But they're also brilliant for cooking fish. Whether you're cooking a fish stew fairly quickly, or cooking something like squid on a low heat over several hours, you'll find that the fish cooks perfectly and doesn't overcook. And what's more, the slow, gentle, steam cooking can create superb puddings, too. No need to mess about doing a bain-marie method – you can just put it in a slow cooker.
I have some firm favourites already from this book. And one of them is this Asian-Style Poached Chicken & Pak Choi. I've adapted the recipe slightly so that it's completely gluten-free and dairy-free. But basically, you put a whole chicken in the slow cooker, add the Asian-style ingredients, and 4 hours later it's bubbling away, ready to be served. I serve it with coconut rice because Zoё loves that (I do equal parts coconut milk and water and a few coriander leaves in at the end) and often add more veggies to the pot. It's a lovely family meal but it also gets lots of oohs and aahs when people come round.
* gluten-free, dairy-free, egg-free, nut-free, seed-free, citrus-free

Gluten-Free & Dairy-Free Asian-Style Poached Chicken & Pak Choi – in a Slow Cooker
Ingredients
a few coriander sprigs, with crushed stalks, plus extra leaves to serve
2 onions, 1 halved and 1 sliced
1 oven-ready chicken, about 1.5kg/3lb 5oz, any fat in the cavity removed
600ml/21fl oz/scant 2½ cups gluten-free and dairy-free chicken stock, boiling, plus extra if needed
125ml/4fl oz/½ cup tamari soy sauce, plus extra to taste
4 tbsp rice wine
4 garlic cloves, sliced
2.5cm/1in piece of galangal or ginger, sliced
1 dried red Thai chilli, deseeded if you like
2 spring onions, thinly sliced
2 pak choi, quartered
ground Szechuan pepper or freshly ground black pepper
cooked long-grain rice, to serve
Method
Put an upturned heatproof saucer in the slow cooker. (Check that the chicken will be able to sit on top of the saucer with the cooker lid in place.) Preheat the covered cooker on HIGH.
Put the coriander and halved onion in the chicken's cavity and season with pepper. Secure the opening with wooden cocktail sticks. Put the chicken in the cooker, breast-side down, then pour over the stock, tamari and rice wine. Add extra stock to fill the container, if necessary, leaving a 2.5cm/1in gap at the top of the pot. The chicken will not be completely covered with liquid. Push the sliced onion, garlic, galangal and chilli into the liquid.
Cover the cooker with the lid. Cook on HIGH for 3¾ hours until the juices from the chicken run clear when the thickest part of the meat is pierced with the tip of a sharp knife or skewer. Remove the chicken from the cooker, wrap in foil and leave to rest for about 10 minutes. Meanwhile, put the spring onions and pak choi in the cooker, re-cover and cook for a further 20 minutes until the pak choi is tender. Remove the pak choi from the cooker, and wrap in the foil with the chicken.
Pour the cooking liquid into a saucepan and bring to the boil, then boil vigorously for at least 3 minutes until reduced. Add a little more tamari and pepper, if you like. Remove the skin from the chicken and carve. Strain the cooking liquid, discarding the solids. Sprinkle the chicken with coriander and serve with the cooking liquid, pak choi and rice.