Peter, Zoё and I went to Saf Restaurant Kensington recently. Located on the first floor of Whole Foods, Kensington, this "Botanical Fine-Dining Restaurant" serves up delicious, contemporary raw and vegan food, next to the other food outlets. Ever since I went to Saf in Old Street with a friend, I've been a huge fan. I've been to the Kensington branch, too, and this time I took Peter and Zoё. I knew that Peter would like the food but I hadn't realised how much Zoё would, too!
We had a truly delicious meal – full of wonderful flavours and textures, which is a real feat for a restaurant that produces many of the meals as raw food. We started with the raw, gluten-free Pesto au Poivre (basil pesto between layers of their signature cashew cheese with a dehydrated pink peppercorn crust, served with rocket salad, raw flax seed crackers and drizzled with balsamic glaze) and raw, gluten-free Dolmades (vine leaves filled with cauliflower rice, pine nuts, cumink, lemon juice and dill served with vegan yogurt and cucumber dip). The Pesto au Poivre was awesome – bright colours, and a delicious combination of flavours. And the Dolmades was lovely, too. Cauliflower rice is one of those things that has to be tried to be believed – because it really does taste great.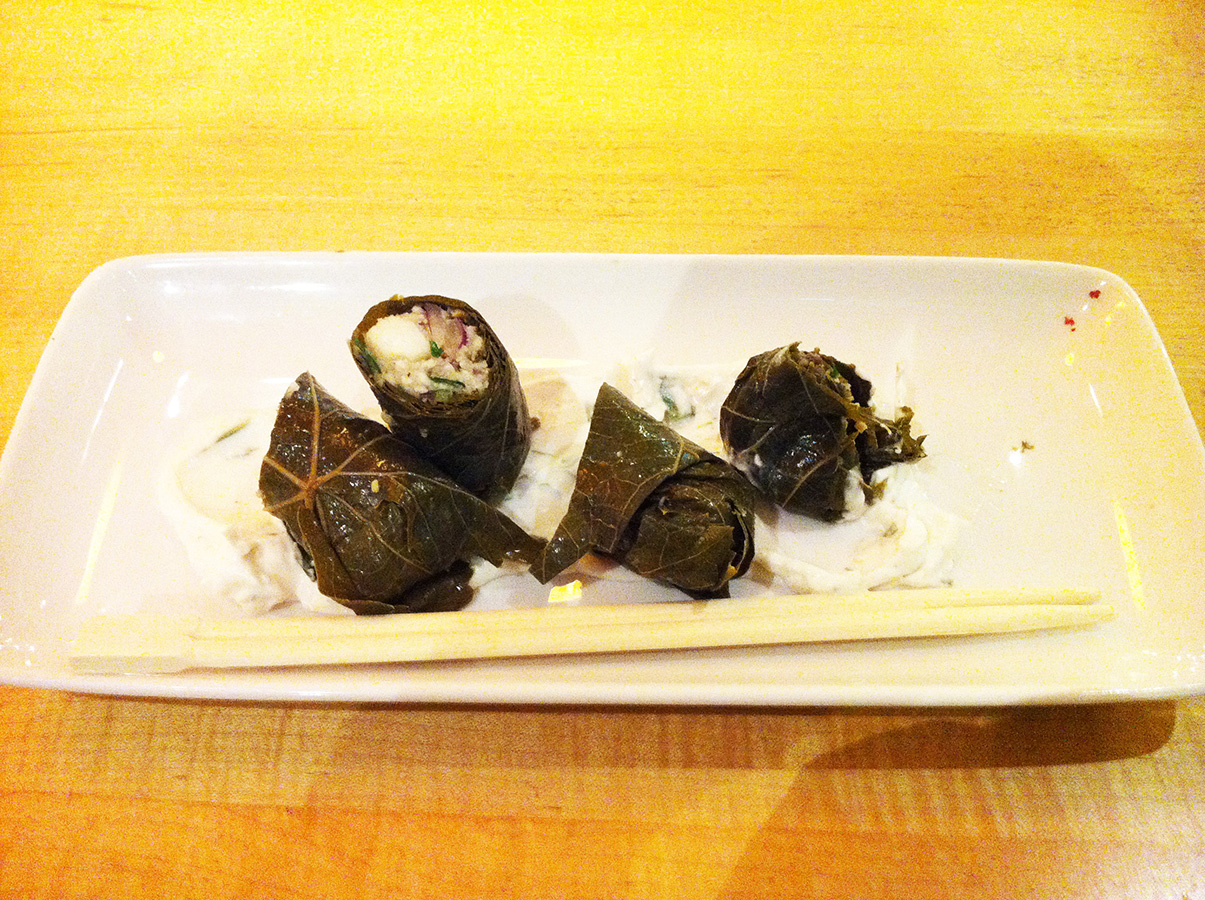 Then we had the iconic raw, gluten-free Saf Pad Thai (carrot, courgette and mangetout noodles, sprouted lentils, mung bean, enoki mushrooms, spicy cashews, tossed in their chipotle almond sauce topped with fresh coriander and chilies) and gluten-free Slow Roasted Vegetable Farinata (slow roasted peppers, courgette and tomatoes in a chickpea farinata crêpe served with lemon-tarragon aioli and salad). The Pad Thai was as amazing as it always is – full of vivid colours and flavours, and the Farinata was a lovely comfort-food recipe, with a delicious edge from the aioli.
The really wonderful thing, though, was how much Zoё enjoyed the meal. She does like things like sushi, seaweed, veggies, nuts and salad. But she also loves things like chips and tomato ketchup, so this wasn't a foregone conclusion, by any means. But she helped herself to my flax seed crackers, to Peter's nori and then nabbed his plate of Pad Thai and sat happily trying everything. I'm sure the beautiful colours in the dishes made them enticing, but perhaps this shows that you don't have to be a raw/vegan food fan to enjoy this food – that literally everyone can!