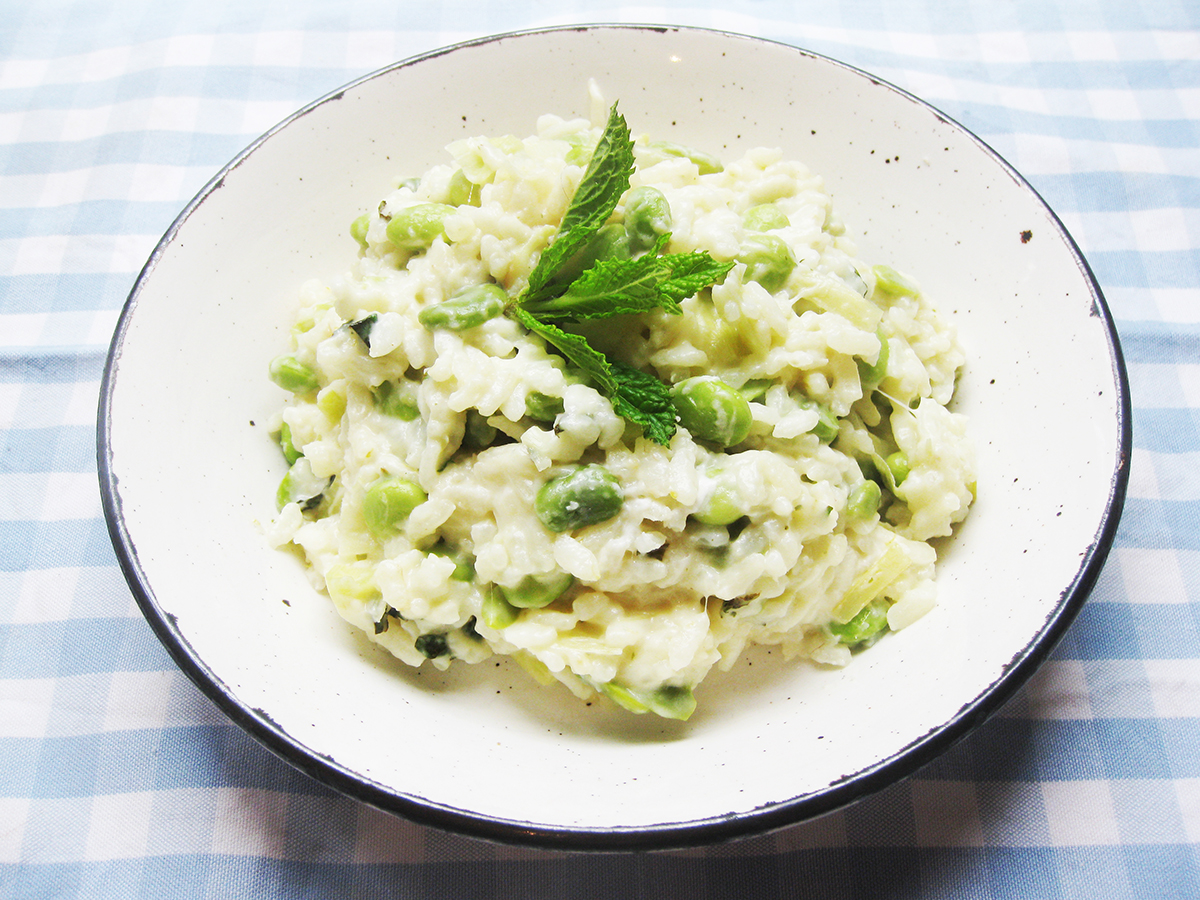 This one is a super easy version of a risotto. Forget standing at the hob stirring – all you do is fry the leeks and garlic, steam the beans, add all the ingredients and put it in the oven to cook. Brilliant! The creaminess of the risotto comes not from patient, methodical stirring but from adding soya cream cheese in at the end. This makes a deliciously fresh yet comforting meal that makes the most of summer veggies and also stars the superfood, edamame.
Edamame beans are young soya beans (which grow in pods.) They are a fantastic source of protein and also of iron and fibre, and they also contain vitamins A and C, folic acid, calcium and omega-3. In this recipe there's also mint, which is well known for its soothing effects on the gut. It is particularly good for relieving wind, calming indigestion and regulating bowel movements, which will help many people with food intolerances, and can also help to ease muscle spasms that are associated with IBS.
* gluten-free, dairy-free, egg-free, nut-free, seed-free

Gluten-Free & Dairy-Free Edamame, Broad Bean & Mint Risotto
Ingredients
2 tbsp olive oil
2 leeks, finely chopped
1 large garlic clove, crushed
350g/12oz/1⅔ cup risotto rice
800ml/28fl oz/scant 3¼ cups gluten-free and dairy-free vegetable stock
300ml/10½fl oz/scant1¼ cups dry white wine
grated zest of 1 lemon
200g/7oz frozen edamame beans
600g/1lb 5oz broad beans in their pods, or 150g/5½oz frozen broad beans
1 small handful mint leaves, finely chopped, plus a few sprigs for cooking
2 tbsp lemon juice
5–6 tbsp soya cream cheese, to taste
Method
Preheat the oven to 200˚C/400°F/Gas 6. Heat the oil in a heavy-based saucepan over a medium heat and fry the leeks for 2–3 minutes until soft. Stir in the garlic and cook for about 30 seconds then add the rice and stir well, covering the grains of rice with oil.
Transfer the rice mixture to a large ovenproof dish and add the stock, wine and lemon zest. Stir well, cover with greaseproof paper or foil and bake for 30 minutes.
Meanwhile, put the edamame and broad beans in a steamer, add the mint sprigs and steam, covered, over a high heat for 4–5 minutes until tender. Remove and discard the mint. Rinse the beans under cold running water, then drain well and leave to cool. If you're using fresh broad beans, remove and discard the skins from the beans by squeezing them until the beans pop out of the skins. (Of course, you don't have to do this if you don't have the time – but they will taste better, if you do.)
When the risotto has baked for 30 minutes, remove from the oven, stir thoroughly, add the beans and bake for a further 10 minutes.
Stir in the lemon juice, mint and soya cream cheese and mix well until smooth and creamy. Serve hot.