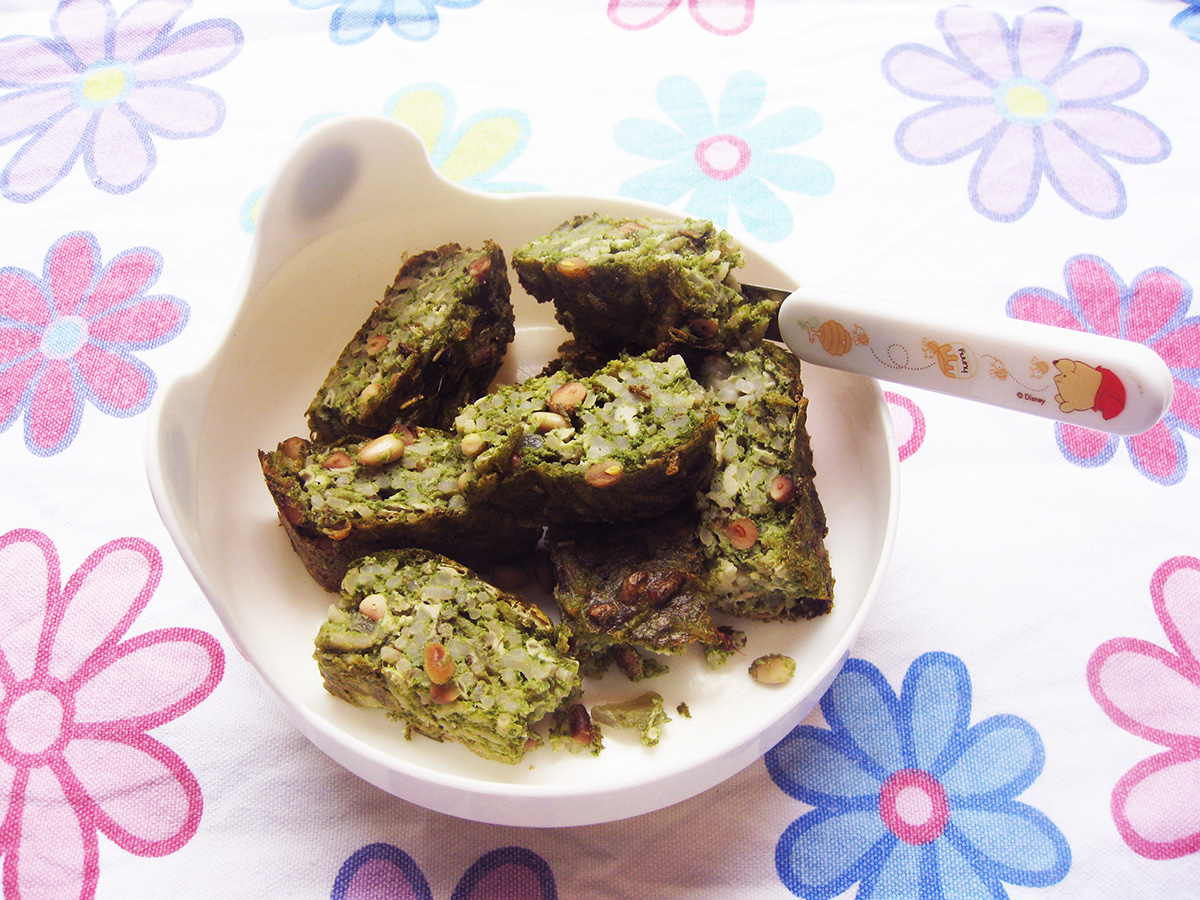 I work as Publisher for a book publisher, where I run a list of cookery and natural health books called Nourish. We published a brilliant book called The Best Recipes for Babies & Toddlers by the founder of the Planet Organic stores, Renée Elliott. As Trudie Styler says, this book "is a wonderfully inspiring book for any parent trying to provide the best possible nutritional start for their baby". This recipe is an adaptation of one of my favourites from her book – and one that I often make for Zoë and Peter because they adore it.
In this recipe Renée soaks the rice overnight, using kefir or natural yogurt with the soaking water because of their beneficial bacteria and yeast cultures. I haven't used kefir or yogurt but I've still soaked the rice, which breaks down any phytic acid (that can block absorption of minerals in your system) and also makes the rice much easier to digest. Brown basmati rice is a bit of an unsung hero, I think. You get the nutritional benefits of brown rice but it's quicker and easier to cook. Renée also uses Cheddar cheese, which I've substituted with soya cheese, and gluten-free Worcestershire sauce which I couldn't find, so I've used tamari instead.
This is delicious hot but also cold, too – so it's great for meals out and about. Thank you, Renée, for a wonderful recipe!
* gluten-free, wheat-free, dairy-free, seed-free, citrus-free

Gluten-Free & Dairy-Free Spinach & Pine Nut Bake
Ingredients
175g/6oz/scant 1 cup brown basmati rice
500m/17fl oz/2 cupsl vegetable stock
55g/2oz/ ¹⁄₃ cup pine nuts
dairy-free margarine, for greasing
1 tbsp olive oil
1 large onion, finely chopped
4 eggs
225g/8oz spinach
175g/6oz soya cheese, grated
1 tbsp tamari soy sauce
1 tsp dried thyme
1 tsp dried rosemary
Method
Put the rice and 500ml/17fl oz/2 cups warm water in a medium saucepan and leave to soak, covered, for 7 hours or overnight.
Drain the rice, then return it to the pan and add the vegetable stock. Bring to the boil over a high heat, stir, then cover and reduce the heat to low. Simmer for 30 minutes until the rice is cooked.
Meanwhile, put the spinach in a steamer and steam, covered, over a high heat for 3–4 minutes until wilted. Remove and drain thoroughly, pressing the spinach leaves with the back of a spoon to squeeze out any remaining liquid.
Preheat the grill to medium. Put the pine nuts on a baking sheet and grill for 2–3 minutes until lightly browned, checking frequently to ensure they don't burn. Set aside.
Preheat the oven to 200°C/400°F/Gas 6 and grease a 20 x 20cm baking dish with dairy-free margarine. Heat the oil in a frying pan, add the onion and cook over a medium heat for 3–4 minutes, stirring occasionally, until translucent. Remove from the heat.
Put the eggs and spinach in a blender and blend for 1–2 minutes until smooth, then transfer to a large bowl.
Add the pine nuts, onion, soya cheese, tamari, thyme and rosemary to the spinach mixture and mix well. Stir in the rice, then spoon the mixture into the baking dish.
Bake for 45 minutes until lightly browned. Leave to cool for 5 minutes, then serve.