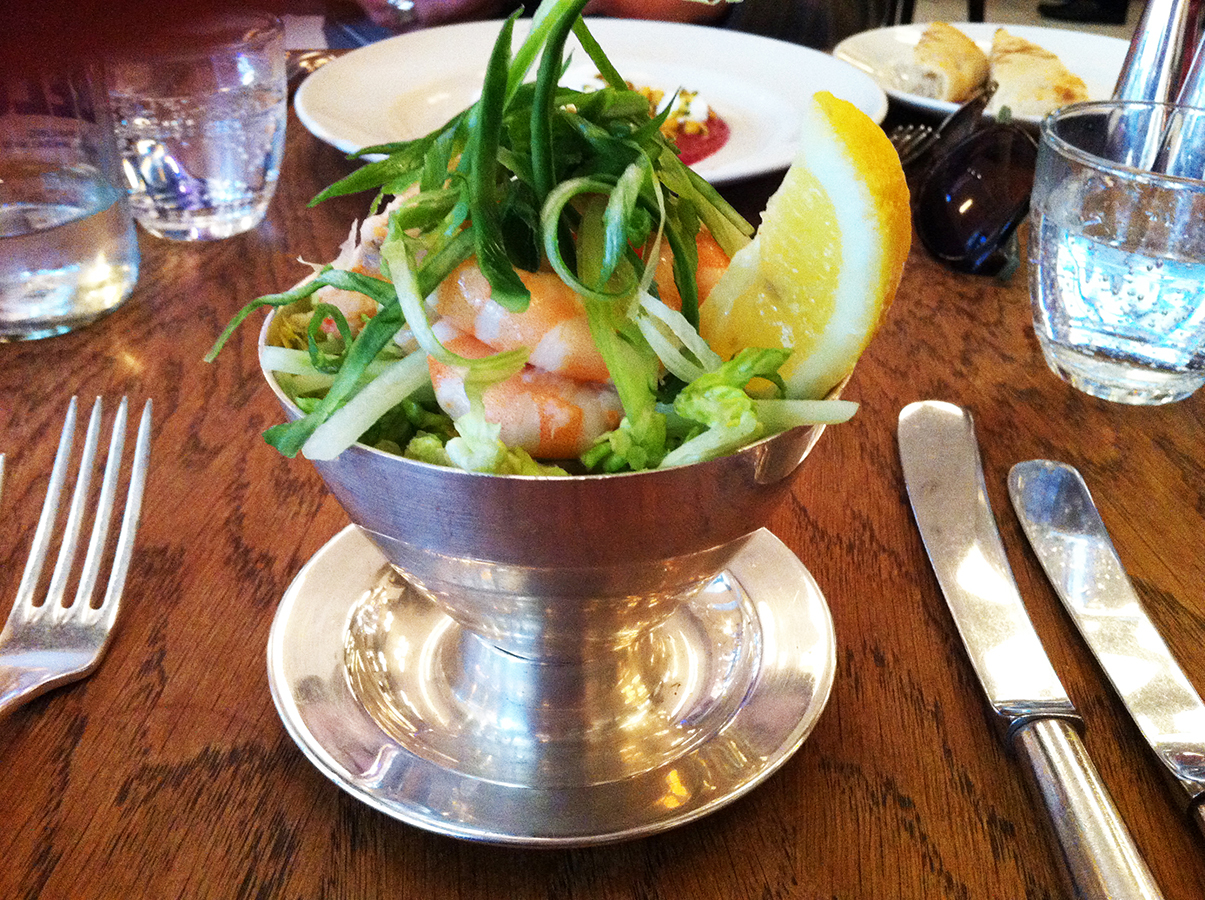 A little while ago, I went to see Mark Hix do a cookery demo at Fortnum & Mason. His demo was theoretically about cooking with spelt*, but as I sat watching him, I realised his demonstration was actually a brilliant example of how to cook. As Hix stood at the hob, he chatted to his colleague and sipped white wine – letting the dish bubble away on the hob, stirring every now and then. No stress. No poking or peering. Just leaving the ingredients to come together in the time they needed. The impression you got was that his cooking is all about instinct – knowing when it looks right and tastes right. So we don't all have 17 years of experience running top restaurants to know when the fish or the dish is cooked to perfection. But we can take on board the fundamentals that he seems to practice – great ingredients (preferably local and seasonal), and cooking with your heart, rather than rigidly from some instructions.
[* no, spelt's not gluten-free, but I was interested anyway…]
Mark Hix ran the kitchens at the Ivy and Le Caprice, before opening his Oyster and Chop House and various other venues. Since then he has opened in Lyme Regis (Oyster and Fish House), near my all-time favourite beach, Charmouth (I'm a Dorset girl). Unfortunately I couldn't get to the beach, but I did go to his restaurant in Soho…
Hix Soho is a smart joint. You walk in and, with the wood-panelling and formal table settings, it feels rather clubby. The walls feature works by YBAs including some fish in glass bricks by Damien Hirst. This combination of the traditional and the modern reflects Hix's signature style – working with old recipes and traditional ingredients, giving them a modern twist.
I started with a (retro) Prawn Cocktail. Delicious, juicy prawns – without the Marie Rose sauce, though, as their version is made with dairy. (The bowl was small – making it fiddly to eat – but that's just a tiny moan.) And then I moved onto the Red Mullet with Mussels and Sea Beet. I'd never had sea beet before and it was fantastic. It's like a wild spinach but with overtones of salty-seaside flavours. The fish was beautifully cooked and the different textures and flavours of the dish were a great match. Hix is famous for introducing ingredients such as wood sorrel, sea purslane, rock samphire et al – and regularly goes foraging, as well as fishing in his own boat and checking his lobster pots for the restaurants.
The restaurant isn't cheap. But if you want wonderful food, full of old-style real flavours and modern interpretations – all cooked gluten-free and dairy-free – this is a great place to go.