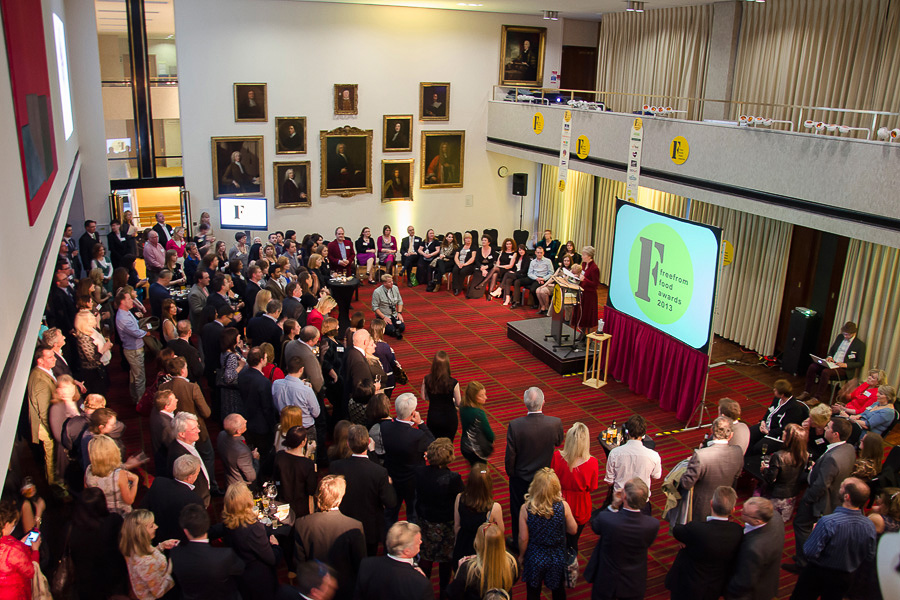 On Tuesday night I made my way to the Royal College of Physicians for the FreeFrom Food Awards party. It was a hugely enjoyable evening (not least because of the delicious gluten-free, dairy-free and main allergen-free nibbles, and sulphite-free wines!) And I got to chat to lots of gluten-free friends from Twitter, and other free-from industry people. Really, really enjoyable!
Set up six years ago, the Awards have really come into their own. Starting off with no industry support or sponsorship, and buying the products herself, Michelle Berriedale-Johnson (and her team) has brought the Awards into the mainstream. It is now backed by major sponsors and recognised throughout the food industry. To me, this is a seriously impressive achievement – and a huge support to people with food allergies/intolerances or coeliac disease. As Antony Worrall Thompson (who presented the Awards) said, "I have been involved with the FreeFrom Food Awards from the start and am really delighted at the way they have grown. FreeFrom is becoming such an important part of food-thinking for all of us these days that it is important to have a reliable, independent guide to freefrom excellence – and the Awards provide just that."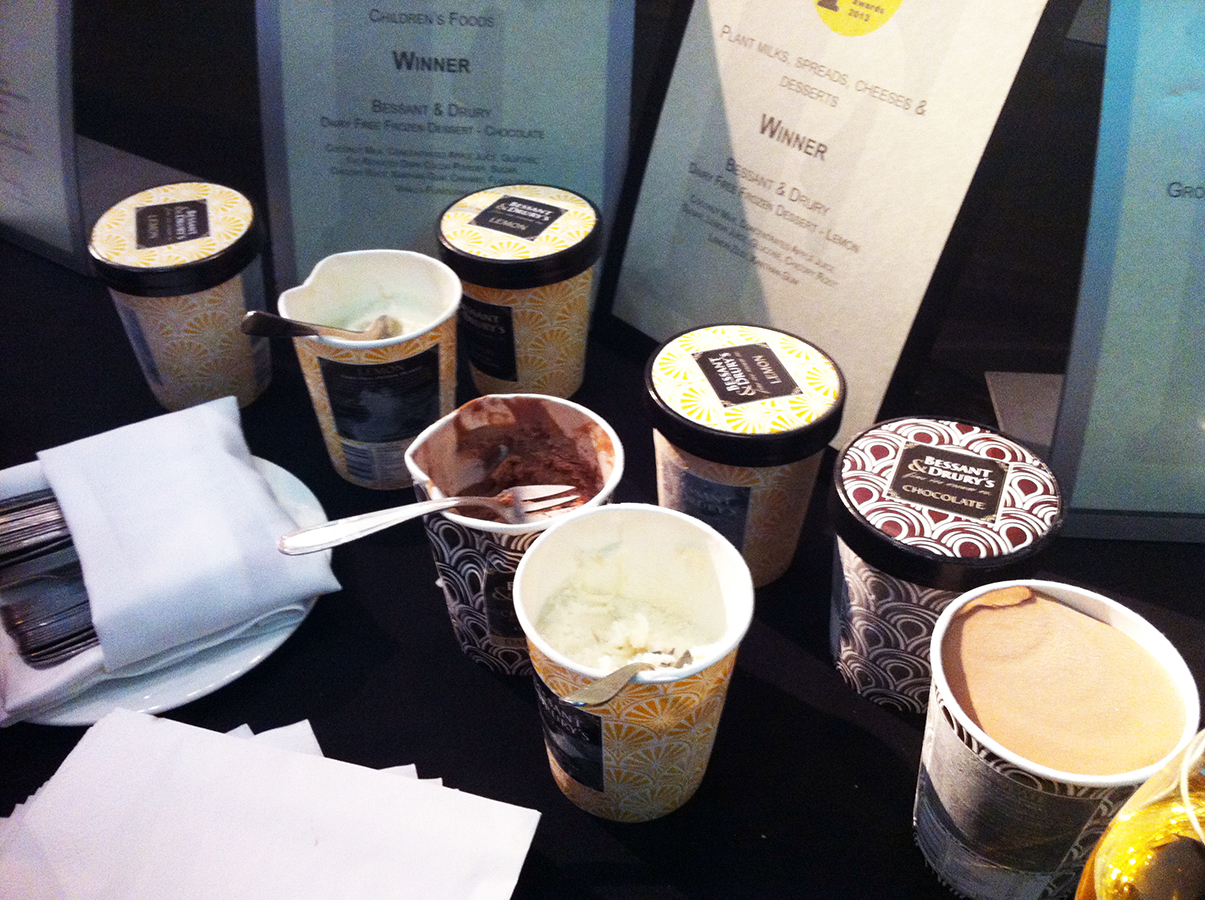 The winner of The FAIR Trophy for the Best Free-From Food 2013 went to Bessant & Drury for their Lemon Dairy-Free Frozen Dessert. I was really pleased for them because I think it's a brilliant product. Their packaging and branding looks great, I think – and this ice cream tastes utterly delicious (as does the chocolate ice cream which I felt compelled to try, of course…) Their ice creams are free from dairy and lactose, gluten, GMO, eggs, soya, cholesterol, and artificial additives, flavourings and colourings, and they're made with super-healthy coconut milk.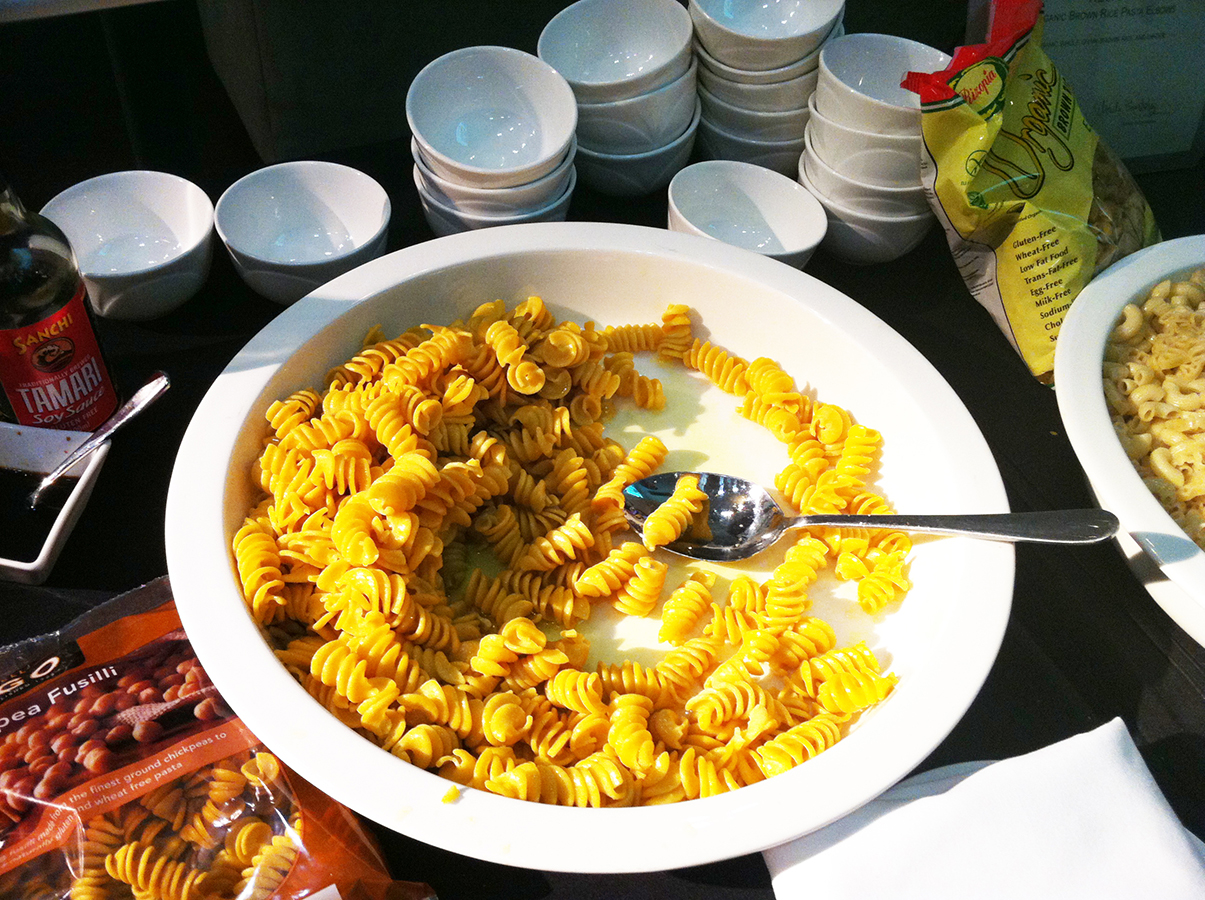 And the winner of The Innovation Award went to Dell'Ugo Chickpea Fusilli. Again, I thought this was a great choice for a winner because this really does tick all the boxes. It is truly innovative (a grain free pasta), incredibly useful for intolerant/allergic people, and holds together well and tastes great.
Below is a list of all the winners and runners up – huge congratulations to everyone!
The
 FAIR Trophy for the best 
free-from food 
2013
Winner
Bessant & Drury – Lemon, Dairy Free Frozen Dessert
Runners up
Christine's Puddings Frangipane Tart
The Indian Coeliac Paratha
Lifestyle Catering Catalan Pork
The Innovation Award – sponsored by The Newburn Bakehouse
Winner
Dell'Ugo Chickpea Fusilli 
Highly Commended
Lactofree Spreadable
La Zaragozana Ambar Green (apta para celiàcos) 0.0% (non-alcoholic)
Commended
Good Wine Online So Lo SO2 2009 Navitas
Tesco Free From Soya Crème Caramel
1. Plant 'milk', spread, cheese & desserts – sponsored by Sainsbury's

Winner
Bessant & Drury Dairy Free Frozen Dessert – 
Lemon  
Highly Commended
Koko Dairy Free Original+Calcium
Lucy Bee Extra Virgin Fair Trade Organic Coconut Oil
Provamel Orange & Redbush Yogurt Alternative
Pudology Banoffee Pud
Vivesoy Cappuccino/Soy Milk
Commended
Clearspring Sweet Grains Dessert Amazake
Provamel Rice-Coconut Drink
2. FreeFrom Breakfast Cereals – sponsored by Goodness Direct
Winners

Doves Farm Fibre Flakes
Hale & Hearty Choco Jungle Cereal
Commended
Doves Farm Cereal Flakes
Perkier Ginger and Raisin Porridge
Sainsbury's FreeFrom Cornflakes
3. Bread and bread mixes – sponsored by Tesco
Winners
Sainsbury's FreeFrom Soft Brown Seeded Bread
The Indian Coeliac Paratha
Highly Commended
Mum's Mill Quick bread Mix/Bread Flour Mix
Waitrose LOVE Life GF Seeded Sliced Loaf
Newburn Bakehouse Fruit Loaf
Newburn Bakehouse Gluten Free Brown Bread Loaf
Yes You Can! Seeded Brown Bread Roll
Commended
Biona Organic Rye Bread with Chia Flax
Fria Gluten Free Vallmofralla Poppy Seed Roll
Yes You Can! Fresh White Bread
4. Grocery ambient/store cupboard – pasta, sauces, pizza bases, flour stock etc – sponsored by Tesco
Winners – Pasta
Riso Gallo 3 cereali – Spaghetti
Rizopia Organic Brown Rice Pasta Elbows
Highly Commended
Cornito Sea Waves Pasta
Eat Water Slim Noodles
Riso Gallo 3 cereali – Fusilli
Commended
Le Veneziane GF Tagliatelle
Rizopia Organic Brown Rice Pasta Fusilli
Winners – general grocery ambient
Hale & Hearty GF Breadcrumbs
Sanchi Tamari Soy Sauce
Highly Commended
DS-gluten free Yorkshire Puddings
Mortimer Chocolate Company White Couverture Powder
Orgran Buckwheat Pancake Mix
Orgran No Egg Natural Egg Replacer
Saladworx Hebridean Seaweed & Lemon Dressing, Marinade & Drizzle
Sukrin Gold
Womersley Raspberry Vinegar
Commended
Innovative Solutions GF Multi-purpose Flour
Sainsbury's FreeFrom Tikka Sauce
Sanchi Instant Miso Soup
Tesco Free From Pizza Bases
5. Freefrom foods manufactured for food service – sponsored by Livwell
Winners – Savoury
Hotch Potch Eggs Savoury Scotch Eggs
Pizza Hut GF Pizza
Highly Commended
Proceli Gluten-free Burger Baps
Red House Foods Georgia's Choice GF Fish Cake
Winner – Sweet
Glamourpuds Hot Chocolate Fudge Pudding Pot
Highly Commended
Almondy Tårta with DAIM
Glamourpuds Banoffee Sponge Pudding Pot
We Love Cake Apricot Macaroon Slice
Commended
Glamourpuds Raspberry Jam Sponge Pudding Pot
6. Ready Meals – sponsored by Food Heaven 
a. Pizzas, pies & pasties
Winner
Freedom Deli Ham & Cheese Panini
Commended
Mamma Cucina Vegetable Pizza
b. One pot meals – to include 'world food'
Winner
Lifestyle Catering Catalan Pork
Highly commended
Amy's Kitchen Mexican Tortilla Bake
Amy's Kitchen Mushroom Risotto Bowl
Lifestyle Catering Boeuf Bourguignon
Tideford Organics Organic Beetroot Soup with Crème Fraiche & Dill
Commended
Afia's Spicy Beef Samosa
Dee's Quinoa Pots with Thai Spiced Vegetables and little lentils
Tesco Free From Three Cheese Pasta Bake
c. Meat meal centres (sausages, meat balls, burgers etc)
Winner
Pig & Co Lucanian Roman Sausage
Highly Commended
Pig & Co Hey Pesto!
Red House Foods Georgia's Choice Chicken Bites
Sainsbury's Taste the Difference Pork & Bramley Apple Sausages (Gluten Free)
7. Raw foods and superfoods – sponsored by Delamere Dairy
Winner
Orgran Multigrain Crispibread with Quinoa
Highly Commended
Raw Health Raw Sauerkraut
Commended
Raw Ecstasy Activated Walnuts – Raw Chocolate
8. Children's food – sponsored by Asda
Winners
Bessant & Drury Dairy Free Frozen Dessert – Chocolate
Rizopia Organic Brown Rice Pasta Fantasia
Tesco Free From Chocolate Dessert Shakes
Highly Commended
Bessant & Drury Dairy Free Frozen Dessert – Strawberry
Doves Farm Chocolate Stars Organic and Gluten Free
Glamourpuds Hot Chocolate Fudge Pudding Pot
Pulsin' Beond Organic Açai Berry Bar
Red House Foods Georgia's Choice Chicken Bites
Commended
Eskal Ice Cream Party Tubs
It's Only Natural Moshi Monster Poppet Raspberry Ice Lolly
Nim's Fruit Crisps Apple Crisps

9. Savoury biscuits and snacks – sponsored by the Food & Drink Innovation Network
Winner
Conscious Foods Finger Millet Dippers
Highly commended
Le Pain des Fleurs Organic Chestnut Crispbread
Commended
Cornito Crackers Pikant
Le Pain des Fleurs Organic Buckwheat Crispbread
Le Pain des Fleurs Organic Quinoa Crispbread
The FreeFrom Bakehouse Jalapeño Pepper & Sweetcorn Muffins
The Indian Coeliac Vegetable Samosa
10. Scones, sweet tarts, Bakewells, sweet biscuits and cookies sponsored by Yes! You CanWinner
Christine's Puddings Frangipane Tart
Highly commended
The FreeFrom Bakehouse Chocolate Macaroons
Lovemore O'Chocos
Perkier Popping Tiffin
Commended
Lazy Day Foods Ginger Truffle Slice
Lazy Day Foods Belgian Chocolate Rocky Road
Lovemore Chocolate Chip Cookies
Peace of Cake Raspberry Abricotines
11. Cakes, cake mixes and cupcakes – sponsored by Mrs Crimbles
Winner
Waitrose LOVE Life GF Millionaire Blondies
Highly Commended
Heavenly Cakes Eton Mess
Melsie Jane Bakes Victoria Sandwich
Sweetcheeks Pistachio & Lemon Zest Loaf
Commended
Cakes Divine Carrot Cupcakes
Mummy's Yummys Indulgent Chocolate Brownies
Rebel Bakery GF Big Apple Pie
Silver Box Bakery Brownies
The Newburn Bakehouse Lemon and Poppyseed Muffins
12. Chocolate and snack bars– sponsored by Amy's Kitchen
Winner
Sainsbury's FreeFrom Mint Crisps
Highly Commended
BoojaBooja Around Midnight Espresso Chocolate Truffles
Winning Ways Fine Foods Ltd Dairy Free Choc covered Raisins
Commended
Kinnerton Luxury Dark Chocolate
13. Christmas foods – sponsored by Genon Laboratories
Winner
Hale & Hearty Luxury Mince Pies