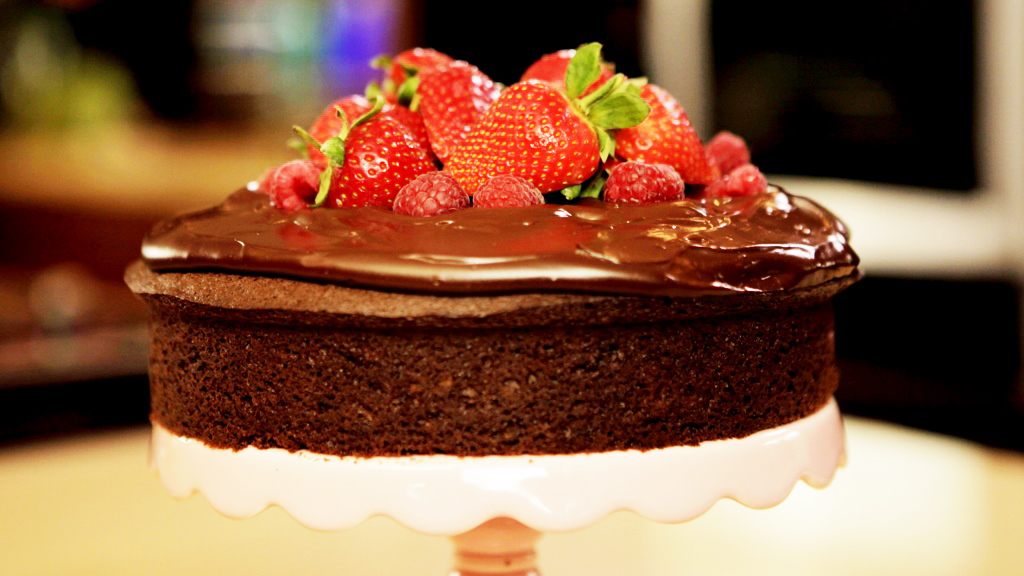 When I was thinking about which recipes I wanted to feature for the Waitrose TV films, chocolate cake was the first thing that sprang to mind. Yep, I love chocolate and it's my idea of heaven on a plate. But also a chocolate cake is a wonderful addition to a whole load of different occasions, whether it's a birthday, an anniversary, a thank-you, or something to do on a weekend afternoon with your kids. This is a gluten-free and dairy-free chocolate cake that has a rich, moist sponge that holds together really well when you cut into it – and a seriously rich, indulgent ganache icing, topped with delicious berries.
One of the most important things to do when baking gluten-free cakes, is to get as much air into the mixture – and keep it in there – as possible. When you cream the margarine and sugar together, it's important to beat them together until really light and fluffy. I use a stand mixer, but you can use whatever you like, whether it's a hand-held mixer or even do it by hand. I leave the stand mixer beating for anything up to 10 minutes until it's the right consistency. Because there's no gluten in the mixture, it's important to get a really light mixture at this stage, to get the cake to rise really well.
Then, when you fold in the chocolate and then the gluten-free flour mixture, it's important to fold gently, so that you don't lose air. And work fast once you've creamed the margarine and sugar, and added the eggs.
Talking of eggs, I generally use them in baking but you don't have to. Sometimes people think that eggs are a dairy product and that anyone on a dairy-free diet needs to avoid them. But they're not, which is lucky for those who can eat them, because they work brilliantly as a raising agent and to bind the cake together – and this is really useful when there's no gluten to bind it. But if you need to avoid eggs, you can use an egg-replacer product instead. Or you could even use more raising agents to get the rise and either fruit purees (such as apple or pear) or dairy-free yogurt or even chia seeds to bind the mixture together.
And if you need to avoid nuts, you can make this cake nut free very easily. Don't use any product that contains nuts, such as margarine, cream or in the gluten-free flour mixture. This recipe doesn't use ground almonds or any other nuts so, as long as you don't use a nut product, you'll turn out a chocolate cake that's not only gluten-free and dairy-free, but also nut-free!
To watch the film on Waitrose TV, click on this link, Gluten-Free & Dairy-Free Chocolate Cake. And I hope your Bank Holiday weekend becomes filled with delicious chocolate cake!