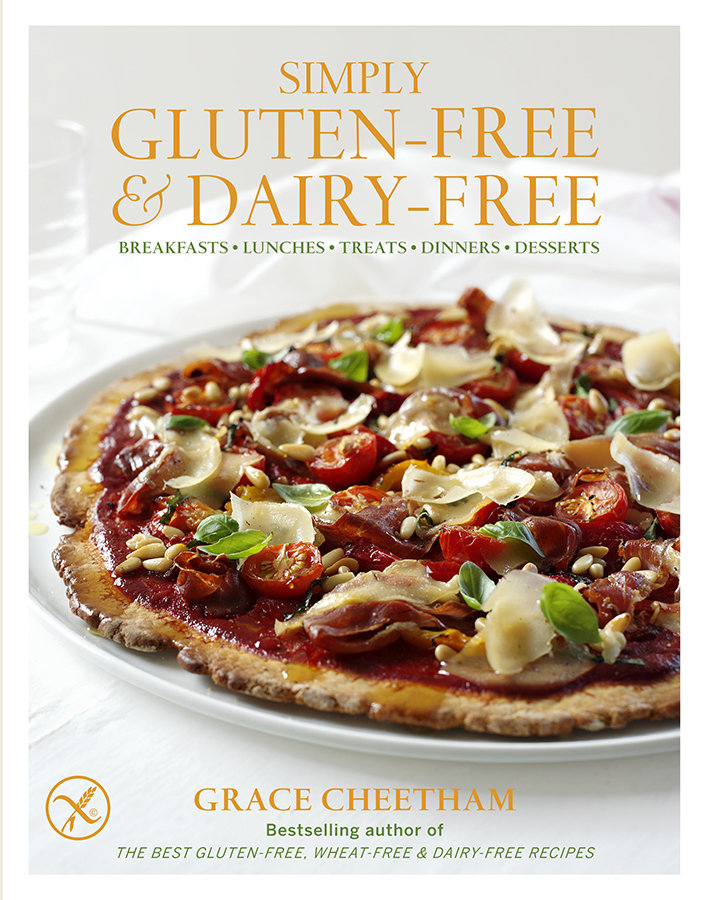 Here's the new cover for the paperback version of my book, Simply Gluten-Free & Dairy-Free, that is being published next Thursday. YAY!!
I've been so pleased with the way this book has been going. It received lots of great review coverage, including Waitrose Weekend who said –
"Simply delicious recipes…[it] features a range of easy but delicious recipes for all meals – and is the ideal family cookbook for those on a restricted diet."
Vegetarian Living, Now Diet and Taste Italia all published extracts, and InterAction, the magazine for Action for M.E. and Freefromrecipesmatter.com both recommended it. And woman&home.com voted it one of the 5 best allergy cookbooks. They said –
"Cooking for a guest with a food intolerance? Or simply not sure where to begin when cooking from scratch? Grace Cheetham has been living with food-allergies from a young age so she understands just how daunting free-from cooking can be. She's developed a collection of tasty classic breakfast, lunch and dinner recipes which forgo gluten and dairy but are still straightforward to make."
The book was Americanized and published in the US, and also translated into Brazilian (and published by Publifolha 2011), Danish (and published by Paludans Forlag 2012) and French Canadian (and published by Editions Ada 2012).
And now onto the paperback version…! We weren't sure that we'd got the cover right on the hardback edition, so decided to do a different cover for the paperback. We were worried that the cupcakes on the original hardback made it seem that the book was just sweet baking, whereas it's all types of meals – with the focus on making it as easy as possible. So DBP (my publisher) very kindly set up a day's photography shoot in order to get a new image for the cover. We ended up with a gorgeous-looking pizza picture (this pic below is just a picture I took with my phone) which we all fell in love with. I think it says everything about the book – that you can have delicious food, that's gluten-free and dairy-free – all done as simply as possible.
I went to the shoot – and had a great time watching my recipes come to life. The food stylist, Jayne Cross, cooked and styled the recipes brilliantly.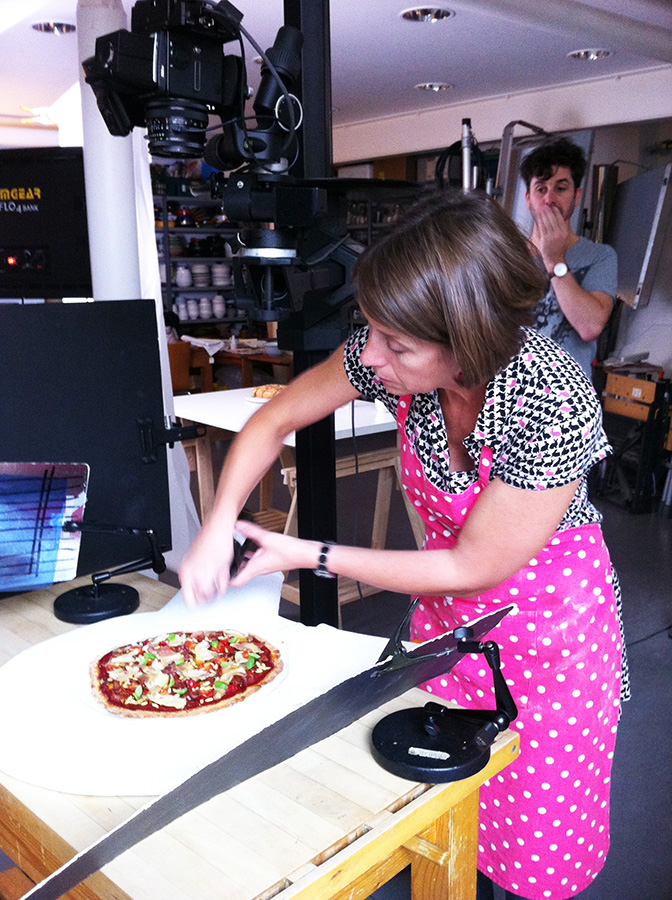 And Gail Jones, the art director, and Toby Scott, the photographer, and his assistant, Ben, took fantastic pictures.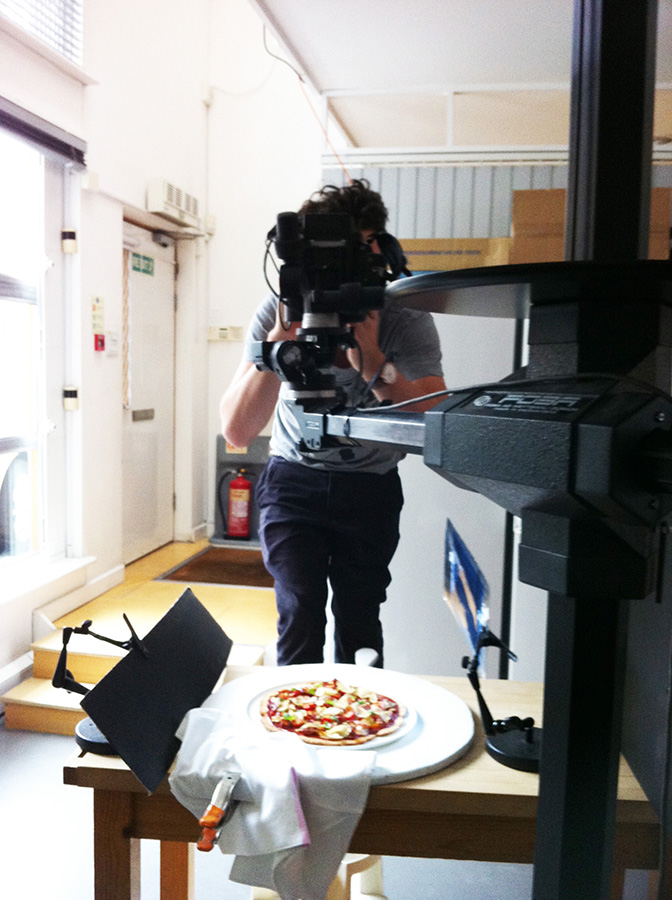 I adapted the original recipe a little. It was an Artichoke, Parma Ham & Olive Pizza and became a Chargrilled Pepper, Parma Ham & Pine Nut Pizza, in order to make it more visually appealing (and revised the recipe inside the book). I also tweaked the recipe for the Roasted Onion & Lemon Thyme Tart, adding figs – and the team shot that, plus another version of the Salmon en Croȗte, the Tomato Tart and the Rosemary Focaccia. These aren't their professional shots – just me hopping about with my phone…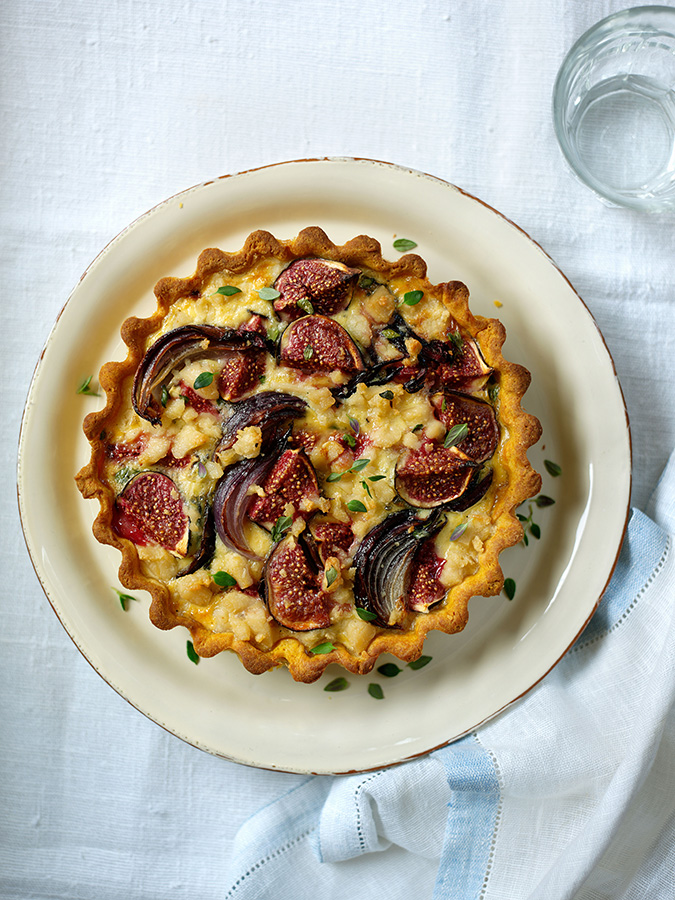 Many thanks to everyone involved – I love the new shots and the new cover!