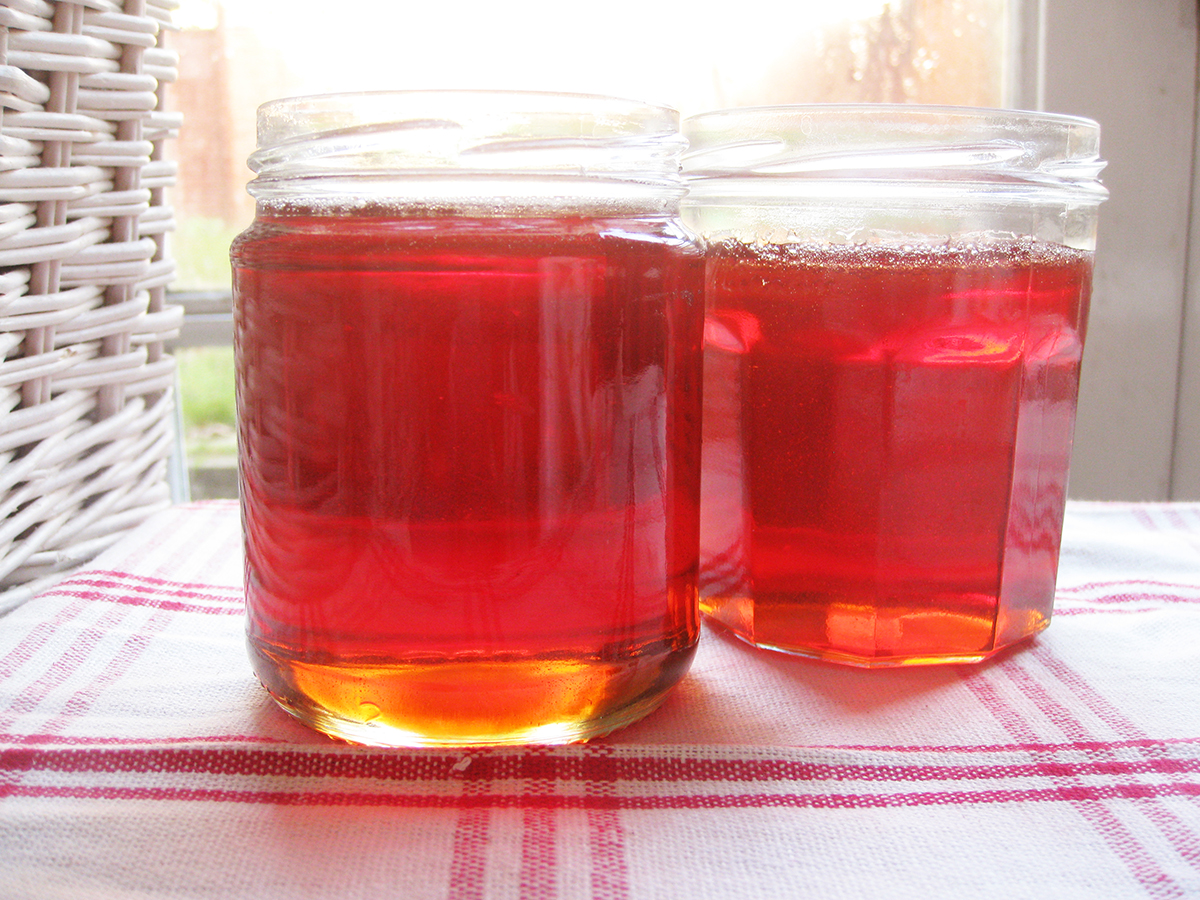 I went to see Juliet Stallwood, the cake decorator, last week and she gave me some quinces from her garden. Juliet lives in Wiltshire, fairly near to where I grew up in Dorset. It was a beautifully sunny autumnal afternoon and, as I picked up the quinces from her garden, I was flooded with memories of my childhood. We had a quince tree in our garden and my mother used to make Quince Jelly with the fruit. She has a huge pan that she would cook them in, and then she would tie the mixture in muslin and leave to drip into a large, ornate bowl, hanging from a bar on the side of the sink in our bathroom. (It would splash onto the paintwork making an almost-impossible cleaning job!) I took the quinces home from Juliet's and phoned my mother to get the recipe. She found hers, read it out to me and then peppered it with "Oh no, I never bothered with that" and "I don't remember doing that – I just used a potato masher." So the recipe below is the results of many years of delicious quince jelly-making from my mother.
It's wonderful to revisit heritage recipes, especially with heritage ingredients. Quinces are an unusual fruit, but much loved by those in the know, and becoming more widely available. They're shaped like a bulging pear, and ripen to a golden yellow colour. And they smell amazing – with wafts of citrus amongst the sweet aromas. They date back to Ancient Greek times where, associated with Aphrodite, they were part of the wedding ceremonies. And their symbolism has carried through – the tree is still seen as a symbol of fertility and love in Croatia and Slavonia, for example, where a quince tree is planted when a baby is born. Quinces grow throughout the world and feature in Middle Eastern tagines, for example, (Turkey produces a quarter of the world production, apparently) as well as recipes throughout Europe, America and Australia. You can bake them and stew them, use them in crumbles and puddings, use them to make a paste to go with meat or cheese, make dessert wine or brandy with them, as well making the better-known marmalades, jams and jellies (they're high in pectin).
I used a muslin from the days of Zoë as a baby – so this has been an experience full of gorgeous memories!
* gluten-free, dairy-free, yeast-free, soya-free, egg-free, nut-free, seed-free, citrus-free

Quince Jelly
Ingredients
1.8kg/4lb quinces
preserving sugar
Method
Wash the quinces and chop into pieces, but don't peel or core them. Put into a very large, heavy-based saucepan (or two large ones if you don't have a very large one) and cover with 3.5/122fl oz cold water. Cover with a lid and bring to the boil over a high heat, then turn the heat down to low and leave to simmer for an hour, until the fruit is tender.
Roughly mash the fruit with a potato masher. Place a large muslin over a large bowl and carefully ladle or pour the fruit into the muslin. Tie the ends and secure the muslin, then attach it to a hook and leave, to allow the liquid to drip through the muslin into the bowl. Leave for at least 3 hours, preferably overnight, then remove the muslin and discard the pulp. (Don't be tempted to squeeze any remaining juice out of the pulp as this will turn the jelly cloudy.)
Measure the liquid and weigh out 500g/1lb 2oz for each 600ml/20fl oz of liquid. (I used 2kg/4lb 8oz as I had 2.4l/84fl oz of liquid.) Bring the liquid to boil in a clean, very large, heavy-based saucepan over a high heat. Add the sugar and bring to the boil again, stirring the sugar so that it doesn't stick to the bottom of the pan. Leave to simmer over a medium heat until bubbling and it has reached setting point. (To test, spoon a small amount onto a cold saucer and if it starts to wrinkle when you put your finger on it, it's ready.) Remove any scum from the surface and discard. Pour the liquid into sterilized jars and leave to set.